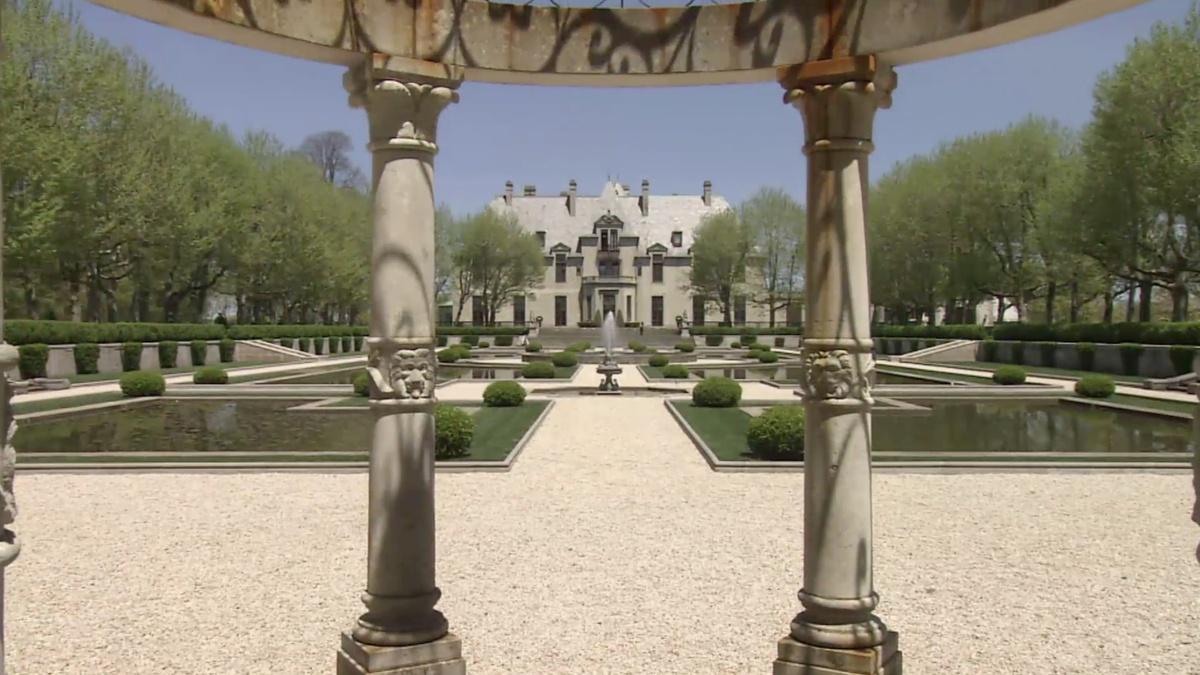 By Kaitlyn Leidl
In a forty-year period that spanned from the 1890s through the 1930s, more than 1,200 mansions were built on the Long Island's North Shore – the Gold Coast – by some of America's wealthiest men and women. Of the more than 1,000 grand estates that once existed, today less than a third remain. Here's a look at some of the beautiful estates on the North Shore of Long Island that are open to the public today.
Check the THIRTEEN and WLIW21 schedules for upcoming Treasures of New York broadcasts. Stream Gold Coast Mansions.
Gold Coast Mansions on Long Island
1. Caumsett State Historic Park Preserve – 25 Lloyd Harbor Road, Huntington, NY 11743
(631) 423-1770
Once the extravagant estate of department store heir Marshall Field III, Caumsett now stands as a New York State Historic Park Preserve. Today, visitors can enjoy a wealth of outdoor activities such as walking, jogging, biking, hiking, observing the gardens, fishing, bird watching, horseback riding, and more. Most activities are available year-round. Caumsett also offers many park events, from classes on how to make maple syrup, to classes on bird watching, to family scavenger hunts.
2. Chelsea Mansion – 34 Muttontown Lane, East Norwich, NY 11732
(516) 571-8551
Formerly the estate of Benjamin and Alexandra Moore, Chelsea Mansion, built in 1924, sits on the northern end of the 550-acre Muttonwood Preserve, the largest nature preserve in Nassau County. Chelsea Mansion itself serves as a venue for weddings, corporate retreats, private events, and other celebrations.
Other visitors can enjoy all the amenities of the preserve, such as self-guided tours on the marked trails, and observing the nature and wildlife.
3. Nassau County Museum of Art – One Museum Drive, Roslyn Harbor, NY 11576
(516) 484-9337
What is now the Nassau County Museum of Art was once known as Clayton: an extravagant estate purchased by Henry Clay Frick, co-founder of U.S. Steel, for his son, Childs. Today, visitors can attend The Museum to find a wonderful collection of art focusing on the 19th, 20th, and 21st centuries. It holds both permanent and rotating art exhibitions, as well as a permanent sculpture garden, programs through its successful Education Department, lectures, workshops, and nature walks.
4. NYIT de Seversky Mansion – Northern Boulevard, Old Westbury, NY 11568
(516) 686-7675
Once owned by businessman Alfred I. du Pont, this Gold Coast Mansion now serves as a wedding venue owned by The New York Institute of Technology (NYIT) known as de Seversky Mansion. NYIT de Seversky Mansion holds beautiful weddings, social gatherings, and other events year round, with the gorgeous estate and landscape as a perfect backdrop. Furthermore, proceeds from the events at the mansion are used to benefit NYIT and its students.
5. OHEKA CASTLE – 135 West Gate Drive, Huntington, NY 11743
(631) 659-1400
The 1920s lavish estate of Otto Hermann Kahn is now restored to its original extravagance! Today, Oheka serves as a luxurious hotel and venue, hosting hundreds of wedding receptions, celebrations, and corporate events each year. The estate serves as a destination for photo shoots and movie scenes, as well as weekend getaways and packages with the Cold Spring Country Club for tennis and golf. Furthermore, Oheka offers informational tours of the castle by reservation.
6. Old Westbury Gardens – 71 Old Westbury Road, Westbury, NY 11590
(516) 333-0048
Westbury House was originally inhabited by John S. Phipps and his family. The mansion and the estate have been preserved and are now open to the public as Old Westbury Gardens. Visitors can enjoy guided historical tours of the home and gardens, attend educational programs and lectures about nature and horticulture, enjoy outdoor concerts and festivals, and take gardening classes. The Gardens are open to the public as well as to school groups to relish in the estate's well-kept landscape and beauty.
7. Planting Fields Arboretum State Historic Park – 1395 Planting Fields Road, Oyster Bay, NY 11771
(516) 922-8600
Once occupied by William Robertson Coe, greatly successful shipping insurance mogul, and his family, Coe Hall has been restored to the beautiful estate it was in the 1920s. Visitors can come for guided or self-guided tours during the estate's open season from March through September. Beyond visiting the mansion and learning about the history of the home and the Coe family, visitors can also enjoy the accompanying Planting Fields Arboretum, home to some of the most magnificent displays of botany in the Northeast. Furthermore, Planting Fields serves as a destination for school field trips, as well as a venue for spring and summer concerts and outdoor entertainment.
8. Sands Point Preserve – 127 Middle Neck Road, Port Washington, NY 11050
(516) 571-7901
Sands Point Preserve, once the home of the Guggenheim family, is now a 216-acre preserve for the public to enjoy an array of outdoor activities. The site of structural and natural beauty, Sands Point Preserve has been host to film productions, wedding ceremonies, and many other events. Hiking trails line the estate's foliage providing ample space for nature walks, jogging, and observing the variety of plants and animals living on the preserve. Furthermore, visitors are welcome to enjoy the beach of the Long Island Sound, educational programs revolving around nature conservation and exploration, fitness classes, musical performances, and summer camp programs for children.
9. Vanderbilt Museum & Planetarium – 180 Little Neck Road, Centerport, NY 11721
(631) 854-5579
The William K. Vanderbilt estate now serves as a museum, planetarium, education facility, entertainment site, and wedding venue. The museum offers a first-hand look at real artifacts collected throughout Vanderbilt's extensive travels around the world, as well as the magnificent mansion built from 1910 to 1936. Visitors can explore the estate and the museum as well as take a trip to the beautiful Charles and Helen Reichert Planetarium, located on what once were Vanderbilt's tennis courts. Aside from this unique star-gazing haven, the Vanderbilt Museum is also utilized for special events including wedding receptions, ballet, theatre, musical performances, and more.
---
Treasures of New York broadcast the documentary episode Gold Coast Mansions in February 2014. Read Newsday's review of the episode.