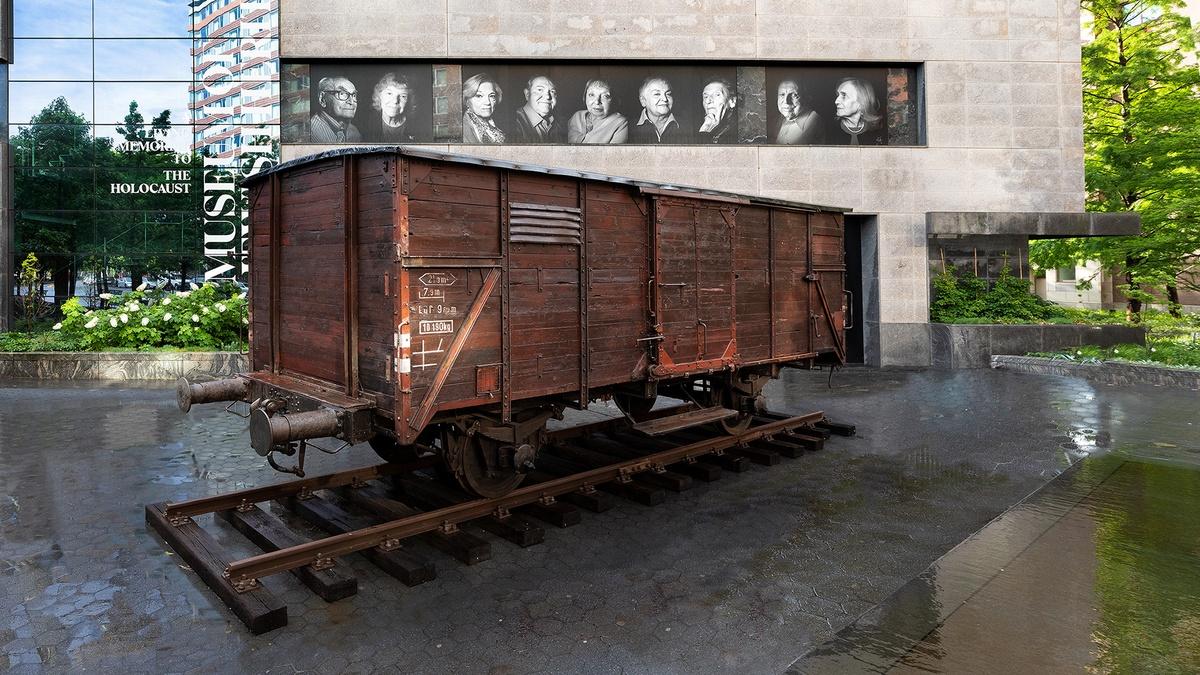 Stream Auschwitz Remembered: An NYC-ARTS Special, above or tune-in for broadcast encore on Thursday, April 23 at 8 p.m. (premiered November 21, 2019).
Visit
mjhnyc.org
for updated exhibit information.
Updated Monday, April 20
A child's shoe. The door to a gas chamber. A Jewish prayer shawl. These are just a few of the over 1,000 artifacts on display at Auschwitz. Not long ago. Not far away., an exhibition at The Museum of Jewish Heritage – A Living Memorial to the Holocaust in downtown Manhattan.
Auschwitz was the largest German Nazi concentration camp and was located in occupied Poland. The vast majority of Jewish Europeans who were deported to Auschwitz were murdered in acts of genocide there: more than 1.1 million people were murdered between May 1940 and January 1945.
NYC-ARTS, THIRTEEN's award-winning, weekly arts and culture series, takes viewers inside this timely exhibition in Auschwitz Remembered: An NYC-ARTS Special.
Paula Zahn hosts the one-hour special, which features interviews with Bruce Ratner, Chairman of the Board of The Museum of Jewish Heritage; Ronald S. Lauder, Founder and Chairman of the Auschwitz-Birkenau Foundation Committee and President of the World Jewish Congress; and Holocaust survivors. The program is airing as part of Exploring Hate: The Roots and Rise of Anti-Semitism and Extremism, a new multiplatform initiative from WNET.
The largest exhibition featuring Auschwitz and its role in the Holocaust ever presented in North America, Auschwitz. Not long ago. Not far away. brings together more than 700 original objects and 400 photographs from institutions and museums around the world to share the stories of Auschwitz — and life before, during, and after the Holocaust.
The exhibition features personal items that belonged to survivors and victims of Auschwitz, such as suitcases, eyeglasses, and shoes, as well as rare artifacts that relay the experience of survivors and liberators — from artist Alfred Kantor's sketchbook depicting daily life in Auschwitz to the trumpet that musician Louis Bannet (known as "the Dutch Louis Armstrong") credits for saving his life while he was in Auschwitz.
Other artifacts include concrete posts from the fence of the Auschwitz camp; part of an original prisoners barrack; a gas mask used by the SS; and an original German freight train car used for the deportation of Jews to the ghettos and extermination camps in occupied Poland.
According to Chief Curator Robert Jan van Pelt, stories are the heart of the exhibition.
"All through the exhibition there are stories about individuals and families, communities and organizations, ideologies that teach people to hate, and responses that reveal compassion and love. There are stories of victims, perpetrators, and bystanders, stories with heroes and villains — stories that merge into an epic story of a continent marked by war and genocide," he said.
Auschwitz Remembered: An NYC-ARTS Special is streaming now via the NYC-ARTS website and the THIRTEEN Explore app (thirteen.org/explore). Follow NYC-ARTS on Facebook (facebook.com/NYCdashARTS) and Twitter (@nycarts).