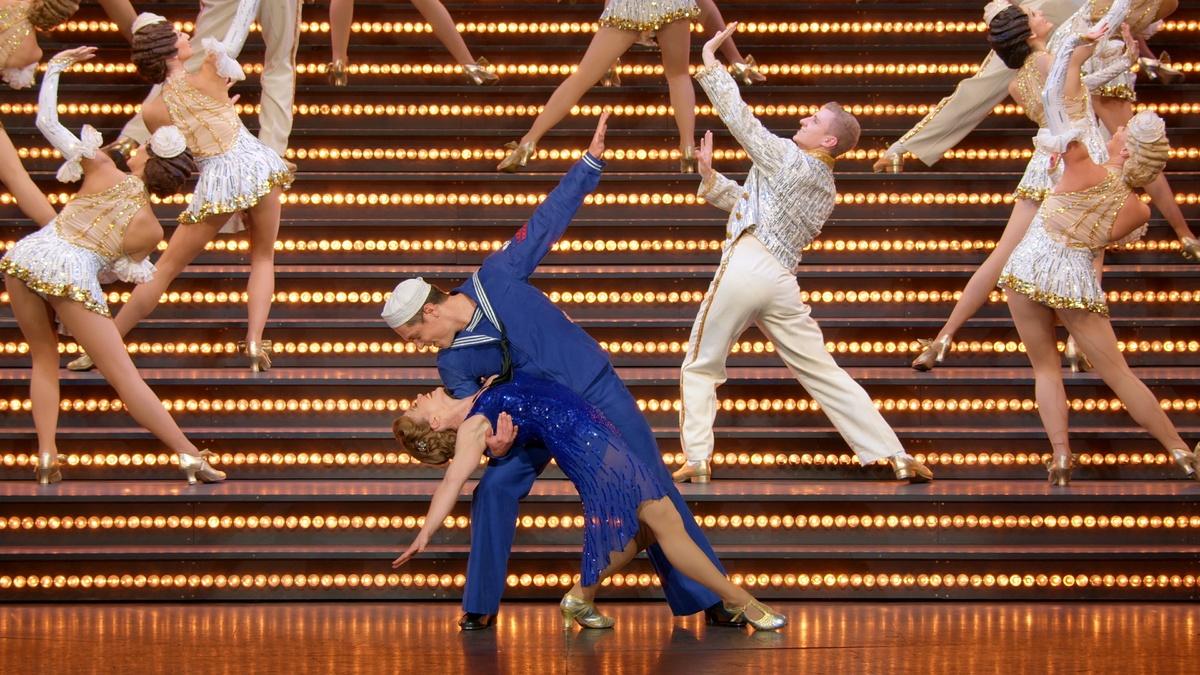 The Broadway musical 42nd Street, the 1981 Tony Award winner for Best Musical, is an all-singing, all-tapping musical extravaganza, set in Depression-Era New York City. It packs in iconic songs, like "42nd Street," "We're In the Money," "Lullaby of Broadway," and "Shuffle Off To Buffalo," and sums up its plot with the line, "You're going out there a youngster, but you've got to come back a star."
The original Broadway production ran for nine years (1980-89) with direction and choreography by Gower Champion, and producer credits due to showman extraordinaire David Merrick.
In true backstage musical style, 42nd Street is filled with iconic characters (diva Dorothy Brock, ingenue Peggy Sawyer, and dictatorial director Julian Marsh, to name a few), classic plot lines (diva breaks ankle; ingenue soars to Broadway stardom), and the requisite show-within-a-show (Pretty Lady).
While the musical centers on a star-struck chorus girl dreaming of her big break, we can't help loving über-diva Dorothy Brock with her broken ankle, broken heart, and volatile ego. Here is a starry list of actresses who have played Dorothy the diva during the show's nearly 40-year history in productions across the country (and ocean), in time for a nation-wide television broadcast of 42nd Street, this November on PBS!
1. Tammy Grimes
Tammy Grimes scored a 1961 Tony Award and a ticket to stardom for her portrayal of the feisty title character in The Unsinkable Molly Brown, but if you ask us, her real claim to fame is her titanic performance as Dorothy Brock in the original 1980 Broadway production of 42nd Street, which starred Jerry Orbach as Julian Marsh.
With her colorful personality, highly cultivated stage accent, and famous theatrical family – ex-husband: Christopher Plummer; daughter: Amanda Plummer – the gravelly-voiced Grimes was the perfect thesp to play diva extraordinaire Dorothy.
As for her balcony-busting voice – which you can hear for yourself in this fantastic interview conducted by filmmaker Rick McKay (Broadway: The Golden Age) – the late actress said it emerged when she was 16. Screaming at school football games led to vocal strain, and as she explained in this 1980 Christian Science Monitor profile, "By the time I got to New York (to pursue a theater career), I could only sing six notes, all below middle C."
2. Christine Ebersole
A natural born showstopper, Christine Ebersole won her first Tony Award for her "droll, sophisticated" (The New York Times) portrayal of Dorothy Brock in the 2001 Broadway revival of 42nd Street. Whether she's playing pioneering cosmetics queen Elizabeth Arden in War Paint or eccentric Kennedy cousins Edith Bouvier Beale and Little Edie in Grey Gardens, this Broadway superstar always knows how to find – and help audiences see – the humanity behind larger-than-life characters. So it's no surprise that she embraced the fragility that lies beneath Dorothy's hard-as-nails exterior.
"Some would say Dorothy is egotistical, narcissistic, self-centered, foul tempered and just plain mean. I think she's misunderstood," Ebersole said in this playbill.com article.
Watch Christine Ebsersole perform "I Only Have Eyes for You" from 42nd Street here.
3. Beth Leavel
When it comes to playing divas, the deliriously funny Beth Leavel has cornered the market. She won a 2006 Tony Award for her uproarious portrayal of the boozy title character in The Drowsy Chaperone, and her star turn as the hilariously narcissistic Broadway star Dee Dee Allen in The Prom earned her a 2019 Tony nod. So it's fitting that she was the standby for two scene-stealing characters in the 2001 revival of 42nd Street – Dorothy Brock and the wisecracking scribe Maggie Jones – and took over the role of Dorothy when Ebersole left the show in 2002.
Fun Fact: Leavel made her Broadway debut in the original production of 42nd Street in 1985, landing the part of Anytime Annie – even though she only had modest tap dance skills.
Want to see Leavel recreate the tap audition that (to her amazement) got her the part? Watch her perform the iconic "Go Into Your Dance" number from 42nd Street in this video with Seth Rudetsky.
4. Shirley Jones
Best known as the wholesome ingenues in the film versions of The Music Man, Carousel, and Oklahoma!, and as a beloved classic TV mom in the hit 1970s series The Partridge Family, Shirley Jones made theater history in 2004 when she assumed the role of Dorothy Brock for four glorious months on Broadway. Why? Patrick Cassidy, her real-life son from her first marriage to actor Jack Cassidy, joined her onstage as Julian Marsh in the hit Broadway revival – a casting coup that marked the first time in Broadway history that a mother and son starred together in a Broadway musical.
At age 70, Jones reveled in the chance to chew some scenery as the vain, self-centered Dorothy. "She is no Mrs. Partridge," she told Backstage. Fun Fact: Jones shared the spotlight with another family member in The Partridge Family. David Cassidy, who played her TV son Keith, is her stepson.
5. Bonnie Langford
When Bonnie Langford stepped into the role of Dorothy Brock in the hit West End revival of 42nd Street at the Theatre Royal Drury Lane in 2018 – succeeding pop stars Sheena Easton ("9 to 5") and Lulu ("To Sir With Love") – she was overcome by a double dose of déjà-vu.
In 1972, at the tender age of seven, she made her professional West End debut at the Drury Lane, gracing the stage as Bonnie Butler in a musical version of Gone With the Wind. And when she was in her 20s, she played ingenue Peggy Sawyer in a touring production of 42nd Street. "I had a seminal moment when I was standing on this stage and had to sing '42nd Street.' I flashed back to when I was 23 and playing Peggy," Langford said in a London Theatre interview.
You can see Langford's 2018 performance as the diva Dorothy on Friday, November 1, at 9 p.m., when Great Performances airs 42nd Street as the first in its "Broadway Best" Friday night lineup in November.
To celebrate her return to 42nd Street, Langford – the only cast member in the West End production who has played both Peggy and Dorothy – joined Clare Halse (Peggy) and the ensemble in the "42nd Street" finale for a special one-night-only Peggy Sawyer double act.
Watch Langford's tap-happy finale dance here. We're sure you'll agree that she can still pick 'em up and lay 'em down!
6. Rachel York
In Summer 2019, Tony winner Rachel York (Victor/Victoria) wowed audiences and critics alike as Dorothy Brock in Maine's Ogunquit Playhouse production of 42nd Street, directed and choreographed by Randy Skinner and featuring Sally Struthers (All in the Family) as Maggie Jones.
"York is a luminous presence as the attention-demanding diva of the show-within-the-show," raved the Portland Press Herald.  "As her character reveals more of a sensitive side, she lends her considerable star power to such numbers as 'I Only Have Eyes For You' and 'About a Quarter to Nine.'"
The supremely talented York is no stranger to public television audiences. She played Lilli Vanessi in the Tony-winning revival of Kiss Me, Kate that aired on Great Performances in 2003, and more recently, she shared songs and showbiz stories in the NJTV series American Songbook at NJPAC, hosted by Michael Feinstein. The episode also features Andrea McArdle and tap dancer Jared Grimes.
Watch highlights from the Ogunquit Playhouse production of 42nd> Street featuring Rachel York, Sally Struthers, and more here.
7. Karen Ziemba
42nd Street has a special place in Karen Ziemba's heart. Her stint as Peggy Sawyer in the original Broadway production, beginning in 1983, cast her opposite the legendary Jerry Orbach as Julian Marsh and was her first leading role on Broadway – and Orbach gave the future Tony winner (Contact) her first Broadway kiss! Given Ziemba's history with the iconic musical, it was a full circle moment when the veteran Broadway performer (Bullets Over Broadway, Curtains) "graduated" to the role of Dorothy Brock in a 2015 production of 42nd Street at the Lexington Theatre Company in Kentucky.
She garnered rave reviews in the newly formed theater company's inaugural show and a key to the city from Lexington Mayor Jim Gray. Starry-eyed Peggy Sawyer was played by Darien Crago, who made her Broadway debut in Irving Berlin's Holiday Inn – The Broadway Musical, which aired on Great Performances "Broadway's Best" in 2017. (Read the Great Performances interview with Crago here.)
Check out rehearsal footage of Karen Ziemba, Darien Crago, and The Lex's 42nd Street cast here.
See 42nd Street on PBS
42nd Street premieres Friday, November 1 at 9 p.m. to kick off "Broadway's Best," the acclaimed Friday night line-up of acclaimed theatrical productions from Great Performances on PBS (check local listings). The acclaimed revival of Gower Champion's Tony-winning original production was recorded at the end of its 2018 blockbuster run in London's West End. It features new choreography by Randy Skinner (Dames at Sea, Irving Berlin's White Christmas) and performers Bonnie Langford (EastEnders) as Dorothy Brock, Tom Lister as Julian Marsh, and Clare Halse as Peggy Sawyer.
Station members can view the entire Great Performances "Broadway's Best" line-up beginning November 1 with the member benefit, THIRTEEN Passport.