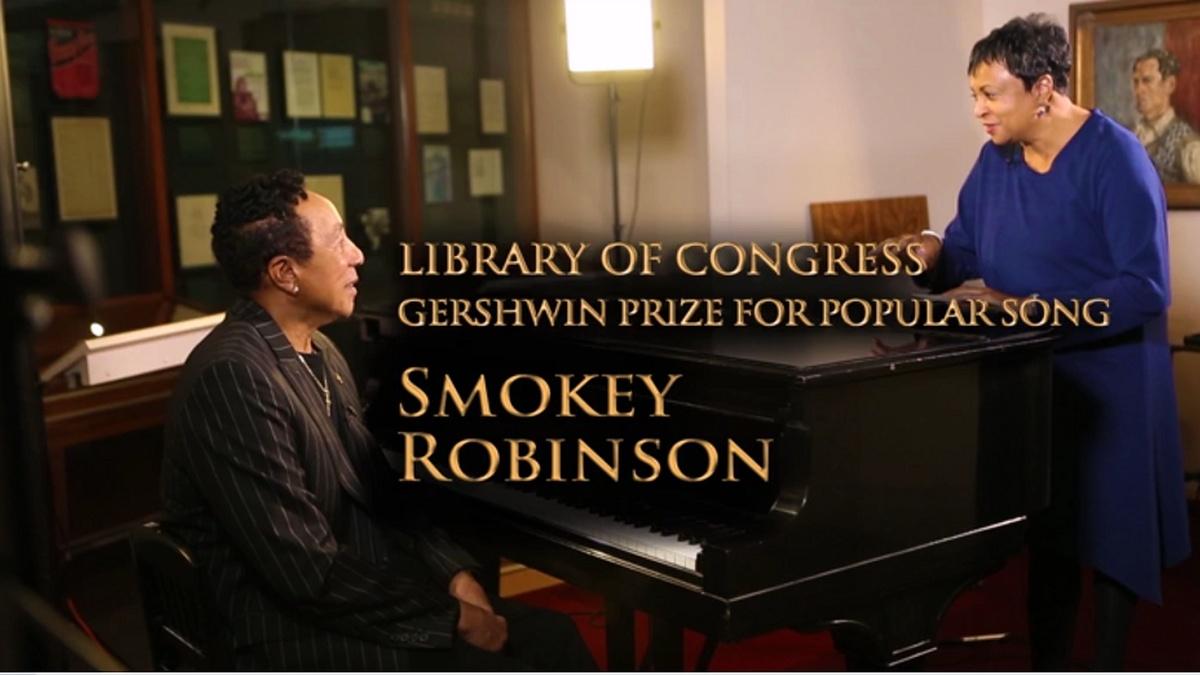 On the eve of receiving the 2016 Gershwin Prize, Motown legend Smokey Robinson sat at George Gershwin's piano and talked with Carla Hayden of the Library of Congress about music in his childhood and the start of his career, which led to many years as singer/songwriter for The Miracles, the group he founded. Robinson's expression of intense gratitude to fellow music legend Berry Gordy — Motown record label founder and Robinson's songwriting mentor and longtime friend — is a genuine tear-jerker!
"The Gershwin brothers wrote songs when the song was king," says Robinson, explaining the much different emphasis in the music industry today, when the artist is the focus. "When the Gershwins wrote a hit song, everybody recorded it immediately. So that song was [recorded] by 10 or 12 artists at the same time."
Robinson's mother, who played piano in church, and his two older sisters introduced him to all kinds of music at home — "Gut bucket blues, jazz, Gospel, classical, and Gershwin," recalls Robinson.

Smokey Robinson Interview Highlights
Hometown: Detroit, Michigan, home to Motown Records (1959 – 1972)
First song Robison recalls hearing and a favorite to this day: Sarah Vaughn singing "Our Love is Here to Stay," written by George Gershwin with lyrics by Ira Gershwin in 1938.
What Robinson wanted to be when he grew up: A cowboy (that quickly changed to singer when he was five or six).
Childhood idol: Singer Jackie Wilson, whose songs were co-written by Berry Gordy, founder of the Motown record label.
Robinson's mentor: Berry Gordy
Lyric Writing: How Robinson arrived at the key words in "The Tracks of My Tears," written by Miracles members Smokey Robinson (lead vocalist), Pete Moore (bass vocalist), and Marv Tarplin (guitarist).
---
Watch Smokey Robinson: The Library Of Congress Gershwin Prize For Popular Song on its premiere, Friday, February 10 at 9pm on PBS.
The all-star tribute to Smokey Robinson includes performances by Robinson, as well as Aloe Blacc, Gallant, CeeLo Green, JoJo, Ledisi, Tegan Marie, Kip Moore, Corinne Bailey Rae, Esperanza Spalding, The Tenors, Joe Walsh, BeBe Winans, and a special appearance by Berry Gordy, founder of Motown. Actor Samuel L. Jackson hosts.
Learn more about the history of The Gershwin Prize and watch Gershwin Prize broadcasts online.