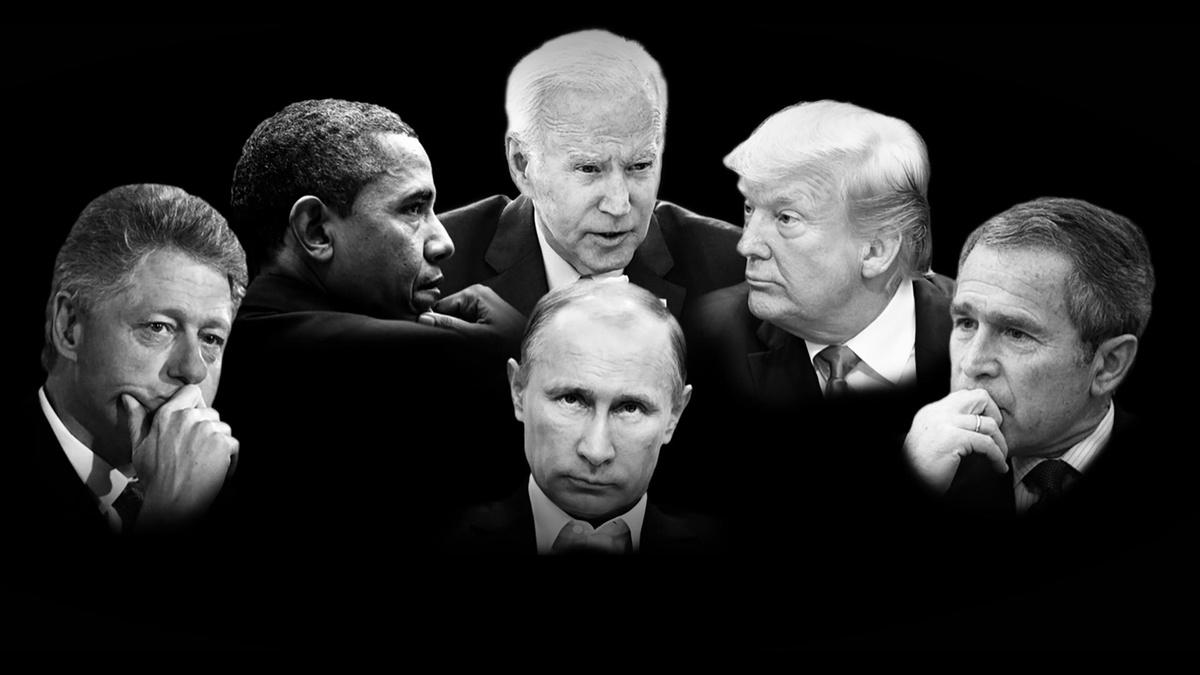 Stream FRONTLINE: Putin and the Presidents, starting Tuesday, January 24 at 7 p.m. 
Russia's war on Ukraine started nearly one year ago on February 22, 2022. The war has roots that extend, at the very least, back to Russia's annexation of Crimea, a Ukraine peninsula, that began in February 2014 (see Reuters' timeline of events).
While maneuvering to rebuild the Russian empire, Russian President Vladimir Putin has clashed with five U.S. presidents. The new  FRONTLINE documentary Putin and the Presidents  reveals how the miscalculations and missteps of multiple American presidents over two decades helped paved the way for Putin's attack on Ukraine — as seen through the eyes of people who were in the room.
Drawing on in-depth conversations with insiders from five U.S. presidential administrations, former U.S. intelligence leaders, diplomats, and Russian and American journalists, the documentary will start streaming Tuesday, January 24 at 7 p.m.  in the PBS App, on FRONTLINE's YouTube channel and at pbs.org/frontline — one week ahead of the documentary's broadcast premiere on Tuesday January 31 on THIRTEEN (see broadcast schedule).
"Vladimir Putin is as clear-eyed and cold blooded as any foreign leader I have ever seen," former national security adviser John Bolton says in the documentary. "He knows exactly what he thinks Russia's national interest is and he pursues it unrelentingly."
From acclaimed FRONTLINE filmmaker Michael Kirk and his award-winning team, including producers Mike Wiser and Vanessa Fica, the documentary provides unique insight into the icy relationship between Putin and current U.S. President Joe Biden, as well as the evolution of Putin's grievances with the U.S. and the West.
"Vladimir Putin needs to somehow justify the horrific sacrifices that Russians are making on his orders by broadening the aperture, making this about something bigger, into some kind of conflict with United States, with the West, with NATO — take your pick," current U.S. Secretary of State Antony Blinken tells FRONTLINE in an in-depth interview.
Since Russia invaded Ukraine, FRONTLINE has tracked 
evidence
 of 
potential war crimes
 and documented the toll on 
Ukrainian civilians
 caught in the fighting. With the war nearing its second year, 
Putin and the Presidents 
offers essential context on how we reached this point.
"I think it's a very dangerous moment," former U.S. Ambassador to Ukraine Marie Yovanovitch says in the documentary. "It's a dangerous moment for Ukraine. I think it's a dangerous moment for Russia, because it's hard to see what the pathway forward is. It's a dangerous time."
Stream Putin and the Presidents starting tonight. And stay tuned for more: In connection with Putin and the Presidents, FRONTLINE will publish new extended interviews from the making of the documentary as part of the FRONTLINE Transparency Project.