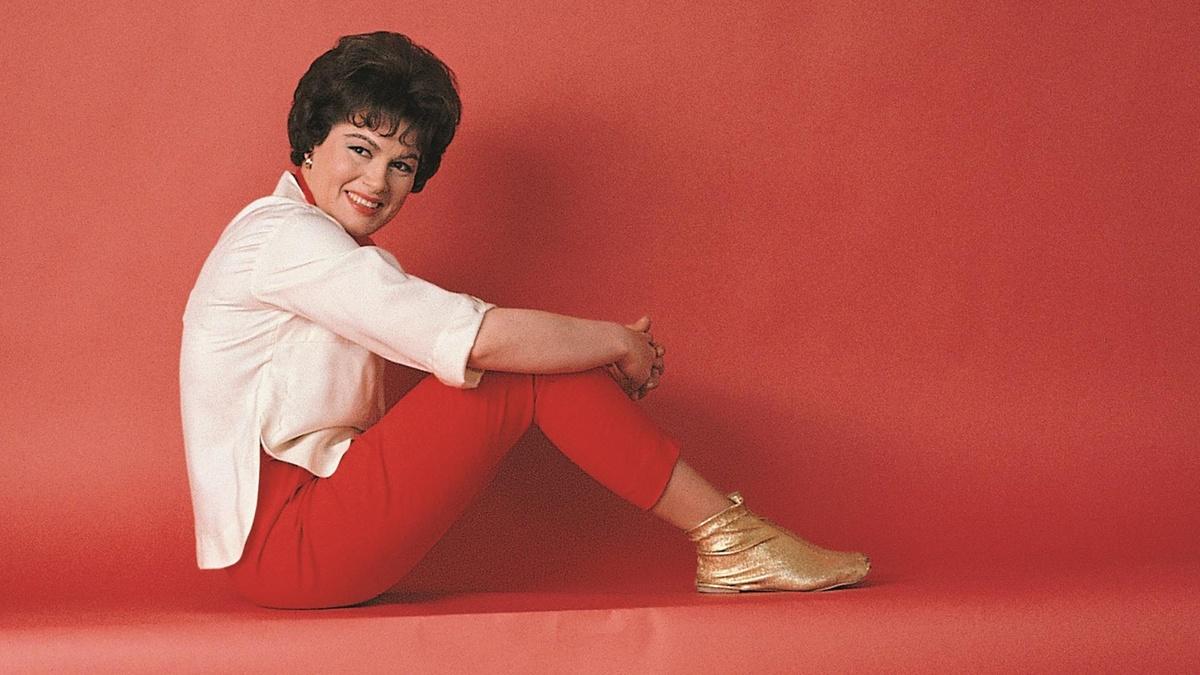 Patsy Cline (September 8, 1932 – March 5, 1963) — the soulful voice of "Crazy," "I Fall to Pieces," "Walkin' After Midnight," and more — defined modern country music by using her singular talent and heart‐wrenching emotional depth to break down barriers of gender, class, and genre. She boldly bucked female conventions of the 1950s with her fashion sense, her decision to divorce, her support of female artists, and her ambition to get the same headliner billing and radio airplay as her Nashville peers, particularly after breaking free of an inequitable record contract that earned her half the industry standard.
During her brief lifetime – she died in a plane crash in 1963 at age 30 – she overcame poverty, a bad marriage, a devastating car accident, and significant professional obstacles, transforming adversity into music that has survived generations and continues to inspire today's artists, from Reba McEntire to LeAnn Rimes.
Cline's story of perseverance is the subject of the PBS documentary Patsy Cline: American Masters (Saturday, March 4, 9 pm), premiering during Women's History Month and one day before the anniversary of her untimely death.
Narrated by Rosanne Cash, the film examines Cline's impact on American culture, revealing how, when country music lost much of its core audience due to the onslaught of rock 'n' roll, Cline, with Decca Records producer Owen Bradley, revolutionized the genre by infusing it with pop and rock to create the Nashville Sound. With exclusive access to the Cline estate, American Masters spotlights her artistry in rare performances of "Walkin' After Midnight," "Three Cigarettes in an Ashtray," "Crazy," and other classics.
The documentary also features exclusive interviews with Cline's contemporaries and with artists who have been influenced by her: Reba McEntire, LeAnn Rimes, Kacey Musgraves, Wanda Jackson, Beverly D'Angelo, Callie Khouri, and others.
"Patsy Cline is to country music what Ella Fitzgerald and Billie Holiday are to jazz, or what Aretha Franklin is to soul," Khouri says in the film.
D'Angelo, who was an aspiring singer when she was cast as Cline in Coal Miner's Daughter, says, "Patsy Cline had the most profound effect on my life of anybody I never met."
Find more Patsy Cline film excerpts on the American Masters page on THIRTEEN.
---
After the premiere, Patsy Cline: American Masters is available to stream for THIRTEEN Members who have activated Passport. Learn more about Passport, the new THIRTEEN member benefit.

What does Patsy Cline mean to you? Share in the comment section, below. NPR asked its listeners to describe Cline's famous alto voice and got these responses:
"It warms the back seat of a Nash Rambler" — Linda Larson
"The voice of the moon courting a shy earth" — Justin Balsley
"The sound of swing, swagger and swoon" — Thomas Kimble
"The happiness right before heartbreak" — Cassandra Ramirez
"A smoky suede leather jacket forgotten in the closet" — Terry Ellertsen
"Slipping back into a warm bed on a cold morning" — Sarah Brown
"The feeling you get thinking of your lover during a long-distance drive" — Olivia Tyson
"God's voice coach" — Tom McGinty
"The ache for the tastes of childhood forever gone" — Brad Rudy
"A dawn breaking at the end of a day" — Mike Vale
"The unrequited love of a heartsick suspension bridge for the river that flows beneath it" — Susan Palamara
"The first kiss of your first love" — Michelle Pohlmeyer
"A red flannel shirt" — Sarah Greenleaf