Updated December 17
The debut of No Passport Required in July 2018 was celebrated by those who like their cuisine served with large sides of culture and insight. Hosted by star chef Marcus Samuelsson, the series fired off its sneak peek Season 2 premiere on December 13, with a deep dive into Filipino cuisine in Seattle, Washington. Samuelsson sets off on another tour of six U.S. cities to explore the immigrant traditions and cuisines woven into American food and culture. Samuelsson, who is executive producer, will also look at an ethnicity's art, music and ways of marking special occasions.
No Passport Required: Season 2 Schedule
The second season will air Mondays, beginning January 20 at 9 p.m. when all episodes will stream wherever you watch THIRTEEN. The sneak peek Episode 1 and all six episodes of Season 1 are streaming now.
Seattle: Filipino cuisine.
Premiered December 13. Stream now.
Los Angeles: Armenian cuisine.
Premieres January 20 at 9 p.m.
Houston: West African cuisine.
Premieres January 27 at 9 p.m.
Philadelphia: Italian cuisine.
Premieres February 3 at 9 p.m.
Las Vegas: Chinese cuisine.
Premieres February 10 at 9 p.m.
Boston: Cuisine of the Portuguese-speaking diaspora.
Premieres February 17 at 9 p.m.
About the Host
Samuelsson brings much to the table when focusing on immigrants in America. He's been an immigrant himself, multiple times. Ethiopian by birth, he was raised by Swedish parents in Sweden before he pursued a culinary career in France, and then in United States, where by the age of 23 he rose to executive chef of Aquavit and earned a 3-star rating from The New York Times. New York City remains his home and is where he founded his first restaurant, Red Rooster Harlem, just one of the award-winning chef's many culinary and creative ventures.
A culinary and travel icon who inspired Samuelsson is his late friend and colleague Anthony Bourdain, who set a high standard for travel and food journalism with shows like Parts Unknown, which Bourdain was filming when he died on June 8, 2018.
In an interview with Eater, Samuelsson said, "I don't think you can underestimate the impact Tony [Anthony] had showing the world how closely linked food, culture, and identity are." Samuelsson got to experience Bourdain's approach firsthand when he and his wife participated in the Ethiopia episode of Parts Unknown.
Marcus Samuelsson carries on Bourdain's legacy of bringing people together around food with No Passport Required.
Stream Season One
All six episodes of No Passport Required Season 1 are streaming now through March 16.
Detroit
Marcus heads to Detroit — home to one of the largest and most diverse Middle Eastern communities in America — to explore its culture, history and food. With a family of Syrian refugees in Dearborn, he shares a home-cooked meal and talks about their proud heritage and overcoming misconceptions. Over Yemeni tea, he discusses the importance of finding community. Marcus cooks with Lebanese-American pastry chef Lena Sareini and learns how to make the Iraqi bread samoon, all before ending the trip at an amazing 700-person wedding.
New Orleans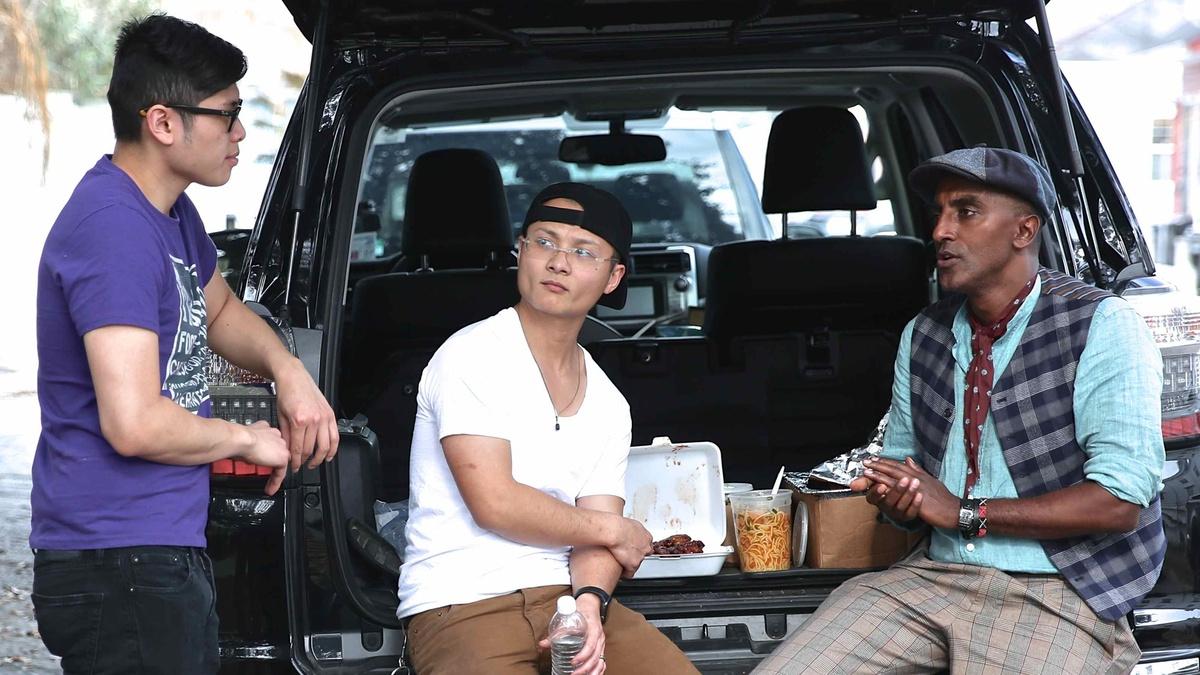 New Orleans is known for being one of the most vibrant food cities in America, thanks in part to the Vietnamese community's culinary contributions. With Cindy Nguyen, NOLA's first Vietnamese councilwoman, Marcus learns about the essentials of the cuisine. Alongside Peter Nguyen and Tung Nguyen, he sees how young chefs are taking culinary traditions and translating them for a new, multicultural generation. Marcus takes in everything, from pho and bánh mì to Vietnamese iced coffee, and hears about the impact the BP oil spill and Hurricane Katrina had on the community.
Chicago
Marcus visits the longstanding Mexican community in Chicago — the second largest in the U.S. — to learn about its heritage and traditions. With muralist Juan Angel Chavez, Marcus eats tacos de cecina and grilled nopales, and discusses the important role meat plays in Mexican cooking. Later, master chef Diana Davila shares with Marcus how she combines Chicago's local ingredients with the traditional techniques of pre-Hispanic Mexican cuisine at her restaurant Mi Tocaya.
Queens
In New York, Marcus learns about the Indo-Guyanese community. This double-diasporic community from Guyana and the Caribbean has roots in India, influences from Africa, China, Portugal, and has now settled in Richmond Hill, Queens. Marcus eats Trinidadian roti and doubles, visits a cross-cultural bush cook, plays cricket and learns how to make a traditional Guyanese chicken curry in honor of springtime festival Phagwah.
Miami
The history of Haitian immigration to Miami is deep and layered. Food serves as a way for the community to celebrate together and helps educate the region about its culture. From the tropical, tangy soursop ice cream and the spicy, nutty mamba spread to
soupe joumou
and deep-fried pate korde, Marcus eats his way through Haiti's culinary classics while embracing the detailed history — and music and art — of Haitians in the city of Miami.
Washington, D.C.

Outside of Ethiopia, Washington, D.C. has the largest population of Ethiopians in the world, so the city feels like a homecoming to Marcus even though he's never lived there. He visits a market in Little Ethiopia, talks about the spiritual rituals that are so closely connected with the cuisine, enjoys Ethiopian staples like kifto and injera, and celebrates the culture's traditions through cooking, dance and a traditional Ethiopian coffee ceremony.
---
Some recipes from each episode will be shared online. To continue cooking, try these classic American recipes from Cook's Country.