A walk down any street in New York City can re-affirm in an instant why you love being here: a generous slant of sunlight between buildings, a free outdoor performance, and one of a million quirky human interactions. Those unexpected moments have been fewer since the pandemic started, which makes the beautifully filmed "New York State of Mind" music video one of the best highlight reels of the year. The sight of Broadway stars and New York musicians performing Billy Joel's "New York State of Mind" all around New York City sends me over the moon and concretely back to the sidewalks outside our THIRTEEN headquarters, one theater-lined avenue from Times Square. I tear up every time I watch the video, but I'll deflect eye rolls by pointing out the video's amazing talent and cinematography.
Joel's love ballad to New York City was written for his 1976 Turnstiles album and the artists taking turns adoring it in the video are the bedrock of New York's cultural life. Kelli O'Hara, Suzanne Vega, Miss Peppermint, Bobby Sanabria and more pass lines between the Steinway & Sons Factory in Astoria, Tom's Restaurant and Columbia University in Morningside Heights, Coney Island in Brooklyn and the Bronx's La Casita de Chema (Centro Cultural Rincon Criollo).
Here are some stories of these New York entertainers, whose remarkable accomplishments in New York City make being here the envy of performers and audiences around the world.
Who Made This Video Magic Happen?
How did these six minutes of music video magic come together? It was work of the all-volunteer NYCNext, which formed in August 2020 to defend New York from rumors that "New York is dead" with proof of its creative resilience. NYCNext co-founders Andrew Lerner and Maryam Banikarim and hundreds of volunteers made it a mission to uplift the shut-down city's spirits and "create the next New York" that prioritizes equity and diversity.
After producing pop-up city events in 2020, NYCNext began an eight-month process to create something that could reach exponentially more New Yorkers and those who cherish it from afar.
In a Zoom conversation, NYCNext's Andrew Lerner explained how partnerships progressed for the video project. It started in December with collaborator and Pulitzer Prize-winning composer Tom Kitt suggesting Billy Joel's song "New York State of Mind." The team eventually reached Joel, who gave it his blessing; publishing rights were secured, and Kitt, composer of Broadway's Next to Normal, began arranging the extended version while reaching out to his musical contacts. Brooklyn production company Smarty Pants volunteered to film the five-borough shoot. Anne Del Castillo of The Mayor's Office of Media and Entertainment (MOME) helped plan distribution for the video, which helped get more talent on board in the first months of 2021.
Production was well underway this spring when NYCNext heard murmurings about the NYC Homecoming Concerts, a star-studded series made possible in part by the rolodex of legendary music producer Clive Davis.
"We're sort of hustlers," Lerner said with a laugh, referring to NYCNext's volunteers, who include public relations experts. "We called MOME, we called Live Nation, we called Clive Davis' people, CNN – we called them all. As the video evolved, we kept showing them pieces of it."
"Brian Newman and Angie Pontani were among the first people we filmed – they were fantastic," Lerner gushed.
It's a feather in a gorgeous costume of renown burlesque performer Pontani, and a credit to jazz trumpeter and bandleader Brian Newman, that their segment at Deno's Wonder Wheel Amusement Park in Coney Island clinched support from others. (See all the performers involved on the NYCNext site, and we'll reveal more about Newman and Pontani, below).
The music video got its national premiere in a CBS Sunday Morning segment on August 15. Later that week on jumbo screens, it set the mood for tens of thousands of audiences before each of the five outdoor NYC Homecoming Week Concerts, ending with the one in Central Park on August 21.
As my conversation with Lerner came to a close, I choked up while saying the video meant a lot to me, having grown up in New York listening to Billy Joel's sentimental song, and now experiencing a reopening, post-pandemic city. Lerner graciously jumped in to put words to my dumbstruck emotion: "The point [of the video, and our work] was to try to get people involved, to make people remember New York, and why they love it and want to be here."
Who Are the Performers?
The performers – many of them Broadway veterans – project an energy that we love sharing on PBS, an arts showcase that extends Broadway's and New York artists' reach to audiences everywhere. We relished seeing many familiar Tony and Drama Desk award winners and nominees appearing as themselves in the New York State of Mind video. Here are their upcoming performances and appearances on PBS video that grant them more time in the spotlight.
Sara Bareilles
A Grammy-winning singer-songwriter and more, Sara Bareilles sings her verses from Russ and Daughters on the Lower East Side, a culinary landmark run by the Russ family for four generations. The setting warms up Bareilles for a star return to Waitress, the Broadway show for which she wrote the music and lyrics. Her six-week stint begins with its reopening on September 2.
Bareilles told Sarah Bahr in a New York Times interview this week, "Coming back to this [Waitress] was intense in ways I hadn't anticipated. The story is so rooted in resilience and community, and the discovery of self-worth and self-love, and those are also themes in the real world right now."
An episode of Broadway Sandwich gets you to the backstage of Waitress with Charity Angél Dawson, who will return to role of Becky to co-star with Bareilles.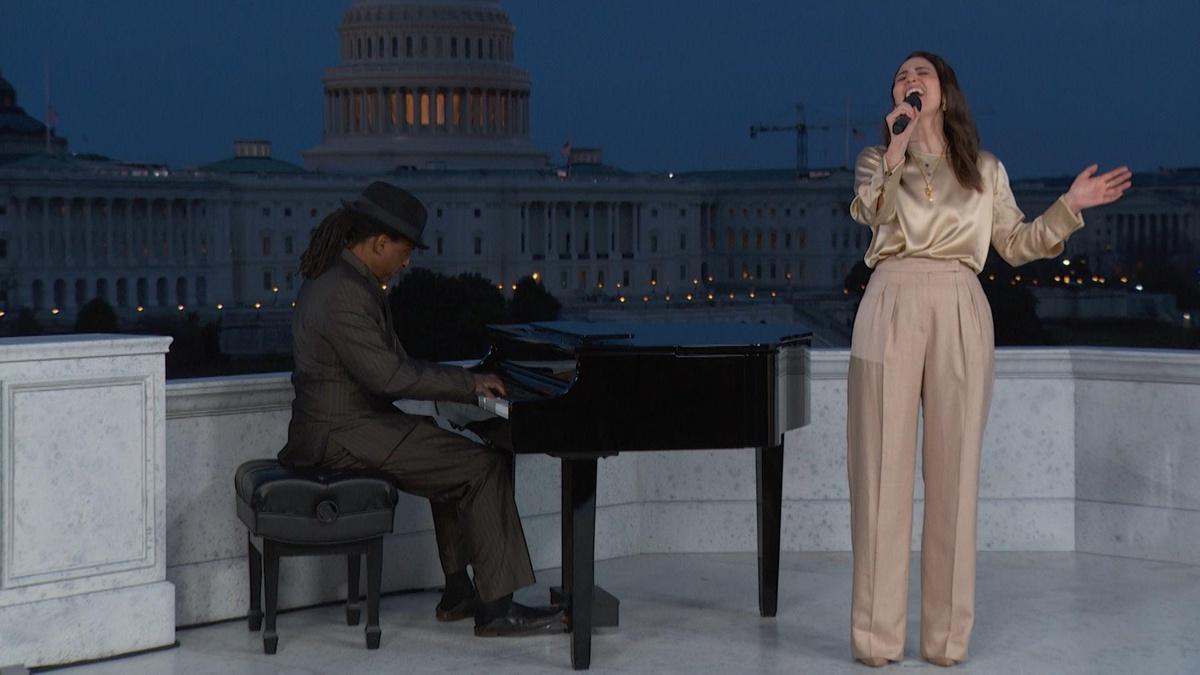 Broadway was closed most of this summer, but we and others spent a lot of time with one special Sara Bareilles performance. THIRTEEN.org's number one video this summer is
Bareilles' performance at the National Memorial Day Concert
, where she sang Carole King's "You've Got a Friend" in front of the U.S. Capitol. She dedicated it to the nurses who served in the Vietnam War.
On June 5, 2021, Bareilles headlined New 42's once-in-a-lifetime outdoor celebration on 42nd Street in Times Square. The event, honoring New York City's leaders and teachers in education and the arts, included Freestyle Love Supreme Academy, Bill Irwin, Dance Theatre of Harlem, Chop & Quench featuring Sahr Ngaujah, DJ Duane Harriott, Brooklyn United Marching Band, and the Saxophone Ensemble of Celia Cruz Bronx High School of Music. ALL ARTS is streaming the performance on its Set List series as New 42's "Let's Get This Show on the Street."

Idina Menzel
Idina Menzel filmed her portion of New York State of Mind in the stark, workaday setting of Open Jar Studios on Broadway and 48th Street, where countless musicians and dancers rehearse and audition. She brings star power and a belting, knock-out voice to her shows, old and new. She won a Best Featured Actress Tony Award for the role of Elphaba the witch in the original Wicked, sang "Let it Go," the Oscar- and Grammy Award-winning song from Frozen, for which she is the voice of princess Elsa, and, will play the stepmother in the film Cinderella, coming September 3.
Menzel will be seen sooner on PBS as co-host Wicked in Concert (Sunday, August 29; stream now) with Kristin Chenoweth. The Wicked original stars will welcome Mario Cantone (see him sing "Wonderful"), who sings "New York State of Mind" at Grand Army Plaza with his husband, musical theater director and actor Jerry Dixon. Tony winners Rita Moreno, Cynthia Erivo, Gavin Creel, and Ali Stroker are among the many singers reprising songs from Wicked, which will reopen on Broadway September 14 (Playbill provides the cast lineup).
Brian Stokes Mitchell
Tony Award winner Brian Stokes Mitchell has been a leading man on Broadway for more than three decades, and also literally lives on Broadway, on the Upper West Side. The baritone contracted the coronavirus in March 2020, and as soon as he recovered, he shared his voice again. After the close of the city's nightly 7 p.m. clap in appreciation of frontline workers, he would sing in dedication to them and passersby would stop in wonder on the street. This past July, Mitchell appeared on MetroFocus to discuss the reopening of Broadway theaters and his outdoor Lincoln Center show, "Out with the Old, In with the New." He also brought to light how many show business workers have been hurt by the pandemic, a great concern to him as chair of the Actors Fund.
"The vast majority of people in show business are not these multibillion dollar-making stars that you see on films and in the news all the time. No, they're basically working people with gig jobs."
You can enjoy Mitchell's singing and conversation about the entertainment business in American Songbook at NJPAC hosted by Michael Feinstein, when Mitchell appeared for a broadcast special from the Newark, NJ, arts center along with Ana Gasteyer and Lucas DeBard. Highlights include "There's No Business Like Show Business," "What a Wonderful World" and "Hello, Dolly!"
Kelli O'Hara
Seven-time Tony Award nominee and winner for her role in The King and I revival, Kelli O'Hara has been performing on Broadway since 2000. Great Performance's presentation of Roger & Hammerstein's The King and I captures O'Hara and Ken Watanabe in the Tony Award-winning revival of the beloved musical about a British schoolteacher instructing the King of Siam's children. The production, including classic songs "Hello, Young Lovers" and "Shall We Dance," is streaming through November 8, 2022.
If you need a little Christmas right now, sing along with O'Hara in the last Christmas with the Tabernacle Choir, an annual holiday musical spectacular on PBS.
To hear O'Hara speak about her career, we recommend her conversation with Jim Zirin about coming to New York from a small town in Oklahoma and rocketing to Broadway musical theater stardom. She shares how she has acted out serious contemporary themes, all while preserving the musical values of the American songbook.
We are proud to have shared with television audiences O'Hara's first appearance in a Metropolitan Opera production with Great Performances at the Met: The Merry Widow (2015). We also broadcast her turn as Despina in the Met Opera's production of Great Performances at the Met: Così fan tutte in 2018, which was set in 1950s Coney Island. Watch O'Hara play a motel maid and sing her aria in Act 1 of Così fan tutte.
Joseph Joubert
One of the first to be filmed for New York State of Mind video is someone usually not on camera or stage: Joseph Joubert, a pianist, Broadway conductor and music director. Filmed at the jazz club Birdland, the native New Yorker plays most of the song's piano track (classical pianist and composer Chloe Flower, also plays a portion).
Joubert is a founding member of Muse, which is committed to creating diversity within the music departments of the theater industry and supporting people of color. Joubert's many PBS productions seen by audiences nationwide include Norm Lewis's American Songbook, the Live from Lincoln Center special, and PBS special Three Mo'Tenors and production of Three Mo Divas.
His orchestrations will be part of the Roundabout Theatre's Caroline or Change, opening October 8 and starring Olivier Award winner Sharon D Clarke.
Among his Broadway orchestration credits are The Color Purple (Drama Desk Nomination), Violet (Drama Desk Nomination), and Leap of Faith. He was musical mirector for Berry Gordy's Motown The Musical and was assistant conductor for Nice Work If You Can Get It and Billy Elliot.
LaChanze
The lady in red who sings "New York State of Mind" verses from the Steinway & Sons Factory rooftop in Astoria is LaChanze, whose name is Creole for "one who is charmed."
She began charming awards committees with her first starring role on Broadway in the original Once on This Island (1991), which earned her a Tony nomination for Best Actress and The Theatre World Award for Best Broadway debut.
Performing as Celie in The Color Purple (2006) garnered her the Tony Award for Best Featured Actress and she added a television Emmy Award to her honors for her riveting performance in the PBS special Handel's Messiah Rocks: A Joyful Noise. 
LaChanze and Melba Moore were the honorees of a star-filled Broadway concert, Women of Color on Broadway (2020). The evening, broadcast by the ALL ARTS series House Seats, featured performances by Darlesia Cearcy, Kimberly Marable, Aléna Watters, and more at the Great Hall at The Cooper Union. Remarks at the ceremony share LaChanze's long career, including when she and her daughter Celia Rose Goodin made history as the first Black mother-daughter duo to perform leading roles on Broadway at the same time.
The Broadway veteran will star in a new Roundabout Theatre Company production, Alice Childress' Trouble in Mind (previews begin October 29). Written in the 1950s, the play finally gets its Broadway premiere and its theme – racism, identity, and ego in New York theater – dovetails with LaChanze's offstage work as a founding member of Black Theatre United, which focuses on equity and accessibility in the theater community.
Peppermint
Peppermint, a singer, actress and runner-up on Season 9 of RuPaul's Drag Race is the delightful drag diva who hosts the American Masters spin-off, Masters of Drag, telling the stories of American drag pioneers and the history of drag performance of an art form. Peppermint herself was the first out trans woman to originate a principal role on Broadway, appearing in The Go-Go's-inspired jukebox musical, Head Over Heels (2018).
To-date, Peppermint has guided drag fans through the accomplishments of drag performers Julian Eltinge, Gladys Bentley, José Sarria, Joan Jett Blakk / Terence Smith, and Flawless Sabrina.
Brian Newman and Angie Pontani
Performing "New York State of Mind" at Deno's Wonder Wheel Amusement Park of Coney Island, jazz trumpeter Brian Newman and burlesque icon Angie Pontani are a married couple featured on an episode of Here's the Story,
"La Vie En Rose"
, which airs on NJ PBS.
The successful New York City jazz man and bandleader has played with Lady Gaga and Tony Bennett, and retreats home to Brooklyn at the end of every gig to join Jersey's own, Angie Pontani, and their baby girl Sistilia.
Watch the half-hour documentary, which spotlights Newman in rehearsal and performance with bandmembers and Pontani, and at home with family.
Angie Pontani can also be seen performing onstage with Gaga and Bennett during their live Cheek to Cheek Great Performances concert on PBS.
What About Billy Joel?
Where's the piano man himself, Billy Joel? The Bronx-born rocker who grew up in Long Island regularly serenades tens of thousands at Madison Square Garden, but does not perform for the video he inspired. His daughter, singer Alexa Ray Joel, participates from a studio Easthampton, NY, and two of his band members have key roles. Joel's musical director and keyboardist David Rosenthal helped co-produce the "New York State of Mind" recording and can be seen in the video alongside saxophonist Mark Rivera, who has played with Joel for nearly 40 years. Rosenthal and Rivera were filmed at the harbor's edge at Red Hook Winery in Brooklyn.
---
We applaud everyone who contributed their time and talent to this ode to New York's beauty and resilience, including those not covered here, like late-night talk show host Stephen Colbert, Tony Award-winning actress Victoria Clark, The Klezmatics, Joan Osburne and more (see
NYCNext site
).
We, too, have been highlighting artists and arts organizations throughout the pandemic. #PBSForTheArts is a multiplatform campaign celebrating the resiliency of the arts in America during the COVID-19 pandemic shutdown and reopening. Our programming across broadcast and digital platforms showcase the devastating impact of the pandemic to the arts industry, and how individual artists from choreographer Omari Wiles ("New York is Burning") to museums like El Museo del Barrio have adapted and kept creative throughout this time. Read artist interviews and stream episodes and clips on PBS.org.