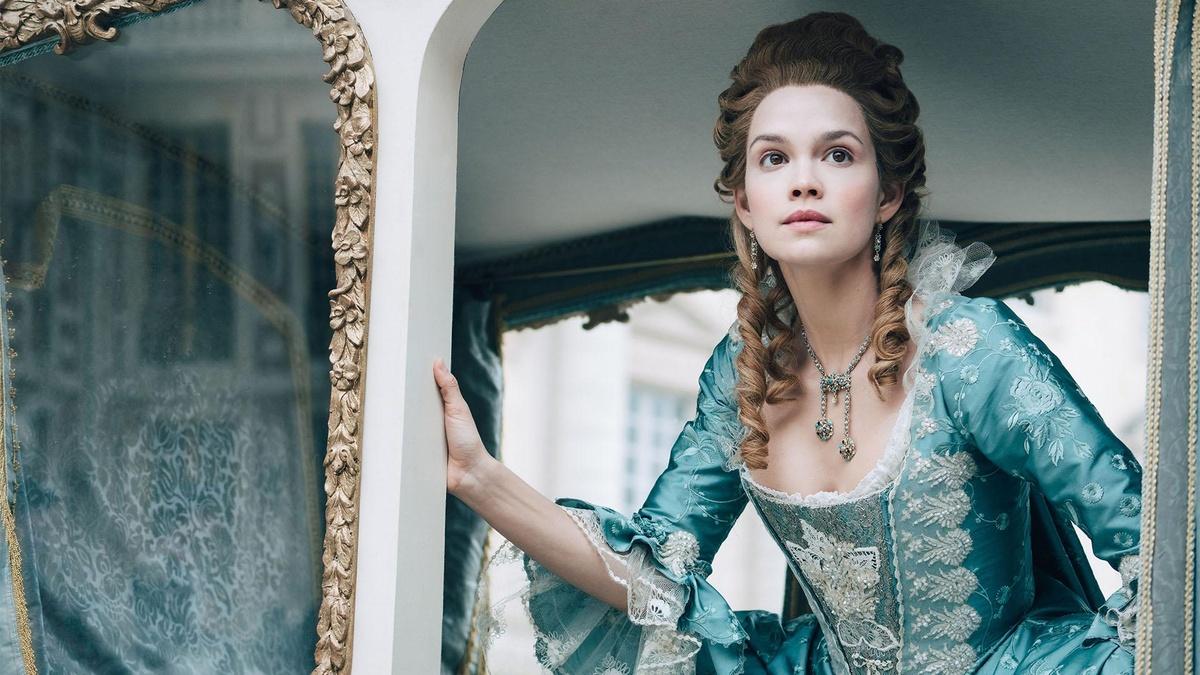 She did not say "Let them eat cake." The misattributed quote is shorthand and side-eye for Marie Antoinette (1755-1793), the decadent queen of France who lost sight of the starving masses who could no longer afford bread. After the French Revolution, her life ended at age 37 at the guillotine. Was she really that bad? The PBS series
Marie Antoinette
, written by Deborah Davis (
The Favourite
) gives a fictive, feminist consideration in an eight-episode season premiering March 19.
I'd need a degree in European history to debunk or confirm the twists and turns of royal houses and their power plays through marriage, but I know Marie Antoinette was no romantic princess bride when she married France's dauphin, the future Louis XVI, King of France. Royal marriages were all about working abroad for the family business. Hapsburg Empress Maria Theresa sent her 14-year-old daughter from the Vienna palace to France's Versailles in the spirit of any monarchy: to heal rifts, secure alliances and gain political influence across empires and borders.
There will be no bloodshed this first season, which focuses on a cut-throat court, the thrill of luxury (
dresses in the season
include Dior designs) and the very awkward teenage marriage of Marie Antoinette (Emilia Schüle,
Berlin Dance School
) and Louis (Louis Cunningham,
Bridgerton
). With pressure to continue the Bourbon line and secure the Franco-Austrian alliance, Marie Antoinette must follow the complex rules of the French court while attempting to charm her reluctant king-to-be.
Watch Marie Antoinette Sundays at 10 p.m. through May 7. THIRTEEN members can stream the entire Marie Antoinette season now; nonmembers can stream each episode for two weeks after broadcast.
Episode 1: The Slap
Marie Antoinette is just a teenager when she's forced to leave Austria to marry the French dauphin. Once she's the dauphine, she must produce a Bourbon heir to secure the alliance between France and the Hapsburg Empire of Austria. It's no fairy tale come true and she's as unprepared for her job as her awkward teenage husband is. How will this free spirit react to Versailles with its ridiculous rules of etiquette? This fashion-forward woman is going to have free reign in her wardrobe, at least.
Episode 2: Rival Queens

Marie Antoinette realizes that producing an heir will not be straightforward. She turns to Madame du Barry, the king's mistress, for support. But the Favorite begins to see the dauphine as a rival for the affections of the king (James Purefoy). There can't be two queens.
Episode 3: Pick a Princess

The royal family goes on holiday at Fontainebleau to escape stifling Versailles. Marie Antoinette discovers Madame du Barry's plan to welcome the betrothed of Louis's younger brother, Provence (Jack Archer). Now there's competition to literally deliver a male son to secure the French throne. Marie Antoinette's escalating hostilities with du Barry threaten her relationship with the king.
If only Call the Midwife could reach back through the ages and provide the young couple sage and gentle advice on reproduction.
Episode Four: Queen of France

Marie Antoinette and Louis are about to make their first official visit to Paris. But when the King Louis XV becomes seriously ill, the succession suddenly becomes a reality. Du Barry knows that if she doesn't protect herself from the future queen of France, her time at Versailles will be over.
Episode Five: Rebel Queen

Her husband Louis is now King Louis XVI, and Marie Antoinette is determined to launch her reign as the queen of France. First steps: organize a glittering Inauguration Ball and convince Louis to choose her pro-Austrian candidate as his new prime minister. But their marriage hits the rocks when Louis isn't prepared to let his Austrian wife dabble in French politics.
Episode Six: Deus Ex Machina
Surprisingly, the person who comes to Versailles to save her troubled royal marriage is Marie Antoinette's brother, Joseph, who realizes he will have his work cut out if he's going to unite this estranged couple. Time is running out to save the Franco-Austrian alliance.
Episode Seven: The Ostrich Bitch
Marie Antoinette is pregnant at last! But her reputation is attacked when pornographic pamphlets challenging the legitimacy of her unborn child appear at Versailles. Louis locks down the château and demands a full-blown investigation to nail the seditious traitors.
Episode Eight: Queen of Hearts
Louis becomes increasingly confident in his position as king as he throws himself into supporting the American War of Independence. Meanwhile, Marie Antoinette embraces life at the Petit Trianon, a château on the grounds of Versailles where she overspends on decor and becomes enamored by a familiar face — Count Axel von Fersen.
---
The musical Les Miserables is the extent of my familiarity with French political revolution, but Marie Antoinette was caught up in the French Revolution – which I'm assuming will be the diamond necklace-clutcher of Season 2. The Victor Hugo novel and the musical take place two decades after our heroine's demise, between the Bourbon Restoration and what's known as the July Monarchy. Our six-episode dramatic adaptation Les Miserables can be your post-Marie Antoinette binge.
To spend more time in Marie Antoinette's home court, stream The Empress, an Austrian series that follows the rise to power of her mother, Maria Theresa, who claimed the title of Holy Roman Empress for two decades.
For a deep dive into Marie Antoinette's true history, historian Lucy Worsley delivers both facts and fun (including both accurate and sometimes cheeky re-enactments). She has several series streaming on THIRTEEN and her Marie Antoinette: The Doomed Queen episode is part of Lucy Worsley's Royal Myths & Secrets.