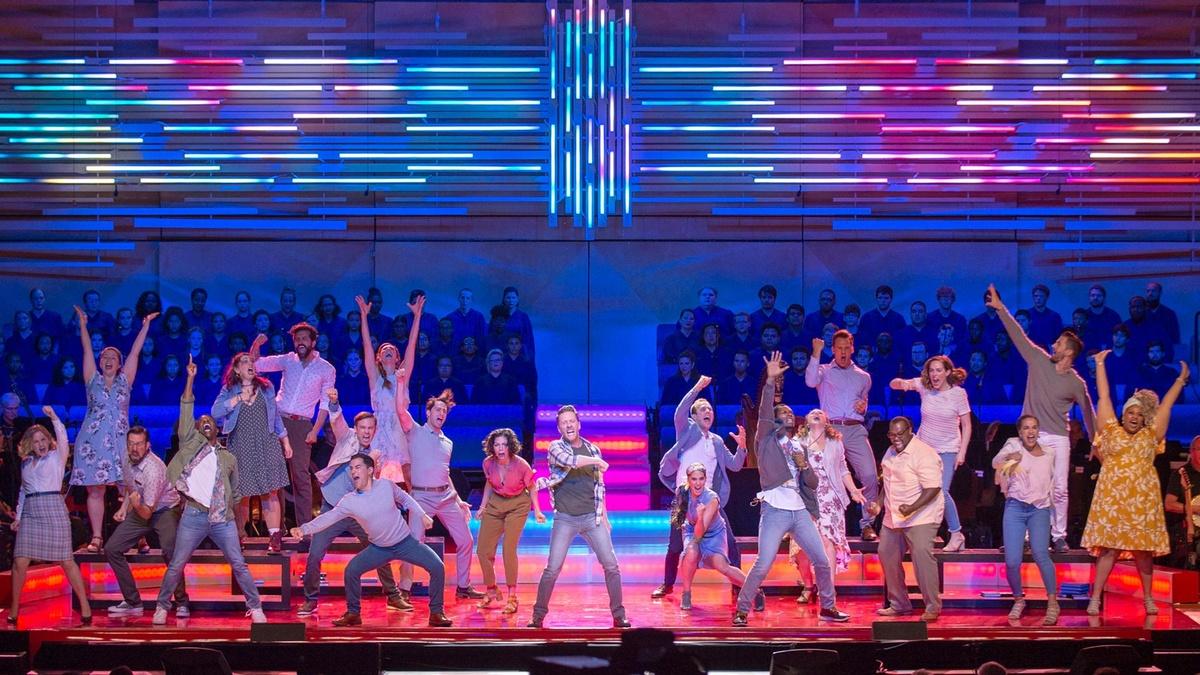 Great Performances: Bernstein Mass premieres Friday, May 15 at 9 p.m.
Great Performances: Bernstein Mass captures not only a great modern music-theater work by American composer Leonard Bernstein, but a summertime tradition that will be sorely missed this year: a grand-scale outdoor music event.
This acclaimed production of Mass was filmed in July 2019 at the Ravinia Festival in Highland Park, IL, the nation's oldest outdoor music festival, dating to 1905. An incredible 245 performers animated the stage for this Mass: star baritone Paulo Szot (in the Celebrant role, and recently of South Pacific), the Chicago Symphony Orchestra, conductor Marin Alsop (Baltimore Symphony Orchestra artistic director and Bernstein's only female protégé), the Chicago Children's Choir, Vocality chorus, the Highland Park High School Marching Band, plus more soloists and dancers. And then there's the audience: more than 3,000 were seated in the Pavilion, and hundreds more crowded the lawn.
The Back Story to Mass
Video above: The creatives of Great Performances: Leonard Bernstein Mass, Bernstein's son and daughter, and others discuss the significance of the avant-garde work.
When Leonard Bernstein (1918 – 1990) premiered Mass in 1971, his illustrious career had included conducting the New York Philharmonic for nearly a decade until 1969; composing for musicals such as Candide, West Side Story and On the Town; and hosting his televised music appreciation series Young People's Concerts on CBS.
Jacqueline Kennedy Onassis – whose admiration for Bernstein also came from his roles conducting her late husband's pre-inaugural gala and the funeral mass for Robert Kennedy – commissioned him to write Mass for the opening of the John F. Kennedy Center for the Performing Arts in Washington, D.C. in September 1971. Leonard Bernstein said he had always wanted "to compose a service of one sort or another." He chose the Roman Catholic mass as inspiration, as John F. Kennedy had been the only Roman Catholic U.S. president.
His collaborators for Mass included lyricist Stephen Schwartz (Jesus Christ Superstar, Wicked) and choreographer Alvin Ailey, both leading artists of Broadway and contemporary dance in New York.
Despite having just one named character, the Celebrant (performed by Szot in this Great Performances production), Mass has the dimensions of a Broadway extravaganza. As the story unfolds, members of the Street Chorus find themselves in an existential quandary, wondering how they can believe in a God and a world that are seemingly blind to their plights. Though Mass debuted at the start of the turbulent 1970s, the chorus' question is remarkably timely during this time of a world pandemic.
Mass first aired on Great Performances during its 1973-74 season, marking the beginning of Bernstein's storied association with the series. Though filmed a half-hour drive from Chicago and as part of the Ravinia Festival's Leonard Bernstein Centennial, this new premiere on May 15, 2020 reminds us of treasures of New York City cultural life: the multi-talented Bernstein himself, and the common act of gathering in a park to listen to world-class music as dusk settles on a warm summer evening.
More on Leonard Bernstein and His Work
Read more about the 2019 Ravinia Festival production of Mass.
Watch Great Performances: Leonard Bernstein Centennial Celebration at Tanglewood (through May 27, 2020). In honor of Leonard Bernstein's 100th birthday, Tanglewood — the famed summer home of the Boston Symphony Orchestra — dedicated its entire 2018 season to the iconic composer, conductor, performer, educator and humanitarian. Learn more about the concert at Bernstein in Tanglewood.