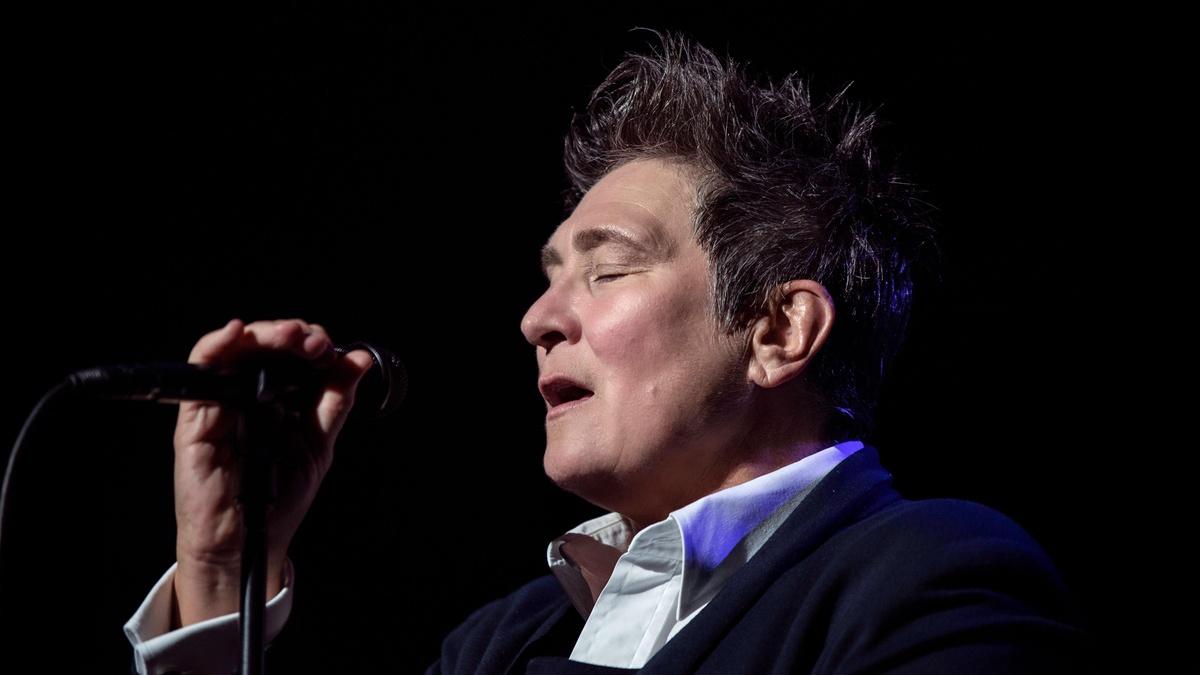 k.d. lang – Landmarks Live in Concert: A Great Performances Special premieres nationwide Friday, December 14 at 9 p.m. on THIRTEEN
Iconic singer-songwriter k.d. lang performs a 25th anniversary concert celebrating her critically acclaimed 1992 album "Ingénue" from the Majestic Theater in San Antonio, Texas, in k.d. lang – Landmarks Live in Concert – A Great Performances Special. (Yes, the singer uses lowercase letters for her name).
Lush and subtle, "Ingénue" allowed lang and co-writer-producer Ben Mink to explore jazz, cabaret and Tin Pan Alley songwriting, resulting in some of her greatest compositions. This Landmarks Live in Concert special features an uninterrupted performance of the complete "Ingénue" album, including lang's GRAMMY® Award-winning hit "Constant Craving," "Save Me," "Wash Me Clean," "Season of Hollow Soul" and "Miss Chatelaine."
The concert also includes the beloved Leonard Cohen song "Hallelujah" and a previously unreleased song by lang and Joe Pisapia, "Sleeping Alone." The special also features an interview with lang by
James Reed
, an entertainment editor at
Los Angeles Times
.
Twenty-six years ago, the Canadian singer was embraced by the music world, its elders (including collaborators such as Tony Bennett and Roy Orbison) and audiences all over the globe for her powerfully emotional voice and often quirky take on country music.
"'Ingénue' was a change in vernacular and vocabulary in that it was personal – finding some romantic space," said k.d. lang. "It was time. It was me. I had gotten to a time and point where I wanted to be me."
She's still comfortable in her own skin, performing this special in the formal attire of a button-down, collared shirt, suit – and bare feet.
Song List
"Save Me"
"The Mind of Love"
"Miss Chatelaine"
"Wash Me Clean"
"So It Shall Be"
"Still Thrives This Love"
"Season of Hollow Soul"
"Outside Myself"
"Tears of Love's Recall"
"Constant Craving"
"Hallelujah"
"Sleeping Alone"
The concert will be available to stream the following day via THIRTEEN Passport here on Thirteen.org and at pbs.org/gperf and the THIRTEEN Explore and PBS apps.
Learn more about Great Performances and its broadcasts and web-extras at http://www.pbs.org/gperf, Facebook, @GPerfPBS on Twitter, and with the hashtag #GreatPerformancesPBS.
The concert DVD and Blu-ray also will be available December 14 via MVD Entertainment Group. k.d. lang's "Ingénue: 25th Anniversary Edition" was released by Nonesuch Records last year in celebration of the double platinum-selling, GRAMMY Award–winning album's silver anniversary. The two-disc set includes remastered versions of the album's original 10 tracks as well as eight previously unreleased performances from lang's 1993 MTV Unplugged episode, recorded in New York City's famed Ed Sullivan Theater.
Created by documentary and live event producer/director Daniel E Catullo III, Landmarks Live in Concert features a lineup of global music superstars performing at landmark locations of either historical or personal significance around the world. Past episodes featured Alicia Keys at multiple locations around New York City, Brad Paisley at West Virginia University, Andrea Bocelli live at Florence's Palazzo Vecchio, Foo Fighters at the Acropolis in Athens, Greece, and will.i.am with the Black Eyed Peas and friends at London's Royal Albert Hall.