Generations of Joni Mitchell fans across the country can jointly celebrate her music and recent honor in
Joni Mitchell: The Library of Congress Gershwin Prize for Popular Song
. The tribute ceremony and all-star concert will premiere on PBS stations like THIRTEEN on Friday, March 31 at 9 p.m. ET (
see all dates
). Here's more about Joni's career and the Gershwin Prize, and other videos centered on Joni.
Like many singer-songwriters, Canadian-born Mitchell's career began in coffee shops and nightclubs, but her first songs in the 1960s were the definition of exceptional, setting a new standard marrying music and lyrics. Winner of multiple Grammy Awards, Mitchell never pursued fame, but with such songs as "Both Sides, Now," "Chelsea Morning," "Big Yellow Taxi," "Woodstock" and "The Circle Game," she became a household name and her musical genius is an inspiration to her peers. Mitchell redefined the role of women musicians. She oversaw all aspects of her albums, including songwriting, arrangements, performance, production and artwork.
If I hadn't heard her [Joni's] music, I don't think I would have become a singer-songwriter – Annie Lennox, in AARP interview.
In announcing the prize, Librarian of Congress Carla Hayden said, "Joni Mitchell's music and artistry have left a distinct impression on American culture and internationally, crossing from folk music with a distinctive voice whose songs will stay with us for the ages."
While Mitchell's early music is often categorized as "folk," her sound draws as much from jazz, classical and rock as she crossed various musical genres. Her music often encompasses bespoke tunings and song structures that defy categorization. As a lyricist, she delves deeply into both the personal and political, unafraid to explore the raw reality of living underneath societal norms and time-worn traditions.
Among the performers featured in Joni Mitchell: The Library of Congress Gershwin Prize for Popular Song are James Taylor, Brandi Carlile, Angelique Kidjo, Cyndi Lauper, Ledisi, Annie Lennox, Lucius, Herbie Hancock, Graham Nash and Diana Krall.
Bestowed in recognition of the legendary songwriting team of George and Ira Gershwin, the Library of Congress Gershwin Prize for Popular Song is the nation's highest award for influence, impact and achievement in popular music. The honoree is selected by the Librarian of Congress in consultation with a board of scholars, producers, performers, songwriters and other music specialists. Previous recipients are Paul Simon, Stevie Wonder, Sir Paul McCartney, songwriting duo Burt Bacharach and Hal David, Carole King, Billy Joel, Willie Nelson, Smokey Robinson, Tony Bennett, Emilio and Gloria Estefan, Garth Brooks, and Lionel Richie.
About Joni Mitchell
Joni Mitchell is an artist of unparalleled gifts as a poet, a songwriter, a musician, a producer, and a painter. She is an icon of modern music and one of the most influential creators of our age. Nearly 60 years after her first performances in Canada, the legend of Mitchell's genius continues to grow. Mitchell signed to Reprise Records in 1968, the same year she released her debut, "Song To A Seagull." The albums that followed made her the premier female singer-songwriter of a revolutionary new generation of artists.
The accolades bestowed on Mitchell have been vast, including multiple Grammy Awards®, the Kennedy Center Honors, the Polar Music Prize, MusiCares Person of the Year, and inductions into both the Rock And Roll Hall of Fame and the Songwriters Hall of Fame. In her native Canada, Mitchell has received the Governor General's Performing Arts Award for Lifetime Artistic Achievement, Canada's highest honor in the performing arts, and has been named a Companion of the Order of Canada, Canada's highest civilian honor. She was also recently presented an honorary doctorate from the Berklee College of Music.
Mitchell has never stopped making art, most recently launching the Joni Mitchell Archives, which began with her curating her vast catalog to reveal hours of previously unissued studio and live recordings. In 2022, Mitchell won a Grammy for producing the first volume in the series, "Joni Mitchell Archives Vol. 1: The Early Years (1963 to 1967)."
This year is set to be another landmark year for Joni Mitchell as she brings her Joni Jam to the stage for her first headlining concert in over two decades at Washington state's legendary Gorge Amphitheatre in June.
Joni Mitchell on Illusions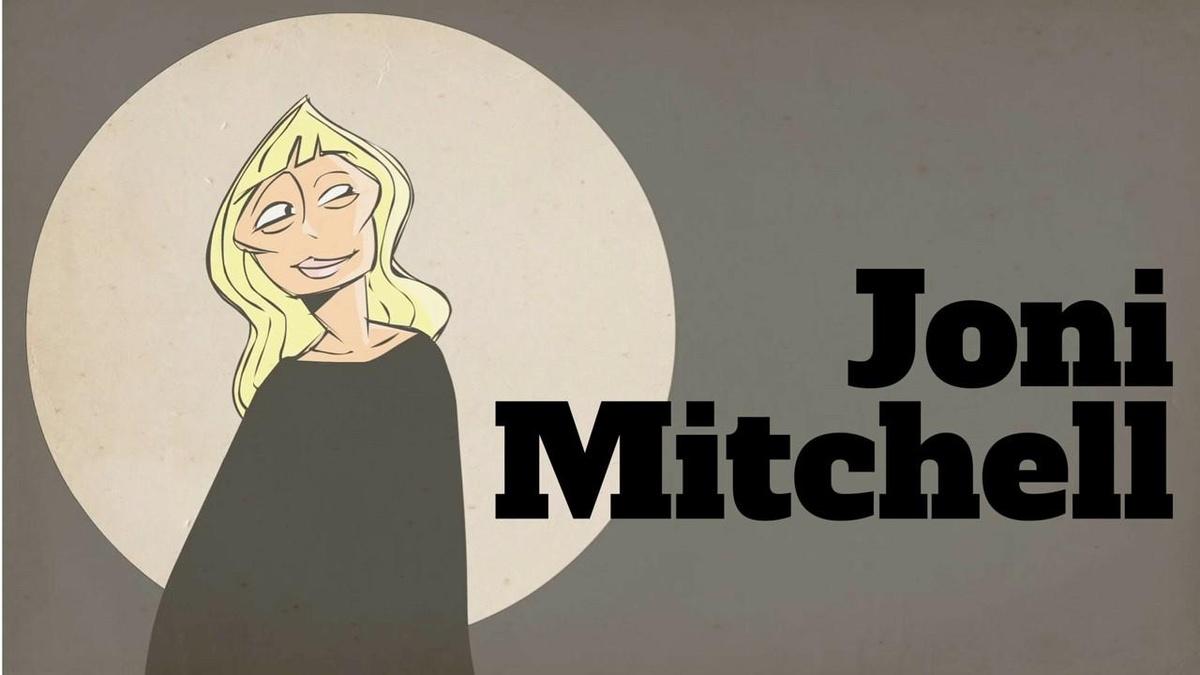 In 1986, a few days shy of her 43rd birthday, Joni Mitchell spoke with Joe Smith about her career and people's misconceptions about her. While her interview is available in
The Joe Smith Collection at the Library of Congress
, PBS Digital Studios made Joni's thoughts widely available by setting her words to an animation in the series Blank on Blank. (This content was never broadcast and pre-dates the automatic addition of closed captioning). In this animated video, the famously private Mitchell describes the comfort of grocery shopping, her high school interests, how she used wigs to help provide her anonymity. She relays how music producer
David Geffen
told her, "You're the only star I've ever met who wanted to be ordinary."
See more Blank on Blank interviews.
A Joni Mitchell Songbook
Stream with the member benefit THIRTEEN Passport.
The indomitable influence of Joni Mitchell is celebrated with an all-star lineup at the Kennedy Center in Washington, DC, led by multi-Grammy Award winner Vince Mendoza and accompanied by the National Symphony Orchestra. This one-of-a-kind concert includes performances by opera star Renée Fleming, Lalah Hathaway, Jimmie Herrod, Raul Midón, and Aoife O'Donovan.
Joni Mitchell at Newport Folk Festival, July 2022
Singer Brandi Carlile, 38 years younger than Mitchell, first met Joni Mitchell when she was invited to sing at Joni's 75th birthday concert in 2018 (see a clip from the Great Performances broadcast). Soon after, Carlile, a winner of nine Grammy Awards herself, was organizing "Joni jams" at Michell's home in Los Angeles. Carlile also brought together supporting musicians for Mitchell's Newport Folk Festival appearance in 2022, her first public performance since her brain aneurysm in 2015. It was a moving and thrilling set for both the awe-struck crowd and performers. The above clip features Mitchell singing her song "Both Sides Now," which she released in 1969 when she was 23 (Judy Collins first recorded it in 1968).
Below, see PBS NewsHour close its broadcast on July 26, 2022, by highlighting Mitchell's momentous return, elicting a gasp of appreciation from then-host Judy Woodruff.