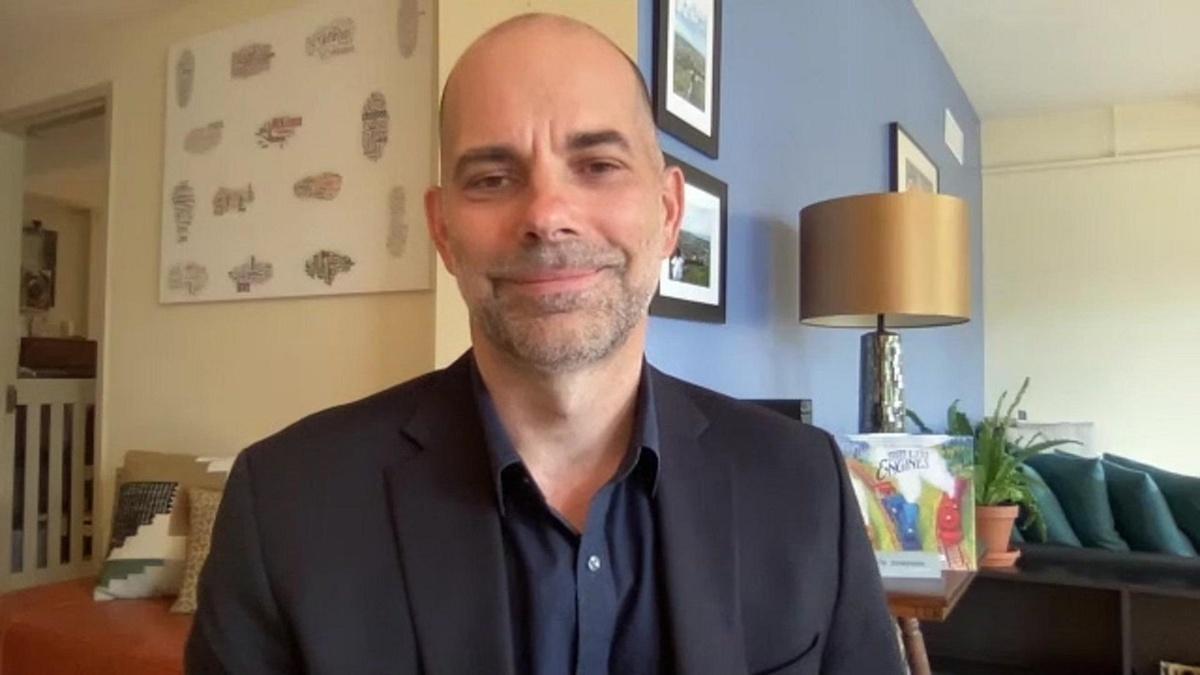 Watch the July 15, 2021, MetroFocus segment with Bob McKinnon, author and podcaster.
Have you ever asked yourself "How did I get here," or perhaps if you're not happy about your life circumstance and feel stuck, "How did I end up here?"
Bob McKinnon, director of the nonprofit Moving Up Media, believes that asking ourselves what experiences or circumstances shape our lives are the most important questions to ask. The very mission of Moving Up Media is to inspire people to reflect on who and what has contributed to where they are today, and McKinnon does believe that social mobility and economic differences play a large role. If you're wondering what steered your life direction, McKinnon offers tools to help show the path that might have been influenced by more than your own will or talent.
One of McKinnon's breakthrough teaching tools was the interactive survey, "Your American Dream Score," created with support from the Ford Foundation. The idea behind it is to engage people on issues like poverty, inequality and opportunity, and to offer strategies and resources that can help people move up in life. The short survey has helped over a half-million people discover what factors may have helped or hindered their own efforts in life and is now the basis of curriculum developed by PBS Learning. You can take the test and browse recommended readings on Chasing the Dream, a multimedia PBS initiative of The WNET Group.
Sometimes hearing other people's stories help us understand our own paths. McKinnon's podcast Attribution with Bob McKinnon is about success and gratitude. Each episode engages a scholar or expert on topics surrounding the American Dream, asking them reflect on who and what has contributed to where they ended up. Guests include Maria Konnikova – a New York Times best-selling author, journalist, and professional poker player; Natasha Trethewey – a two-time U.S. Poet Laureate and winner of the Pulitzer Prize for her book of poems, "Native Guard"; Aaron Sanchez – an award-winning chef, TV personality, author and philanthropist; New York Times columnist Nick Kristof; and many more.
The aim of the podcast is to "[encourage] viewers to feel a little more inspired, grateful, or supported than when you first hit play." You can browse and listen to all episodes on Chasing the Dream.
McKinnon is now reaching out to the youngest of audiences so they better understand what factors can help or hinder their future journeys. His new children's book, "Three Little Engines," is a modern retelling of the childhood classic "The Little Engine That Could" (1930). "Three Little Engines," published on July 13, uses train characters to teach the youngest of readers how to recognize opportunity and inequality in the American Dream, and, most importantly, how to extend a helping hand to those who face obstacles on their tracks.
The mantra in "The Little Engine That Could" (1930) by Watty Piper emphasizes the power of positive thinking and self-belief (""I-think-I-can, I-think-I-can"). As Talib Visram explains in his Fast Company review of McKinnon's "Three Little Engines," the new book is based on Attribution theory (which also explains the podcast title): "That theory proposes that when we look for reasons for our success, we tend to over-emphasize our 'disposition,' or our internal qualities, rather than our 'situation,' or any external factors—like financial help from family, connections made through friends or networks, and luck."
MetroFocus, the weeknight news magazine broadcast on THIRTEEN, has invited McKinnon to its program to discuss how concepts of social mobility and inequality can be shared with young children. Watch his segment on Thursday, July 15 at 6pm and 12am on THIRTEEN (see MetroFocus schedule, including NJ PBS and WLIW21) or stream on-demand on the THIRTEEN and PBS apps and MetroFocus site after broadcast.