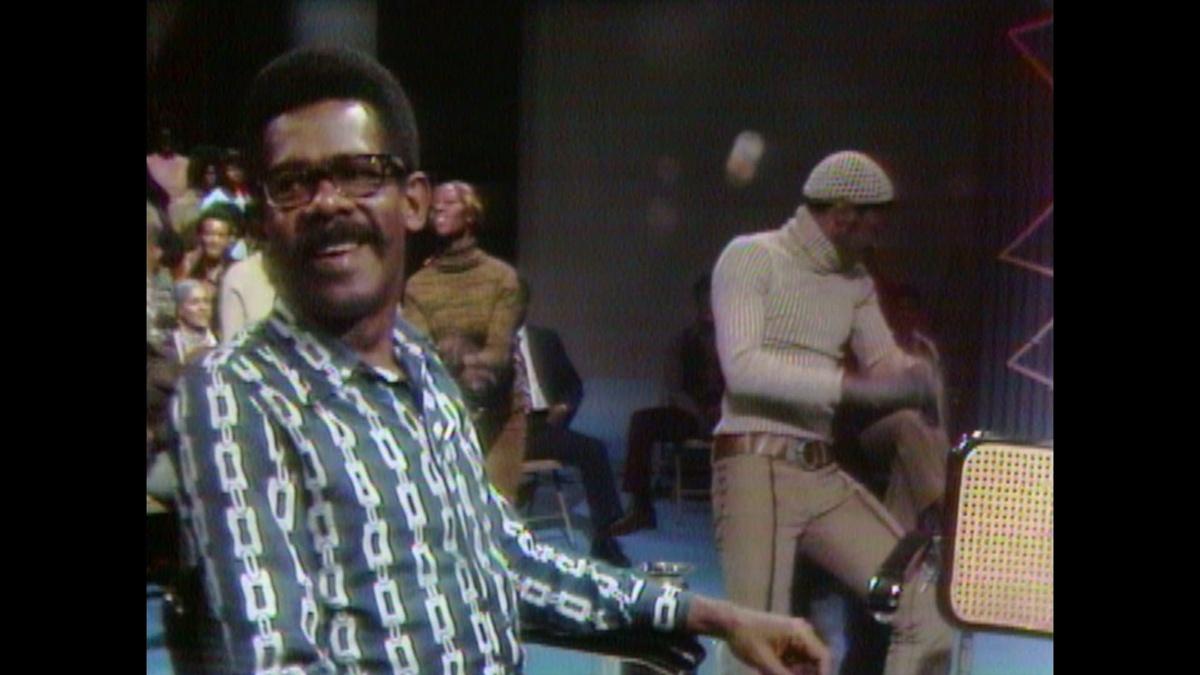 Independent Lens: Mr. SOUL! premieres February 22, 2021 at 10 p.m. on THIRTEEN.
It's 1973. An impressively-dressed Ashford & Simpson launch into "Keep It Comin'," a radiant soul song about the sustaining power of love. As she sings, Simpson raises her arm above her head, the gesture simultaneously a nod to the rhythm and a revolutionary salute. Both she and Ashford are beaming. As the camera pans back from the singers, it becomes apparent that so, too, is the audience. Heads keep time, feet tap gently; the room is softly alive and buzzing, the massed bodies a single unit, riding the song's unifying and sustaining groove. "Keep it comin. Keep it comin.'"
The warmth and celebratory air of the "Ashford and Simpson" episode was a hallmark of SOUL!. From its September 1968 debut to the final episodes in 1973, SOUL! provided a stage for a breathtaking array of black cultural and political luminaries, including many performers who had never before appeared on TV. It did so, moreover, in a variety-show format that mixed "high" culture with "low," well-known names like Sidney Poitier with (then) up-and-coming figures like Stevie Wonder and poet Nikki Giovanni. Most importantly, SOUL! was unapologetic about aiming its diverse and self-critical weekly affirmation of black culture and politics to African American viewers, a group that had previously not had the pleasure of seeing itself widely, or truthfully, represented on television.
Ellis Haizlip, Creator of SOUL!
SOUL! was the brainchild of Ellis Haizlip, the first black producer at WNET (then WNDT), who joined the station in the mid-60s. Haizlip was approached by Christopher Lukas, the station's white director of cultural programming, with the idea of launching an arts program for black audiences. Haizlip developed the notion of a program that would use the variety-show format (familiar from commercial fare such as The Ed Sullivan Show) to display the breadth and variety of black culture. SOUL!'s mission would be not merely to entertain African American viewers, but to challenge them to ponder the possible meanings of black culture and black community at a time when African Americans were driving American social transformation.
Initial funding for SOUL! came from a combination of public and private sources, including a start-up grant from the Ford Foundation. With money in place, Haizlip pulled together a creative team of camera operators, set designers, and producers, the majority African Americans. (As a 'first' himself, Haizlip never forgot the entrenched discrimination he had experienced working in New York theater and television.) Alice Hille, SOUL!'s first associate producer, and one of the first black women to hold such a position, became Haizlip's close collaborator and, through her connections to Harlem's Apollo Theater, his link to the rhythm-and-blues world.
Soul! bore the stamp of Haizlip's visionary leadership, impeccable taste, and skill as a social connector. A product of segregated Washington DC, Haizlip had witnessed contralto Marian Anderson's legendary 1939 concert on the steps on the Lincoln Memorial. For him, opera singers, funk musicians, lyrical poets, and political revolutionaries were equal participants in the black cultural project. Haizlip's philosophy was "it's all our culture," recalls actor Anna Maria Horsford, who worked as an associate producer at Soul! "It was a celebration. Look what we've produced in spite of."
Guests on SOUL!
Perhaps more than any other television show before–or since–SOUL! insisted on representing the heterogeneity of black culture. It embraced cultural nationalists, Muslims, and feminists–occasionally on the same show. It flouted the conventional wisdom that ballet dancers and blues singers could not share a stage, let alone an audience. In addition to championing emerging acts, such as Ashford and Simpson (who appeared on the show before they even had their first LP out), Soul! embraced radical and challenging improvisatory music from multi-instrumentalist Rahsaan Roland Kirk, jazz drummer Max Roach, and the genre-defying Last Poets.
SOUL! also gave artists a chance to go beyond their usual roles (on SOUL!, singers might conduct interviews), and relished the unexpected juxtaposition. Among the most intriguing Soul! pairings: Bill Withers, the hit-making singer-songwriter, with poet Mae Jackson; Jesse Jackson (then best known for his work with PUSH) with former Raelette (Ray Charles' backup singer) Merry Clayton; Toni Morrison, recent author of The Bluest Eye, with Junior Walker and His All-Stars; Louis Farrakhan with musicians Mongo Santamaria and the Delfonics; Jerry Butler with Muhammad Ali. (See SOUL! episode list)
Designed by Chris Thee in its first season, the set of SOUL! sent a powerful message. It "imagined the dawn of a new world—fiery orange sunbursts were projected on electric blue backdrops," according to cultural critic Lisa Jones. "Abstract sculpture served as scenery. Interviews were shot from unexpected angles and the editing style was up-to-date psychedelic—lots of dissolves and superimpositions."
Unlike programs such as The Tonight Show, SOUL! was "taped as live," which allowed its camera operators to capture the un-teleprompted reactions of a modest studio audience made of local New Yorkers. Indeed, in making the audience part of the spectacle, Haizlip brought to television the aesthetic principles he had imbibed in the churches of his youth, and he was able to represent black music as a conversation between musicians and audiences. As Haizlip explained, the goal was for the audience to appear "in relationship to a performance that [they are] enjoying as opposed to a performance that is being presented for [them]." In this way, a viewer might "catch the flavor of people interreacting. Some sort of exchange was going on."
In addition to working behind the scenes, Haizlip put himself on camera, appearing as a frequent host and interviewer. Always sharply-dressed, sporting a mid-length Afro and "serious" glasses, he crafted an unusual, unassuming on-stage persona. He conducted interviews with intense interest, pushing conversations as far as they could go, all while never hogging the microphone. This laid-back style attracted notable, reticent figures: activist (and former SNCC leader) Stokely Carmichael, the writer Chester Himes, and Black Muslim leader Louis Farrakhan all accepted Haizlip's invitation to appear on the show.
In 1973, SOUL! ran out of funding, but the reason wasn't popularity. From the beginning, critical reviews of the show had been strong, and SOUL! had been quick to develop a following, first locally in New York, then nationally when the Corporation for Public Broadcasting picked the show up for syndication. "I feel this show is a part of me and represents what we the black people stand for—PROGRESS!", wrote one viewer from Fort Tilden, New York.
As the 1960s gave way to the '70s, Haizlip and others at SOUL! came under increasing pressure to tamp down the show's message of black pride. From the beginning, Soul! had to fight for its survival. For a time after the first season ended in 1969, Soul! aired in repeats while Christopher Lukas courted Mobil Oil Corporation. (The corporation was on the verge of giving the station money for SOUL! until it decided to fund a new show called Masterpiece Theatre). In 1970, with viewers pleading for the show to stay on the air, a three-year, $3.5 million grant from the Ford Foundation saved SOUL!.
But the January 1969 transfer of presidential power from Lyndon Johnson–whose administration had created PBS–to Richard Nixon meant a new set of priorities for public broadcasting. By the end of 1972, CPB officials had deemed black shows such as SOUL! hindrances to racial progress. Haizlip was given a choice: integrate SOUL! or see it cancelled. The last episode aired on March 7, 1973.
SOUL! did not go away without a fight. Via an on-air appeal to viewers, the show gathered 100,000 letters and telegrams of support. Haizlip was frank in his public pronouncements in the press: The cancellation of SOUL! is "part of a policy to destroy all black programming on the network," he told the Washington Post. "The Corporation for Public Broadcasting … preferred a sociological production rather than a cultural one which is really no reason for canceling Soul!" he informed Jet in 1973. Haizlip ended his run at WNET dispirited about public television, which he deemed "limited and limiting." (That didn't stop him from returning: five years later he produced the WNET program "Watch Your Mouth".)
Even though it only aired for five seasons, SOUL! never lacked for popular support. Ironically, perhaps, the defunding of SOUL! made room for the commercial black television shows of the 1970s. The existence of those shows and of more black tv characters would generate new questions regarding the relationship between visibility and black "progress".
Was all television programming created equal? Haizlip, who died in 1991, would probably have said no. Today, the program he shepherded from idea to national hit remains one of the most successful and culturally significant black-produced television shows in U.S. history. SOUL! had a depth of discourse and diversity of content that still has had no equal on the small screen. – Gayle Wald
Gayle Wald is a professor of English at George Washington University, where she teaches African American literature, popular music and U.S. culture. She is author of It's Been Beautiful: Soul! and Black Power Television (Durham, NC: Duke University Press, 2015), Shout, Sister, Shout!: The Untold Story of Rock-and-Roll Trailblazer Sister Rosetta Tharpe (Beacon 2007) and Crossing the Line: Racial Passing in U.S. Literature and Culture (Duke University Press, 2000).
See archival episodes of SOUL! at any time and see the premiere of the documentary Independent Lens: Mr. SOUL!, about host Ellis Haizlip, on February 22, 2021 at 10 p.m.