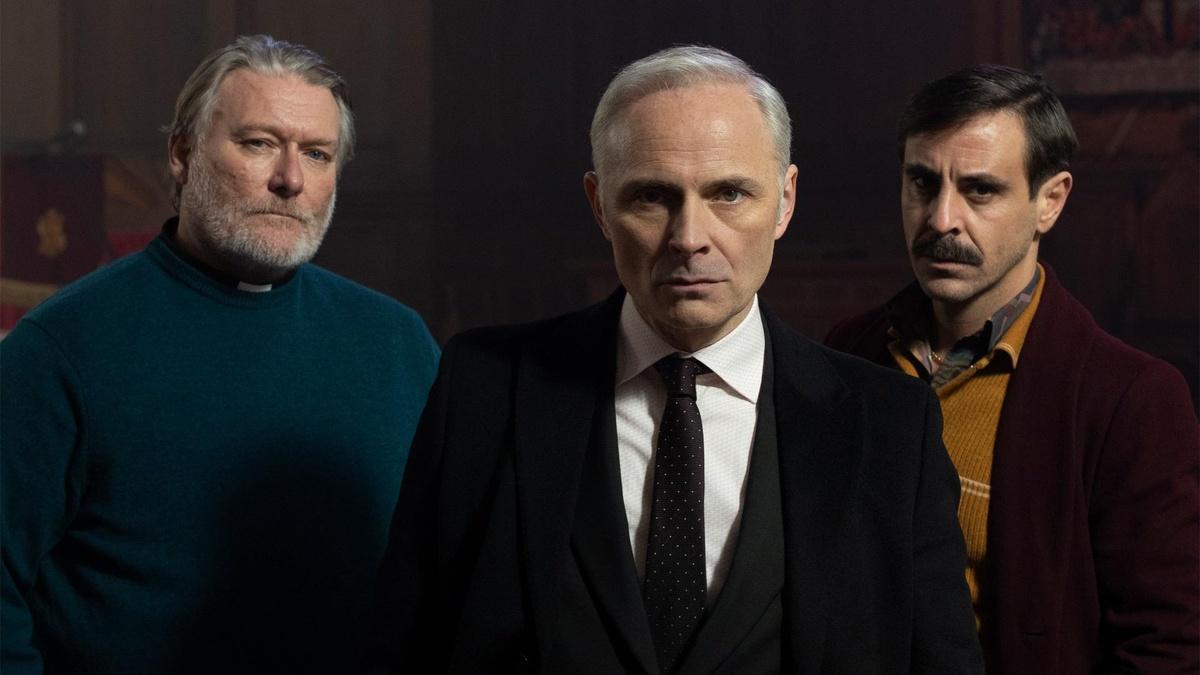 Updated August 22, 2022. Guilt
, a darkly comic drama from
Masterpiece
, premiered on PBS in September 2021 and features two Scottish brothers caught in an insane cover-up. Season two of
Guilt
picks up where they left off (see preview, above) and premieres Sunday, August 28 at 9 p.m. with back-to-back Episodes 1 and 2.
Season 1
expires on August 28; use the member benefit THIRTEEN  Passport to catch up on the hit storyline.
In Guilt's first season, two Scottish brothers make one bad call after another after they drive into an elderly man on their drive home from a wedding. Mark Bonnar (Unforgotten) and Jamie Sives (To the Ends of the Earth) star as Max and Jake in Guilt, an absorbing tale of rascality and deceit delivered in four episodes.
Unless you have an ear for Scottish accents, we highly recommend using English captions so you don't miss a word from either sharp-tongued lawyer Max or wimpering Jake, a stoner and record shop owner. TV critics in the UK were hooked, calling the miniseries "entertainingly outlandish" (The Telegraph); "a pin-sharp black comedy" (Evening Standard); and "an utter triumph, a word-of-mouth dazzler. I loved it" (The Guardian). Guilt has also been compared to the Coen brother's film Fargo.
Watch the Preview of Season 1:

Hit-and-run perpetrators usually leave the body at the scene, but under the cover of night, Max and Jake actually carry the victim Walter's corpse to his house and set him up in an easy chair. There, they find a letter revealing that Walter had terminal cancer. "He was dying slowly. We just made it quick," says Max with relief.
The polar opposite brothers become co-conspirators in a crime that grows in severity as they dig themselves a deeper and deeper pit of deceptions.
In a twist familiar to those who watched Dead to Me, starring Christina Applegate and Linda Cardellini, Jake  – the driver who hit Walter – begins a relationship with one of the man's mourning relatives. Jake meets Walter's American niece, Angie (Ruth Bradley) at the wake, which he and Max attend to get rid of incriminating evidence. A romance soon begins.
Relationship issues worsen for Max, whose wife Claire uncovers the depth of his lies. Meanwhile, Kenny (Emun Elliott, The Paradise) the alcoholic private eye hired by Max to botch the investigation, decides to sober up to get to the bottom of the case.
Guilt on Masterpiece premiered Sunday, September 5, 2021. You can view it online and on the PBS and THIRTEEN Explore OTT apps. Season 2 of Guilt premieres Sunday, August 28 at 9 p.m.