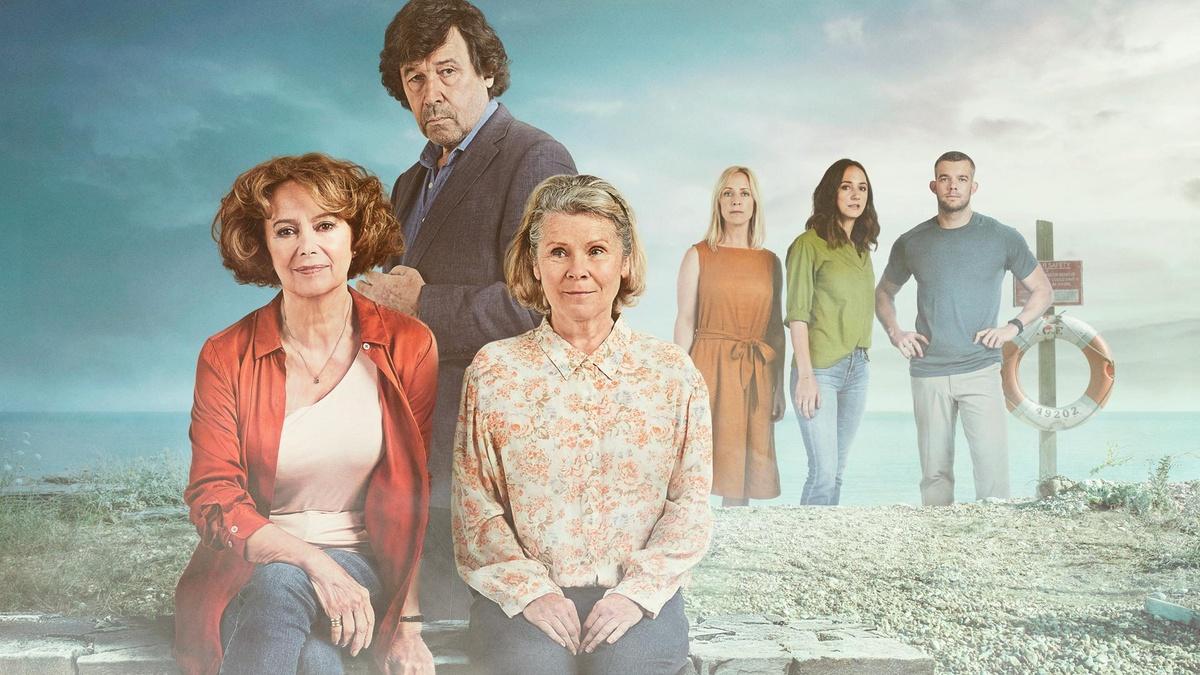 Updated August 18, 2022
The word juicy comes to mind when describing the Masterpiece drama that's part family affair, part slow-burn mystery. Flesh in Blood is both loving and jealous. Confident and insecure. Would you be thrilled if your widowed mother or friend met a retired doctor, who wants to sweep her off her feet, or wary?
THIRTEEN will give an encore broadcast for four-part series on Sundays at 11 p.m. on August 28, September 4 and 11 (see Schedule). Stream now with the member benefit THIRTEEN Passport.
This ensemble PBS miniseries featuring Francesca Annis (a Masterpiece veteran), Imelda Staunton (The Crown, Harry Potter) and Stephen Rea (Dickensian, The Crying Game) isn't a moody, dark thriller, and the seaside setting helps: it's sun-splashed, the homes are stylish, there are white chalk cliffs!
But the distance homes are set from the sea is decadent and suggests a naive trust. There are no protective dunes. These Brits could nearly clip their rose bush and run to the shoreline and back before a petal could fall. But someone does fall in episode one. The question is whether it was a fall, or a push.
At the crux of the miniseries is late-life romance. The widowed Vivien (Annis) introduces her new love interest Mark (Rea) to her three grown children and her neighbor Mary (Staunton). None extend a warm welcome to the man who might bring change to Vivien's life, though each of them certainly wouldn't mind some of Vivien's newfound happiness.
The romantic lives of Vivien's children, played by Claudie Blakley (Lark Rise to Candleford, Grantchester Season 2), Russell Tovey (Quantico), and Lydia Leonard (Gentleman Jack), are all in turmoil, and each relationship is part of this drama. Vivien's longtime neighbor Mary keeps herself busy with her greenhouse and gardening, but her life is lonely: her only son died young and her husband left her shortly after. Mary has time to be a devoted, and nosey, neighbor.
The Radio Times calls Flesh and Blood, "mischievous, suspenseful, and unexpectedly funny – very funny in fact." "A brilliantly intense crime thriller," the London Daily Mirror adds. Of course, there is a detective: David Bamber (Trust) is the sleuth who tries to work out whether an unfortunate incident was an accident or a heinous crime.
Someone's end is revealed at the very start of this series, and the intrigue is getting to evaluate each character through the lens of a possible murder.