Friday, April 9 stream of Day 10 of the trial, above. PBS NewsHour will provide live streaming feed of the trial of Derek Chauvin for the murder of George Floyd.
Updated April 12, 2021
During the Week 2 of trial, beginning April 5, law enforcement and medical expert witnesses are likely to be called, according to Minnesota Public Radio's Brandt Williams report on the April 3 PBS NewsHour Weekend. Witnesses called on April 5, Day 6 of trial, included Minneapolis Chief of Police Medaria Arradondo and Dr. Bradford Langenfeld, who was the senior resident on duty who tried to resuscitate George Floyd at the hospital.
Opening statements in the Derek Chauvin trial began Monday, March 29, 2021. Chauvin is the former police officer accused of murdering George Floyd on May 25, 2020, while on duty in Minneapolis, Minnesota. The trial is taking place in Minneapolis (CDT), which is one hour behind ET.
8:30-9:30 a.m. ET daily: Lawyers can address legal questions with the trial judge.
10:30 a.m. ET daily: Trial with jury expected to begin.
The key questions at trial will be whether Chauvin caused Floyd's death and whether his actions were reasonable.
PBS NewsHour gave background for the charges Chauvin faces: For the unintentional second-degree murder charge, prosecutors have to prove Chauvin's conduct was a "substantial causal factor" in Floyd's death, and that Chauvin was committing felony assault at the time. For third-degree murder, they must prove that Chauvin's actions caused Floyd's death, and were reckless and without regard for human life. The manslaughter charge requires proof that Chauvin caused Floyd's death through negligence that created an unreasonable risk.
See Week 2 of trial streams or evening reports by PBS News Hour on days of the trial, below. PBS NewsHour is broadcast weeknights at 7 p.m. and weekends at 6 p.m. and streams live.
See Week 1 of the Derek Chauvin trial streams and reports.
Day 6 of Derek Chauvin Trial (April 5). PBS NewsHour Report

During his testimony on April 5, the Minneapolis Police Chief Medaria Arradondo said Chauvin's use of force on George Floyd violated protocol. Fred De Sam Lazaro has the report and Uzodima Frank Aba-Onu, a civil attorney and president of the Minnesota Association of Black Lawyers, also joins to discuss the matter. See the archive of Day 6 livestream of the trial.
Day 7 of Derek Chauvin Trial (April 6). Archived Stream
On Tuesday, April 6, prosecutors in the Derek Chauvin trial focused on Chauvin's previous crisis intervention training with the Minneapolis Police.
Day 8 of Derek Chauvin Trial (April 7). Archived stream
Witnesses called on Day 8 of the trial included Sgt. Jody Stiger of the Los Angeles Police Department and James Reyerson, a Senior Special Agent with the Minnesota Bureau of Criminal Apprehension.
Day 9 of Derek Chauvin Trial (April 8). PBS NewsHour Report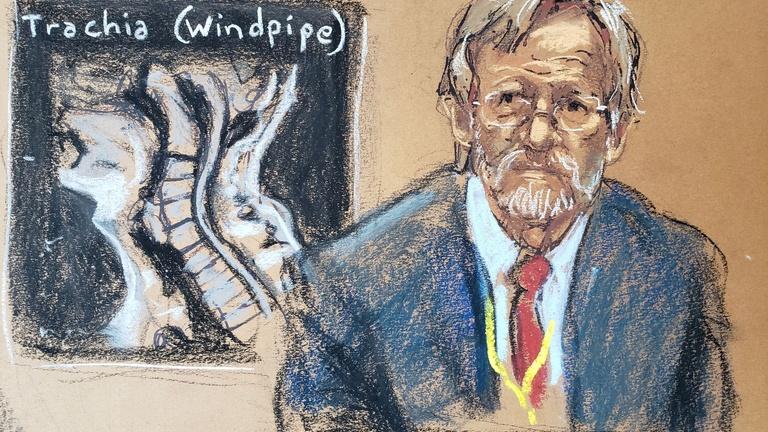 Prosecutors began the ninth day of the Derek Chauvin trial with testimony from pulmonologist Dr. Martin Tobin. After showing prepared videos, illustrations and photos of the events, Tobin concluded that Chauvin's knee on George Floyd's neck caused narrowing of the hypopharynx — a critical area for getting oxygen into the lungs — and led to his death from lack of oxygen. See the archived stream of Day 9 of trial on April 8.
Day 10 of Derek Chauvin Trial (April 9) PBS NewsHour Weekend Report
At the close of Week 2 of the Derek Chauvin trial, PBS NewsHour speaks with
Brandt Williams
, Minnesota Public Radio reporter, who discusses the testimonies — and how this courtroom trial is different. Prosecutors called medical examiners to the stand this second week. Williams also reports on what to expect in Week 3 as prosecution winds down its case. The defense could start its case as early as Tuesday, April 13. See the archived stream of
Day 10 of the trial on PBS NewsHour YouTube channel
.