THIRTEEN and PBS offer regular, in-depth reporting on the coronavirus pandemic's COVID-19 cases and vaccine distribution, as well as repercussions on employment, social services, the economy and politics. Here is the most recent information from infectious disease doctors and medical professionals, government officials, and journalists who cover news about COVID-19 and its impacts. This page will be updated as reporting continues.
Recent COVID News and Numbers
Click for National, State, and City Hotlines and Resources
Starting March 17, New York's public-facing essential workers from governmental and nonprofit entities and public-facing essential building services workers will be eligible for the vaccine and can book an appointment.
Restrictions concerning which segments of the eligible population specific providers can vaccinate will be relaxed to align with the expanded eligibility groups on March 17.
We're offering updates via email or mobile on the coronavirus now through the duration of the pandemic. Sign up for email alerts here, or text UPDATES to 30644 for mobile notifications.
Re-Openings
Restaurants outside of New York City can allow 75% indoor dining capacity beginning March 19. New Jersey and New York City will both increase indoor dining capacity to 50% beginning March 19.
Beginning March 15, weddings and catered events can resume statewide. Venues are restricted to 50 percent capacity, with no more than 150 people per event. All attendees and patrons must be tested prior to the event.
On April 2, New York City's arts and entertainment venues expect to reopen at 33% capacity, with an indoor capacity of 100-150 attendees.
PBS NewsHour Reports
PBS NewsHour is broadcast weeknights at 7 p.m. and weekends at 6 p.m. and streams live. Listen to half-hour broadcasts on 88.3 WLIW-FM weeknights at 6 p.m.
March 19: Why 41 Percent of Republicans Don't Plan to Get Vaccinated


Although nearly 41 million Americans are now fully vaccinated against COVID-19, one segment of the population remains steadfast in its opposition to getting the vaccine: Republicans. Recent polls, including our latest PBS NewsHour/NPR/Marist poll, shows at least 41 percent of Republicans don't plan to get vaccinated. Yamiche Alcindor reports on the role of politics in American vaccination efforts.
March 19: CDC Relaxes Social Distancing Guidelines for Schools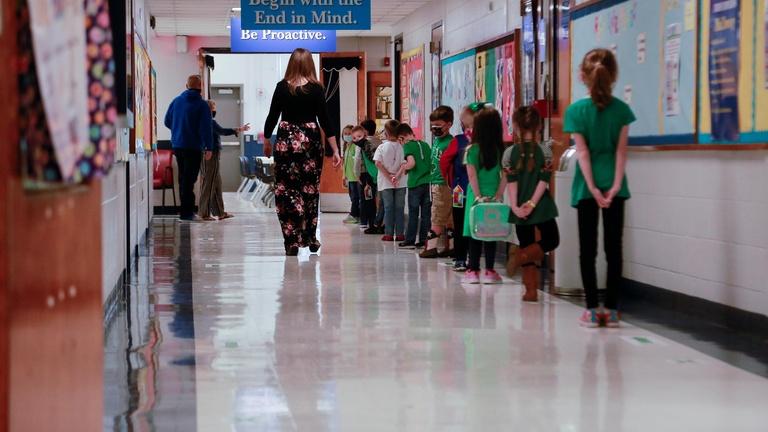 In new guidelines released Friday, the Centers for Disease Control and Prevention relaxed its social distancing requirements for students in school, stating they could safely sit three feet apart — rather than six — without barriers if they are wearing masks. The change could mean more students across the country will return to in-person learning this spring.
March 18: With States Reopening Widely, New COVID Hotspots Surface


The number of COVID-19 cases in the U.S. have reduced substantially since the height of the last wave, but with states reopening widely those numbers are spiking again. New data shows the development of several hotspots, with new cases up in 15 states over the past week. Dr. Ashish Jha, dean of the School of Public Health at Brown University, joins William Brangham to discuss the rise.
March 18: News Wrap: U.S. to Send 4 Millions COVID Vaccines Abroad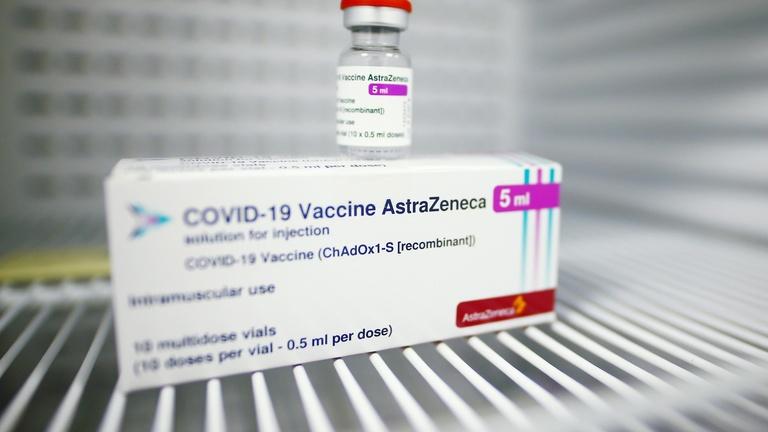 In our news wrap Thursday, the U.S. will send a combined 4 million doses of AstraZeneca's COVID vaccine to Mexico and Canada, the European Union's drug regulatory agency said the vaccine does not pose a significant threat of blood clots, the fight over wearing face masks sparked fireworks at a U.S. Senate hearing, and powerful storms rolled across more of the deep South.
March 16: Some European Nations Suspend Use of AstraZeneca Vaccine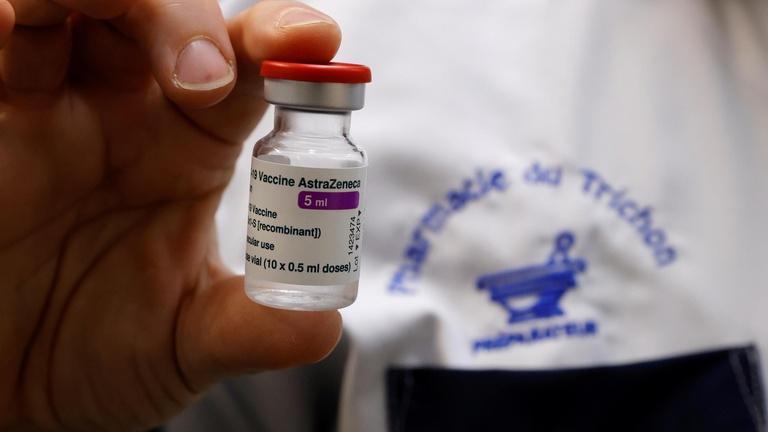 A growing number of European nations are suspending use of the AstraZeneca COVID vaccine, one of three on the continent, after reports of blood clots and other problems among a small number of people. AstraZeneca says these are isolated cases. Dr. Kirsten Bibbins-Domingo, chair of epidemiology and biostatistics at the University of California, San Francisco, joins William Brangham to discuss.
March 15: Biden Begins to Sell the COVID Relief Law to the Public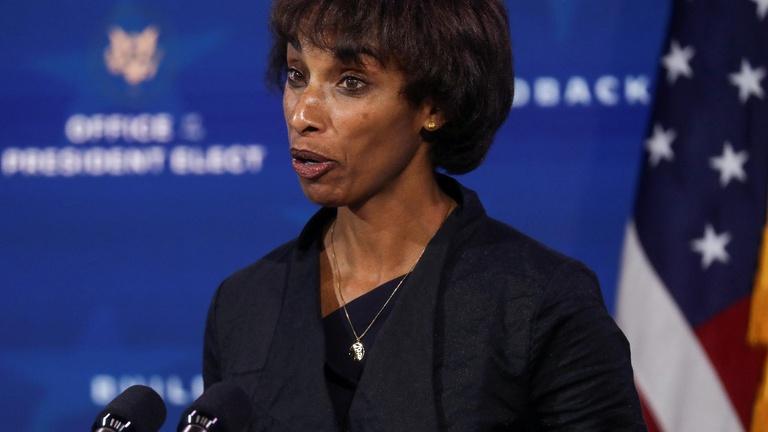 A new wave of economic relief for Americans struggling amid the coronavirus pandemic is on its way, with stimulus checks beginning to hit Americans bank accounts over the weekend as part of the American Rescue Plan. Cecilia Rouse, chair of the White House Council of Economic Advisers, joins Judy Woodruff to discuss the aid rollout and the state of the economy.
March 14: For Restaurants That Survived COVID-19, An Uncertain Road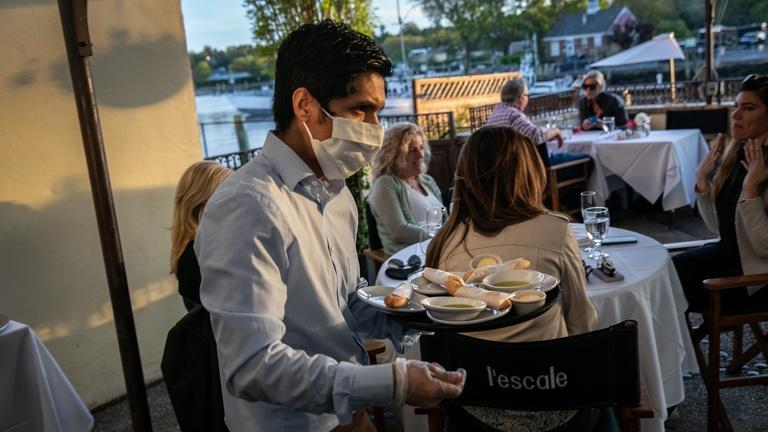 Pre-pandemic, 10% of Connecticut's workforce was in restaurants. Since COVID-19 at least 600 of the state's restaurants have closed and tens of thousands remain unemployed. For those still open, the road ahead is still uncertain. In our Roads to Recovery series, part of Chasing the Dream: Poverty and Opportunity in America, Christopher Booker visits three restaurants with very different stories.
March 13: One Year Into COVID-19 in the U.S.: Vaccine Supply, Hesitancy

One year after the first COVID-19 in the U.S., over 500,000 people have died, businesses have opened and closed, and several vaccines have emerged. President Biden has set a May 1 deadline for universal vaccine access; currently, over 10 percent of the U.S. population is fully vaccinated.
Caroline Chen of ProPublica
has been reporting on the COVID-19 pandemic since its earliest days.
Amanpour and Company
Amanpour and Company airs Monday – Friday at 11 p.m.; repeats at 4 p.m. Watch broadcast or livestream.
March 16: Is the AstraZeneca Vaccine Safe?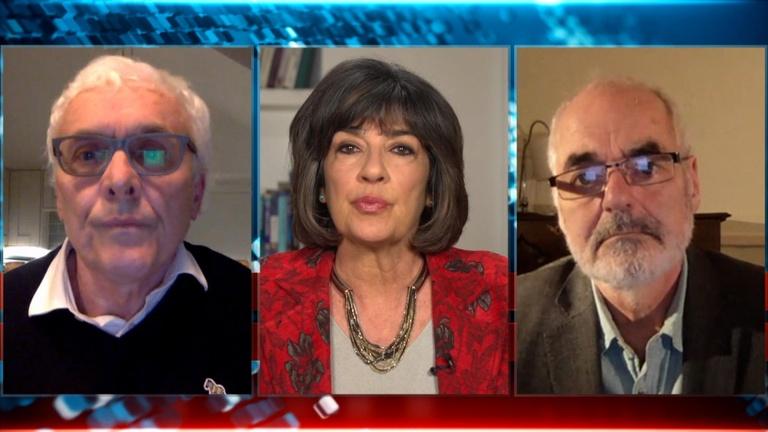 Doctors and scientists say there is no evidence of any link between the AstraZeneca vaccine and blood clots, while the head of the European Medicines Agency said today the benefits of the vaccine far outweigh the risk. To discuss our tendency to rush to cause-and-effect thinking, Christiane speaks with former WHO official Anthony Costello and renowned British statistician David Spiegelhalter.
March 16: Salesforce CEO Talks Vaccines, Taxing the Rich and More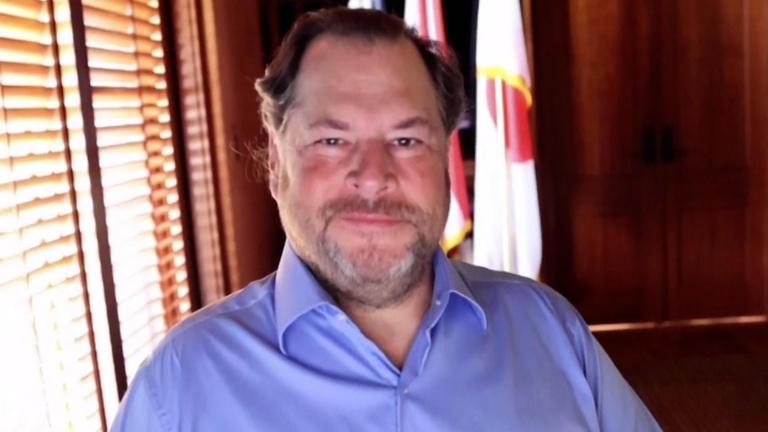 More than a fifth of Americans have now received at least one COVID-19 vaccine shot, with over two million people vaccinated each day. But getting all those shots into all those arms is a massive logistical challenge, and now Salesforce is using its vast computing resources to help health agencies around the world track vaccinations. CEO Marc Benioff discusses this endeavor with Hari Sreenivasan.
MetroFocus Interviews
MetroFocus airs weeknights at 6 p.m. (see schedule for late-night and weekends) and livestreams; listen weeknights on 88.3 WLIW-FM at 11 p.m..
March 16: New Yorkers Bridging the Vaccine Divide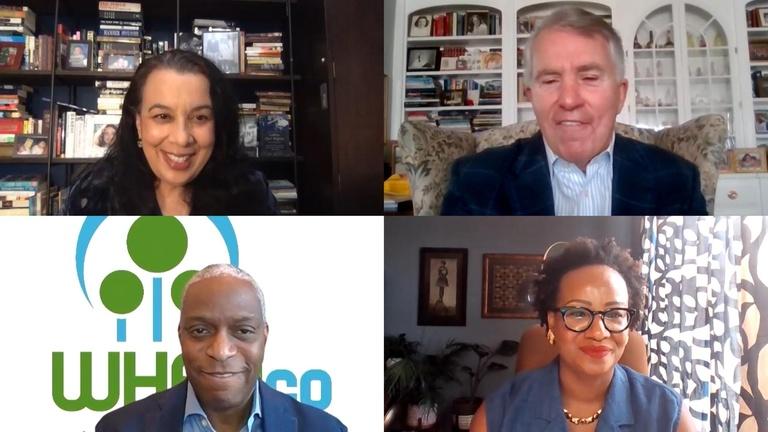 As millions of New Yorkers race to book the vaccine, many Black Americans and Hispanics are opting out as racial disparity — a defining issue of the pandemic has reemerged. Some communities blame the vaccination gap on a lack of a coordinated education, awareness and support. Our Chasing the Dream initiative on poverty, justice and economic opportunity in America takes us to the Bronx and Brooklyn where local nonprofits and the medical community are teaming up to bridge this divide and provide accurate information about the vaccine and virus. Davon Russell, President of the Women's Housing and Economic Development Corporation, Dr. Susana Morales, a primary care physician and Associate Professor of clinical medicine at Weill Cornell Medical College and Marcella Tillett, Vice-President of Programs and Partnerships at the Brooklyn Community Foundation, joins the program to discuss.
March 9: MetroFocus COVID Special Report: How to Get the Vaccine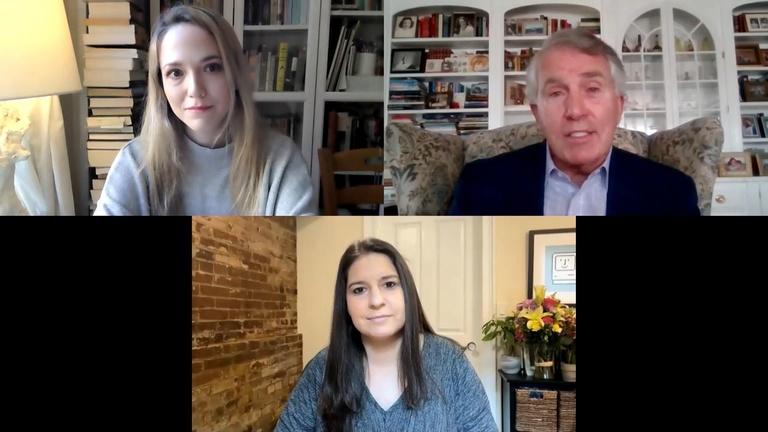 Governor Cuomo has announced 10 additional state-run vaccination sites that will open in coming weeks. As vaccine availability increases, will the same hold true for booking an appointment? Experts say a confusing online sign up process has left people of all ages behind — especially seniors and communities of color. Tonight, our experts offer top tips on how to book the elusive COVID-19 vaccine, from New York State to New York City, Long Island, New Jersey and Connecticut. Wall Street Journal Senior Personal Technology Columnist Joanna Stern and Daily News Editorial Board member Laura Nahmias will show you how to prep your computer and maneuver the sites to land a booking. You'll hear about the COVID Angels and vaccine hunters who'll book your appointment for you. See more COVID-19 resources on MetroFocus.org.
NJ Spotlight News with Briana Vannozzi
NJ Spotlight News provides daily reporting on the coronavirus in New Jersey, as well as newsletters.
March 19: COVID-19 Hotlines and Clinics Boost Vaccinations for Seniors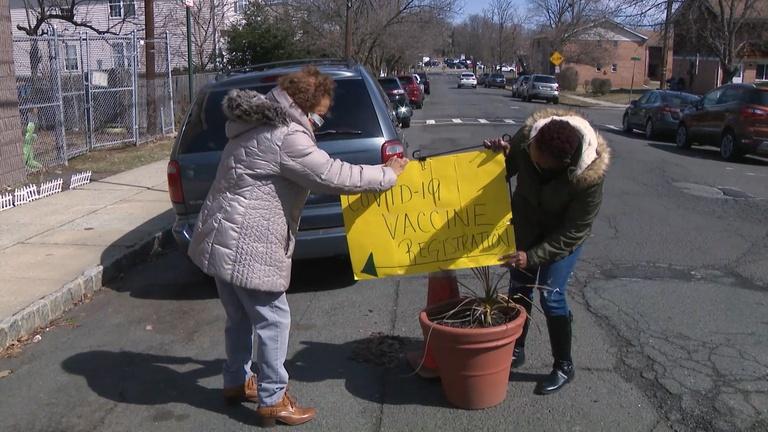 With COVID-19 vaccination rates lagging for NJ seniors and people of color, who are most vulnerable to the virus, grassroots community groups are reaching out to help make appointments for shots. Critics claim that's a job the state needs to do better.
March 18: COVID-19 Long-Haulers See Improved Symptoms with Vaccine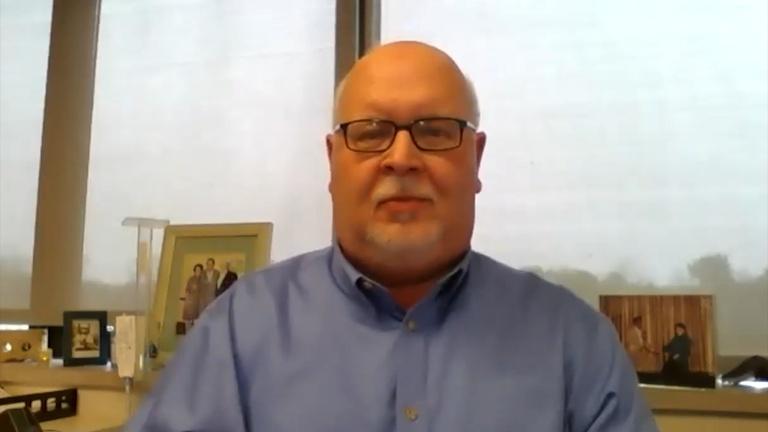 In a survey conducted by a grassroots group of COVID-19 long-haulers, 39% reported seeing improvements, while 14% felt worse.
March 17: Many Parents Eager to Sign Up Kids for COVID-19 Vaccine Trials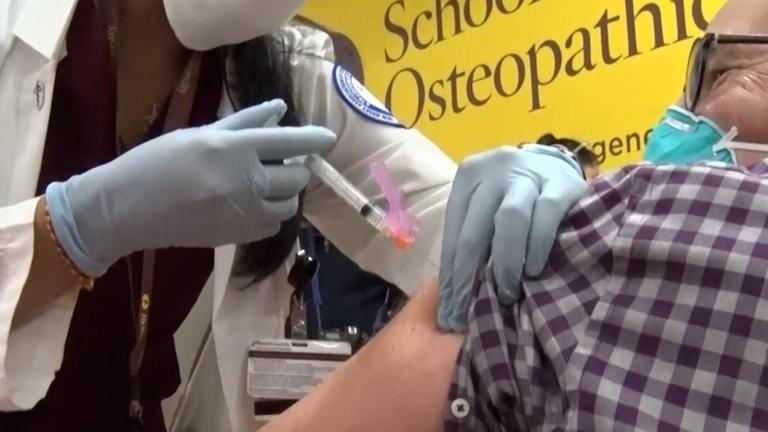 It surprised researchers: many parents are calling eager to sign their children up for COVID-19 kid vaccine trials in NJ. Separate trials will study vaccines from Pfizer and Johnson & Johnson and will be organized by Rutgers RWJ Medical School. Doctors say getting kids immunized will help create herd immunity because children can be asymptomatic carriers.
March 16: Moderna Begins COVID-19 Vaccine Study in Children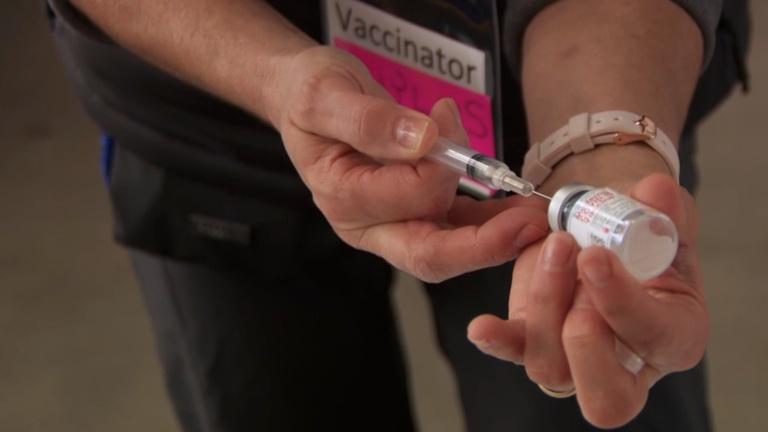 Drugmaker Moderna announced they are studying immune response to the COVID-19 vaccine in children aged 6 months to 11 years old.
March 15: Teachers Now Eligible for COVID-19 Vaccines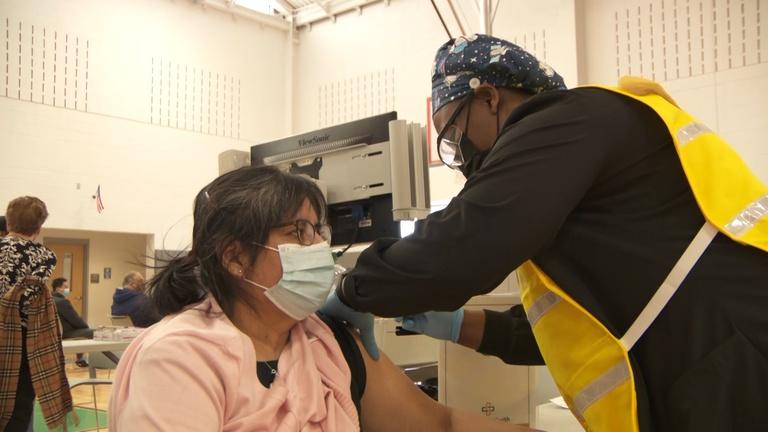 Teachers across NJ got in line for COVID-19 vaccinations Monday as they joined the list of people eligible to get a shot. With more vaccine available and many parents pushing for a return to in-person instruction, urban districts like Jersey City, Paterson and Newark have launched major efforts to vaccinate thousands of teachers ASAP. But vaccine hesitancy remains an issue for many.
March 15: Murphy Administration Not Entirely Transparent About COVID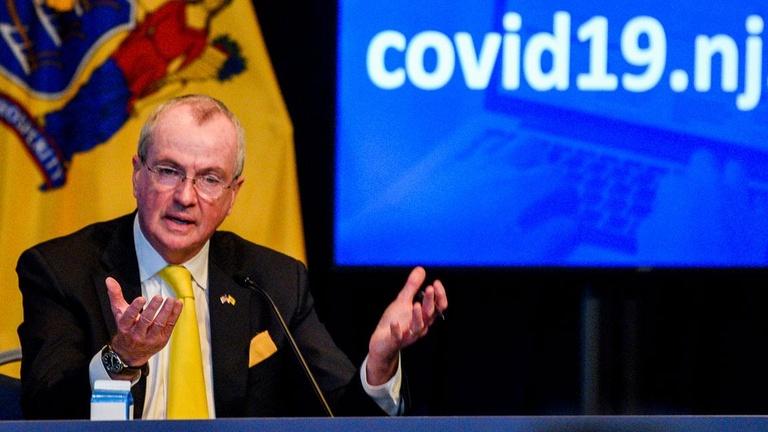 The Associated Press released a report saying the Murphy administration has not been completely transparent about COVID-19 information. Last week, the governor said it may take some time to release certain records but he is committed to transparency.
March 12: Families of Long-Term Care Residents Call for Indoor Visits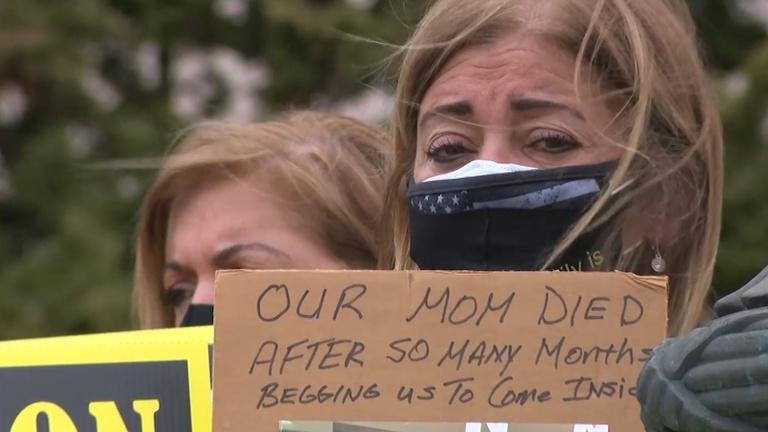 Friday, March 12 marks one year since COVID-19 put the state's nursing homes on lockdown. And many residents are still waiting to reunite in-person with their loved ones. This week the federal government put out new guidelines, calling on long term care centers to allow indoor visitation "at all times and for all residents regardless of vaccination status."
See new guidelines from Centers for Medicare & Medicaid Services (CMS).
Hotlines and Information
Stay-in-the-know about what's on-air and online at THIRTEEN. Sign-up for free weekly eNewsletters, including on coronavirus reports.
Government Sites and Resources
In New York State and New York City, all government-run vaccination centers require an advance appointment. Make one via the 'Am I Eligible' website or call the state's COVID-19 Vaccination Hotline 1-833-697-4829.
See the groups that are now eligible for the vaccine in New York.
For a full list of New York State-operated vaccination sites, including Federal Emergency Management Agency (FEMA) sites in Brooklyn and Queens, see the New York State site. Sites are also listed according to whether they have appointments available.
National: Centers for Disease Control and Prevention (CDC)
The CDC's Coronavirus Disease (COVID-19) page includes links to national case reporting, symptom information, advisories by health condition and occupation, and more.
For those who are fully vaccinated, the CDC offers guidelines of behavior and safety precautions.
New York City
Sunday, March 14 was an official day of remembrance of those lost to COVID-19 in New York City. Watch the ceremony online now, which includes testimonies from health care workers, families, and views of the Brooklyn Bridge, with the images and names of those who died projected onto it: nyc.gov/covidmemorial.
NYC's official COVID-19 site with information on testing, resources (including rent and housing and more), and announcements: www.nyc.gov/coronavirus.
For text updates from New York City, text COVID to 692-692. You will receive regular SMS texts with helpful behavior tips and news related to the coronavirus. Text COVIDESP to 692-692 for updates in Spanish.
COVID-19 Cases
For the latest number of cases, trends and a look at data by NYC neighborhood, see the New York City COVID-19 data page.
Vaccine Distribution
Eligible New Yorkers can make their vaccine appointments using the City's Vaccine Finder, which aggregates all vaccination locations including private providers like pharmacies. Those eligible can also call for an appointment at 877-VAX-4NYC (877-829-4692) 8 a.m. – 9 p.m. See the NYC vaccine information page for City guidelines.
See the groups that are now eligible for the vaccine in New York.
The City's Taskforce on Racial Inclusion and Equity has expanded its Vaccine for All effort to 33 neighborhoods. The task force also released demographic information of vaccine recipients.
COVID Testing
COVID Express sites offer free rapid COVID-19 virus PCR (polymerase chain reaction) tests, by scheduled appointment. Learn more on NYC.gov.
Work, Resources and Assistance
To see all kinds of resources available to communities by zip code, begin by selecting a NYC borough on this City resource page.
New York City's Vaccine for All Corps is hiring 2,000 New Yorkers to serve their communities's vaccination efforts. Residents in the 33 Task Force for Racial Inclusion and Equity neighborhoods will receive priority in hiring clinical, support and administrative roles. Jobseekers should visit nyc.gov/vaccinejobs
The state has a web application to help struggling New Yorkers locate benefits they may qualify for. "Find Services" is an easy starting point for first-time users of social programs that relate to unemployment, food insecurity, and housing, among other services.
For labor law information and more, employers and employees can visit nyc.gov/workers or call 311 (212-NEW-YORK outside NYC).
New York City Public Schools and Learning
Create a NYC Schools Account to sign up for Department of Education notifications and track your child's education.
For free homework help from a teacher, K-12 students and their parents or caregivers can call 212-777-3380 or visit the Dial-A-Teacher website Mondays through Thursdays 4–7 p.m.
New York State
NY State Hotline: 888-364-3065
For all New York State updates and announcements from Governor Andrew Cuomo, see the state COVID site.
Vaccine Distribution
The state documents its vaccination distribution through a vaccine tracker that includes first and second doses given.
To confirm eligibility and see instructions for vaccine appointments at state-run locations, see this New York State site.
Those eligible can call the New York State COVID vaccine scheduling hotline, daily 7 a.m. to 10 p.m.: 833-697-4829 (833-NYS-4VAX).
See community pop-up sites in New York City, Long Island and Westchester County, on the New York State site.
COVID Alert NY is a voluntary, anonymous, exposure-notification smartphone app. You will get an alert if you were in close contact with someone who tests positive for COVID-19. Learn more about how it works and download it to your mobile phone.
The New York State Department of Health posts a daily COVID-19 tracker case tally by county.
New Jersey
NJ State COVID-19 Hotline: 1-800-962-1253
NJ State Vaccine Appointments: 1-855-568-0545
Text NJCOVID to 898-211 to receive text updates.
The State of New Jersey coronavirus hub is covid19.nj.gov.
Vaccine Distribution
New Jersey residents 65 and older, and those 16-64 who have medical conditions recognized by the CDC to increase the risk of severe illness from the coronavirus, are among those eligible for the COVID-19 vaccination. See all who qualify for the COVID-19 vaccine.
Starting Monday, March 15, the homeless population and those living in domestic violence and homeless shelters are eligible for a vaccine. Beginning March 29, additional frontline essential workers will be eligible to book vaccine appointments.
Pre-register for a COVID-19 vaccine and learn more about the vaccine distribution in New Jersey on the official state vaccine hub.
The State offers answers to more FAQs as well as outlines policies for health care providers on this COVID-19 vaccine page from the health department.
Remote Learning Resources from WNET Education
To better serve families during the COVID-19 pandemic, The WNET Group offers At Home Learning educational programming.
Let's Learn weekday lessons led by NYC DOE educators for grades 3K- 2 are broadcast at 11 a.m. on THIRTEEN and at 8 and 9 a.m. on WLIW21, followed on WLIW21 by a NJTV Learning Live lesson for 3rd graders at 10 a.m., 4th graders at 11 a.m., and 5th graders at 12 p.m.
Broadcast schedules on WLIW21, WLIW World and PBS Kids were developed to help schools and districts bridge the digital divide and provide equitable access to learning for all students at home, regardless of access to the internet or computers.
Help keep students learning at home with tools for parents and educators on WNET's Education site. All resources are free and standards-aligned.