THIRTEEN and PBS offer regular, in-depth reporting on the coronavirus to help everyone understand the disease and emergency response measures, and the behaviors that are best for your – and others' – health, as areas begin to reopen. Here is the latest from infectious disease doctors, medical professionals, officials and journalists who cover coronavirus news. This page will be updated as reporting continues.
Click for Hotlines and Information Sources
We're offering updates via email or mobile on the coronavirus now through the duration of the pandemic. Sign up for email alerts here, or text UPDATES to 30644 for mobile notifications.
MetroFocus Interviews
MetroFocus airs weeknights at 6pm (see schedule for late-night and weekends) and livestreams; listen weeknights on 88.3 WLIW-FM at 11pm.
July 1: As States Reopen and New Cases Soar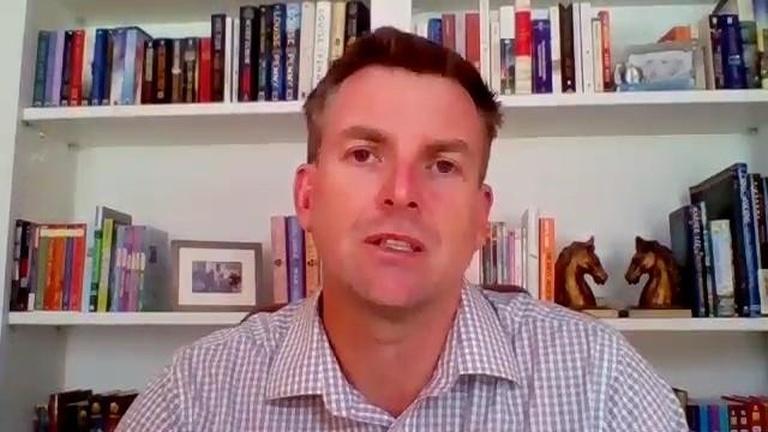 Dr. Erin Bromage joins MetroFocus for an eye-opening discussion. His blog about reducing personal risk for contracting COVID-19 has gone viral with more than 18 million views to date. As NYC and other cities across the country reopen, his concern turns to those who show no symptoms. He says, "The 20- to 40-year-olds appear to be spreading the infection unperceived. They are just as easily infected as the elderly, but much more likely to show no or mild symptoms. People in these age groups are the ones who have allowed the virus to smolder through our communities and erupt into flames when they make contact with a susceptible population."
PBS NewsHour Reports
PBS NewsHour is broadcast weeknights at 7pm and weekends at 6pm and streams live. Listen to half-hour broadcasts on 88.3 WLIW-FM weeknights at 6pm. See PBS NewsHour Essential Coronavirus FAQ.
July 2: How the Pandemic is Reshaping American Manufacturing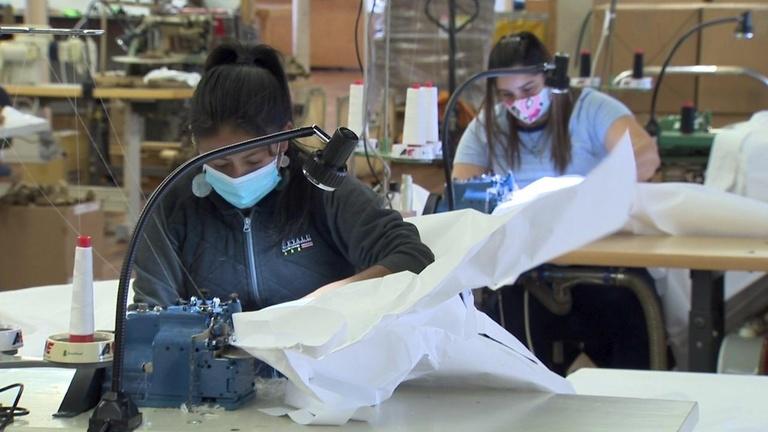 Long before the coronavirus pandemic, manufacturing in the U.S. was transformed — and with it, daily life. Now COVID-19 is delivering a new blow to the industry. But some companies are pivoting to create the personal protective equipment that the U.S. had previously outsourced overseas. Paul Solman reports on how a family textile business nearly 200 years old is adapting to this latest challenge.
July 1: What Health Experts Think About Having Kids in the Classroom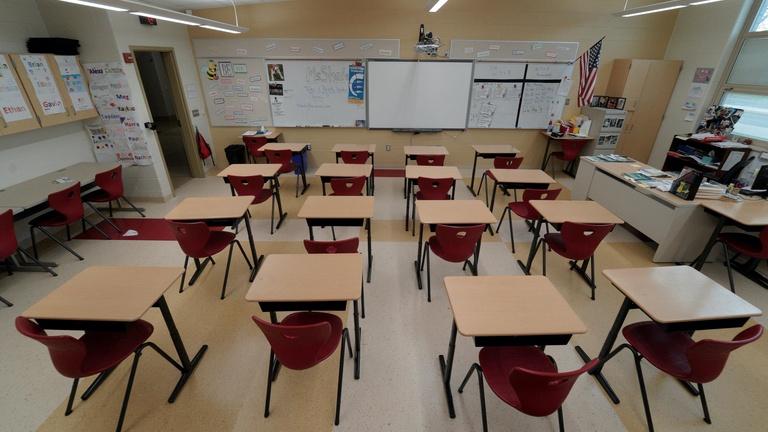 Millions of children and parents are desperate to know what the fall might look like in terms of school. Recently, a group of public health and pediatrics experts made the case that kids need to be in the classroom and not at home. William Brangham reports and talks to Sean O'Leary of the American Academy of Pediatrics about strategies for mitigating the risk of coronavirus spread in schools.
June 30: In States with Virus Surge, Reopening Plans Put on Hold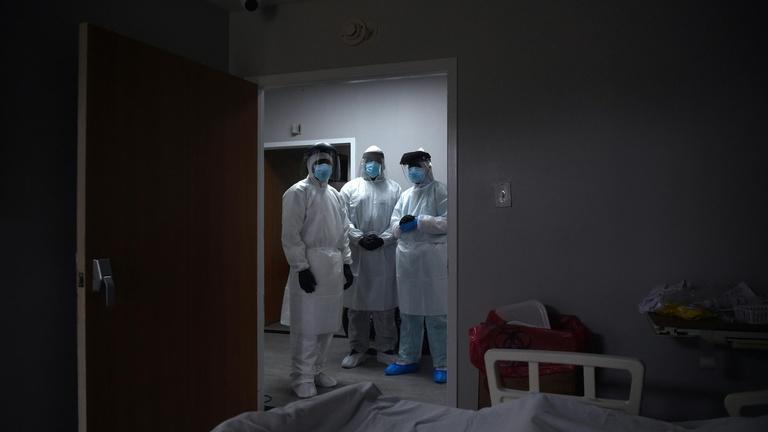 The U.S. is now averaging roughly 40,000 new confirmed infections of COVID-19 each day. The caseload has more than doubled this month in at least 10 states, mostly in the South and the West. As some states put their reopening plans on hold, the nation's top health experts are sounding new warnings about the recent surge — and how it could grow even more severe.
June 29: Frieden on Alarming Spread of Coronavirus in 30 States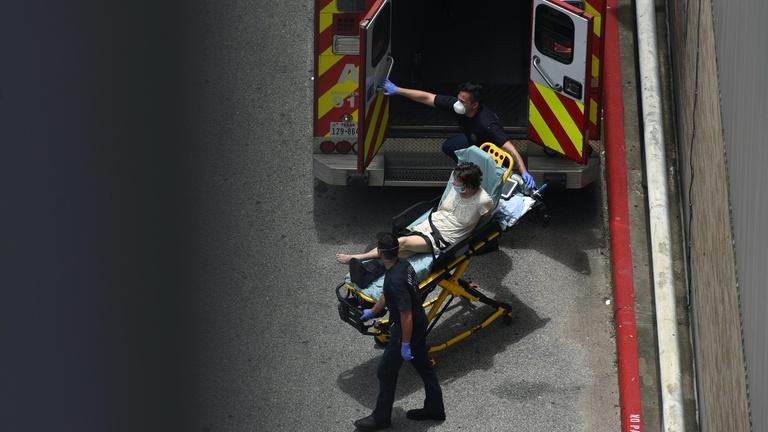 The United States is struggling to hold back the coronavirus. More than 30 states are reporting a rise in infections, and several are now reconsidering their plans to loosen restrictions and reopen economic activities. William Brangham talks to Dr. Tom Frieden, who previously led the Centers for Disease Control and Prevention and now heads a global health initiative called Resolve to Save Lives.
June 27: Why the Race for a COVID Vaccine is Complicated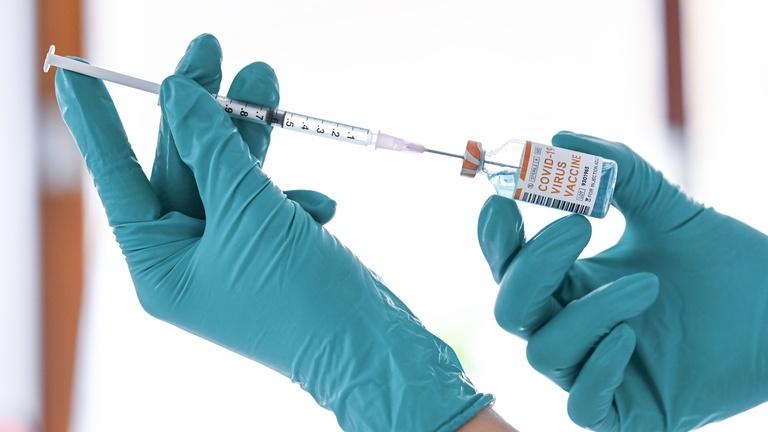 Pharmaceutical companies and governments around the world are chasing a coronavirus vaccine, fast tracking the usually years-long vaccine development procedure to a few months. ProPublica reporter Caroline Chen joins Hari Sreenivasan to discuss the ambitious timeline and the unpredictability of the clinical trials.
June 26: What Happens if ACA is Struck Down During the Pandemic?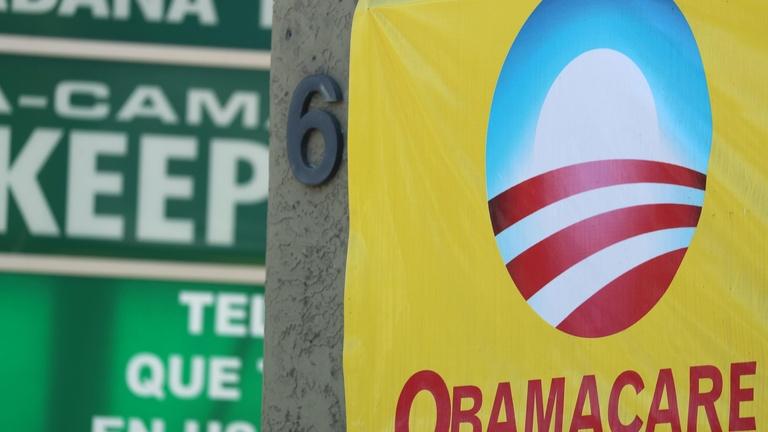 The fate of the Affordable Care Act, often referred to as Obamacare, is on the line again. The Trump administration has filed a brief with the Supreme Court arguing the law, through which 23 million Americans get health insurance, is unconstitutional. Judy Woodruff talks to Andy Slavitt, former acting administrator of the Center for Medicare and Medicaid Services, about the law's sweeping reach.
Amanpour and Company
Amanpour and Company airs Monday – Friday at 11pm; repeats at 4pm. Watch broadcast or livestream.
June 25: Former US Chief Data Scientist: COVID Isn't Going Away Soon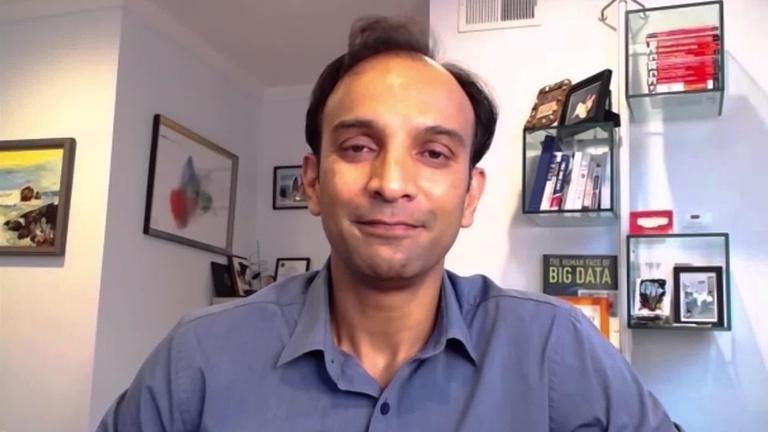 DJ Patil has written a report on necessary preparations for this next wave of COVID-19. Patil was America's first Chief Data Scientist under President Obama. Currently head of technology for a healthcare company, he is taking unpaid leave to help California fight the pandemic. He tells Hari Sreenivasan how data science can help the U.S. mitigate the pandemic.
NJTV News
July 3: Dr. Lifshitz on COVID-19
On this week's Chat Box, NJTV News Correspondent Michael Hill talks with New Jersey Department of Health's Dr. Edward Lifshitz to discuss travel advisories, social distancing, vaccines and the latest in the battle against COVID-19
June 30: Restaurants Slam Postponed Reopening of Indoor Dining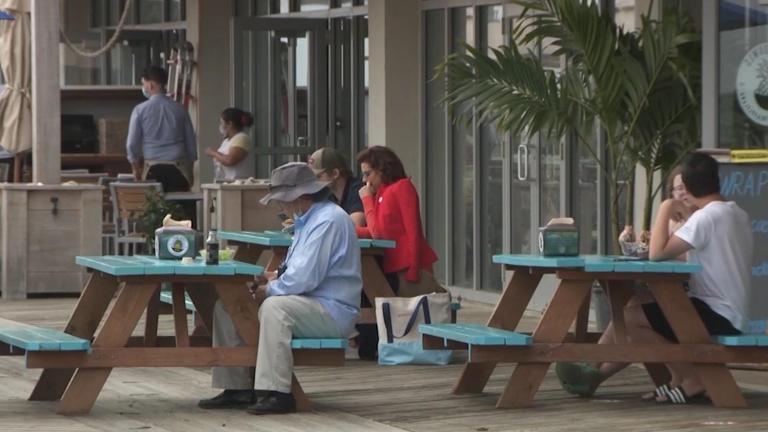 Governor Phil Murphy says he postponed a reset on indoor dining after seeing too many videos showing crowded venues, mostly at big shore bars like Donovan's Reef, with no social distancing and few, if any, visible masks. But Jersey diners and restaurants forced to subsist on meager incomes from just outdoor dining and take-out business felt wrongly targeted.
June 29: Malls Reopen and Welcome Eager Shoppers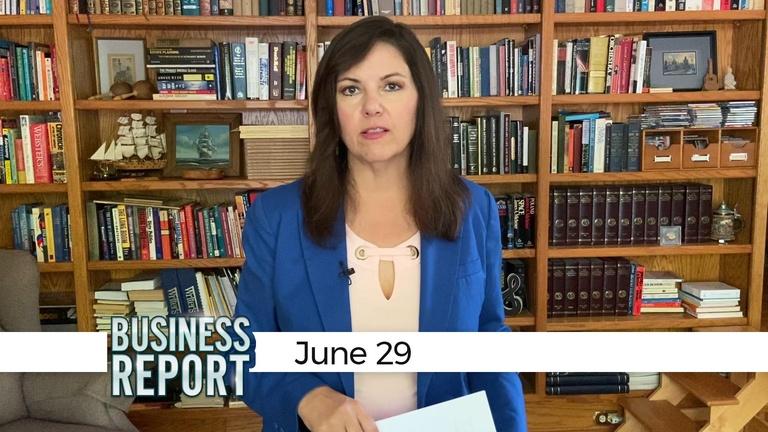 Indoor shopping malls opened in New Jersey Monday with new safety protocols, including mask wearing, social distancing and a lot of cleaning.
June 26: NJ Businesses Ask Governor for Guidance on Employee COVID Tests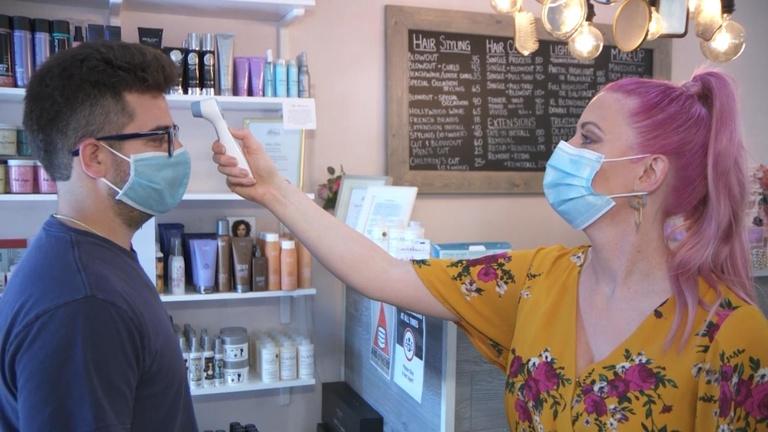 For now, testing is free at more than 250 sites in New Jersey. But for how long, and what about workers? The state provided initial testing for staff at health care facilities like nursing homes — where the virus spread rapidly with lethal consequences. But who will pick up the ongoing tab?
Firing Line with Margaret Hoover
Firing Line is broadcast Fridays at 8:30pm and streams live.
July 3: Sean Penn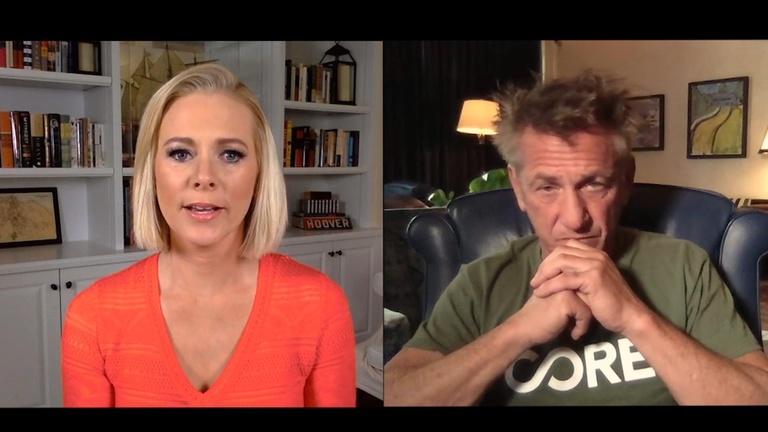 Actor Sean Penn discusses his efforts to expand coronavirus testing access through his non-profit, CORE. The organization initially offered free drive-through tests in Penn's hometown, Los Angeles, and is now in a dozen cities. Penn urges people to come together in this moment of crisis rather than focus on partisan politics.
GZERO World with Ian Bremmer
Ian Bremmer, a renowned political scientist, entrepreneur and bestselling author, shares his perspective on recent global events and interviews the world leaders, experts and newsmakers. Watch Saturdays at 10:30am or stream now.
June 27: Data Privacy Before and After a Pandemic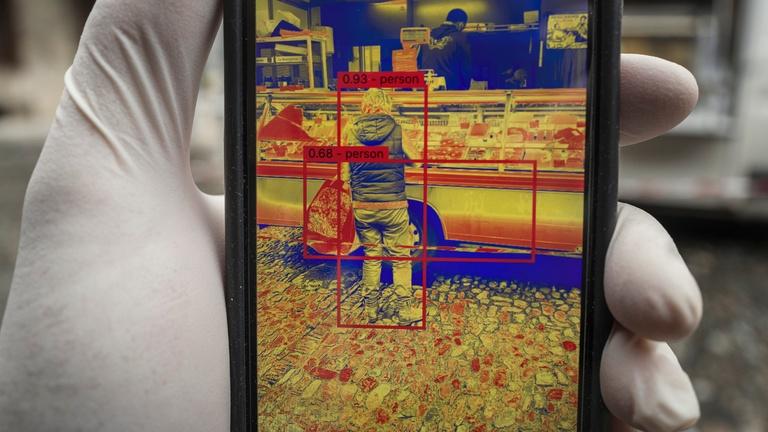 Protecting data privacy was a growing concern among experts before anyone ever heard of Covid-19. The pandemic's arrival has only made that conversation more urgent. Marietje Schaake, Stanford University, joins the program.
Hotlines and Information
Stay-in-the-know about what's on-air and online at THIRTEEN. Sign-up for free weekly eNewsletters, including on coronavirus reports.
Government Sites and Resources
Centers for Disease Control and Prevention (CDC)
The CDC's Coronavirus Disease 2019 (COVID-19) page includes links to national case reporting, symptom information, advisories by health condition and occupation, and more.
New York City
For text updates from New York City, text COVID to 692-692. You will receive regular SMS texts with helpful behavior tips and news related to the coronavirus. Text COVIDESP to 692-692 for updates in Spanish.
NYC's official COVID-19 site with information on testing, resources for New Yorkers (including rent and housing and more) and business, and announcements: www.nyc.gov/coronavirus.
NYC Workplace Laws and Protections
Employers and employees can visit nyc.gov/workers or call 311 (212-NEW-YORK outside NYC) for labor law information and more.
New York City Public Schools and Learning
Create a NYC Schools Account to sign up for Department of Education notifications and track your child's education.
NYC Department of Education-specific instructional resources for students in grades Pre-K through 12, messages for families, and more are found at schools.nyc.gov/learnathome. More information about Google classroom, iPads, meals, and other core services are posted at schools.nyc.gov.
New York State
NY State Hotline: 888-364-3065
For all New York State updates, and announcements from Governor Andrew Cuomo, see the state COVID site.
The New York State Department of Health posts a daily COVID 19 case tally by county.
New Jersey
NJ State Hotline: 1-800-962-1253
Text NJCOVID to 898-211 to receive text updates.
The official State of New Jersey coronavirus hubis covid19.nj.gov.
Media and Independent Sources
The New York Times is providing free access to its most important updates and most useful guidance on the coronavirus.
NJTV News and NJ Spotlight provide daily reporting on the coronavirus in New Jersey, as well as newsletters.
Covid19.NYC is an independent website offering public health information to New Yorkers, aimed at centralizing and aggregating info from a range of medical authorities. All information is sourced from WHO, CDC, NYS Department of Health and NYC Department of Health websites and guidelines.
Remote Learning Resources from WNET Education
Programs for remote learning air on THIRTEEN, WLIW21, WLIW WORLD and NJTV to better serve families during the COVID-19 pandemic.
Help keep students learning at home with tools for parents and educators on WNET's Education site. All resources are free and standards-aligned.