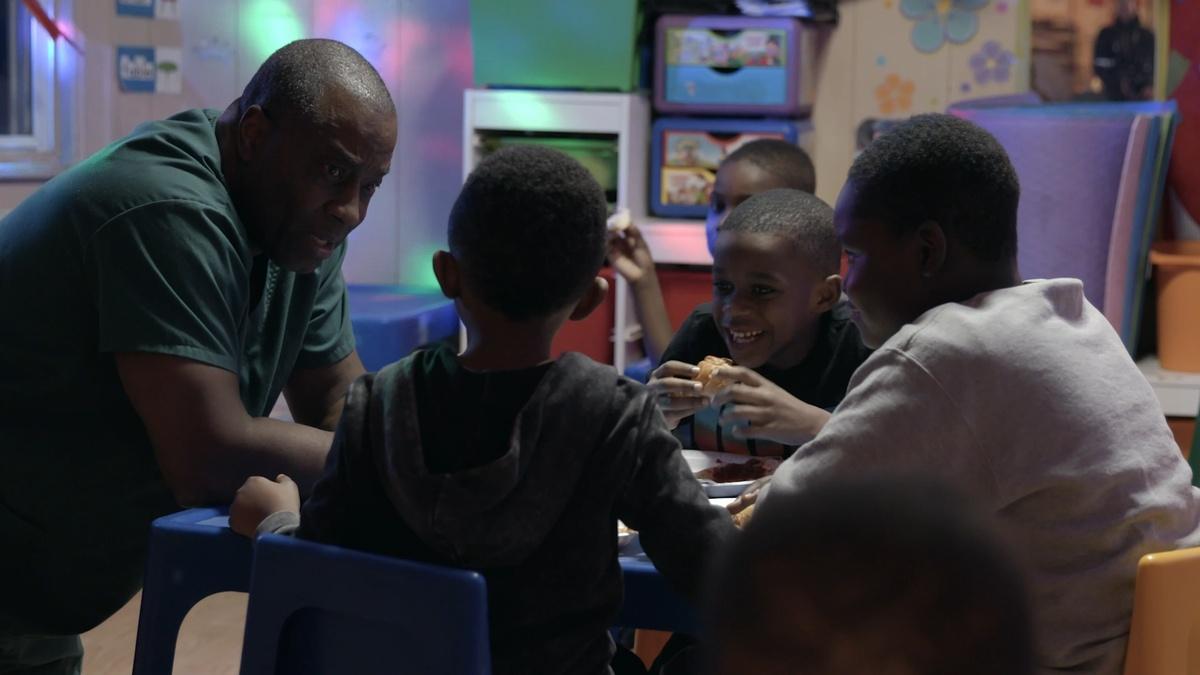 The POV film Through the Night, by Loira Limbal, premieres Monday, May 10 at 10 p.m. on THIRTEEN.
Filmed prior to the pandemic, Through the Night is an intimate, cinema verité portrait of the lives that intersect at a 24-hour child care provider in New Rochelle in Westchester County. At the center of the film are Deloris "Nunu" Hogan and Patrick Hogan, whose beloved family business Dee's Tots serves many single mothers and women of color who have low-income jobs. The film also focuses on Shanona Tate, a mother of two who works the overnight shift as an essential worker at a pediatric hospital, and Marisol Valencia, who juggles three jobs, seven days a week, to support her two children. The film drives home the difficulties faced both by low-income, working parents and those who provide the rarity of 24-hour child care for shift workers.
When Afro-Latinx filmmaker Loira Limbal, the director of Through the Night, first read about the Hogans, she recognized both the story of her mother – a home healthcare aide – and her own. In a Facebook "red carpet" for her award-winning film, hosted by actor Hill Harper, Limbal said the stories of working class Black and Latina women are not often told, and she created this film as a "love letter" to them. It is fitting the film airs just one day after Mother's Day.
Now even more so during the coronavirus pandemic, Limbal credits child care workers for "literally holding down our communities in a country where there isn't a social safety net for working class people, and certainly people of color. These are the people who take care of us and it's important for us to take care of them. These are essential workers."
All the women in the film must provide for their families financially and fight exhaustion to enjoy the little "free time" they have with their children. Nunu Hogan says the state seems only to want to fine businesses like hers. An article on the film in
Early Learning Nation
shares that "family child care programs like Nunu's are disappearing at rapid rates: 
nearly
half
(!) of the supply of these programs disappeared just between 2005 and 2017, the latest year for which data is available."
A timely portrait of resilience, love, and the fundamental role of caregivers in society, Through the Night showcases the multiplicity of "women's work" — paid, underpaid, and unpaid; emotional and physical; domestic and career-oriented — all while negotiating the terms of a dignified existence under the three arrows of racism, sexism, and capitalism in America. In the wake of the COVID-19 pandemic, Through the Night and the stories it centers take on an even greater sense of urgency and profound meaning.
New Rochelle was the center of New York's first coronavirus outbreak in March 2020; the state ordered a one-mile radius "containment zone" for the city, making it the first area in New York to face restrictions. Despite three decades of being a trusted child care provider, the Hogan's business struggled to get through the pandemic year. Limbal has helped raise funds for the Hogans and 13 other child care facilities in Westchester through a Go Fund Me online fundraiser.
Through the Night received special jury recognition for ethics of care at the 2020 DOC NYC festival and Best Social Impact Award at the 2021 Greenwich International Film Festival. Through the Night is part of the 33rd season of POV, America's longest-running documentary series. It continues to feature diversity on both sides of the camera, with nearly 80 percent of the 33 season's films helmed by women and more than two-thirds by filmmakers of color.
Group Viewing and Support
Limbal has also helped organize a Through The Night Community Care Circle workshop and watch party for the PBS premiere on Monday, May 10. The free event is described on the eventbrite registration page as "a loving and caring space for child care providers, single mothers, essential workers, Black and Brown mothers, and all those who mother – foster parents, grandmas, aunties."
The film will stream to all starting May 10 at 10 p.m. through June 9, 2021, on the POV program page and wherever you watch PBS video.
The Economics of Child Care and Funding in New York
At the same time Through the Night was being filmed, the Journal News featured Dee's Tots in November 2019 as part of an in-depth report on the "child care deserts" in Westchester and Rockland counties.
Reporter Swapna Venugopal Ramaswamy, the national Housing and Economy reporter for USA TODAY, spoke with New York's Lt. Gov. Kathy Hochul, who co-chairs the state's Child Care Availability Task Force, created in 2018 and made up of representatives from the child care provider community and their unions, the advocacy community, the business community, state agencies and local departments of social services. Hochul characterized child care in New York in late 2019 as being in crisis due to low wages creating a shortage of child care workers.
"There are only 40,000 child care workers in New York and sadly the average income is $27,700, so it is very hard for us to entice people to go into this field," she said. "We have to figure out a way to make sure that these individuals are paid more a living wage themselves."
At least 65% of the child care workforce in New York is receiving some type of public benefit due to low wages, according to the 2021 Child Care Availability Task Force Report on affordability and access to child care for working families (view and download report).
As for parents seeking professional childcare in New York, many can't afford it as it stands now. As part of his argument for universal child care, mayoral candidate Art Chang cites in his op-ed for The Daily News, "New York is one of 33 states in which child care costs more than in-state college tuition." Parents with an infant face far more than four years of child care payments.
The coronavirus pandemic has exacted a heavy toll on hourly wage earners and essential workers, especially on mothers with young children. Work became entirely untenable for some: one out of four women who became unemployed during the pandemic reported the job loss was due to a lack of childcare, according to a Brookings Institute article, "Why has COVID-19 been especially harmful for working women?"
When Governor Andrew Cuomo shared the task force report on May 4, 2021, he highlighted the New York State FY 2022 Budget's historic $5 billion investment in child care, "designed to restart our economy, support essential workers and child care providers, and improve access to quality, affordable child care for all eligible working New York families who need it."
Part of New York State's $5 billion for child care investments comes from $2.3 billion in federal stimulus funds ($469 million from the Coronavirus Response and Relief Supplemental Appropriations Act, 2021, and $1.8 billion from the American Rescue Plan Act of 2021). To mention a few funding designations:
$1.25 billion is for stabilization grants to keep child care providers open
$225 million to expand access and subsidy eligibility to 200% of the federal poverty level
$25 million to provide child care scholarships for essential workers
$192 million to limit family subsidy copays to no more than 10 percent of their income above the federal poverty level
$120 million to provide child care subsidy payments for up to 24 absences per year
$100 million to increase and expand child care capacity in child care "deserts"
$40 million for cleaning, personal protective equipment and other supplies for child care providers
The Child Care Availability Task Force Report lays bare the highly disproportionate negative impact of child care policy on women of color and low-income communities. The report also recognizes "that growing our state's economy — and doing so equitably— requires a dramatically different approach to child care: one that recognizes that high-quality child care is a public good."
Early Childhood Resources for Parents and Caregivers
The WNET Group is proud to be a partner of
Sesame Street in Communities
, which offers hundreds of free bilingual multimedia resources for anyone helping children through early childhood (infancy through age six). The Sesame Street resources are for everyday moments and daily routines —f rom teaching early math and literacy concepts, to encouraging families to eat nutritious foods, to serious topics such as divorce and food insecurity.
The site www.sesamestreetincommunities.org includes videos, printable activities, songs, professional development materials, and more.