Updated July 28, 2021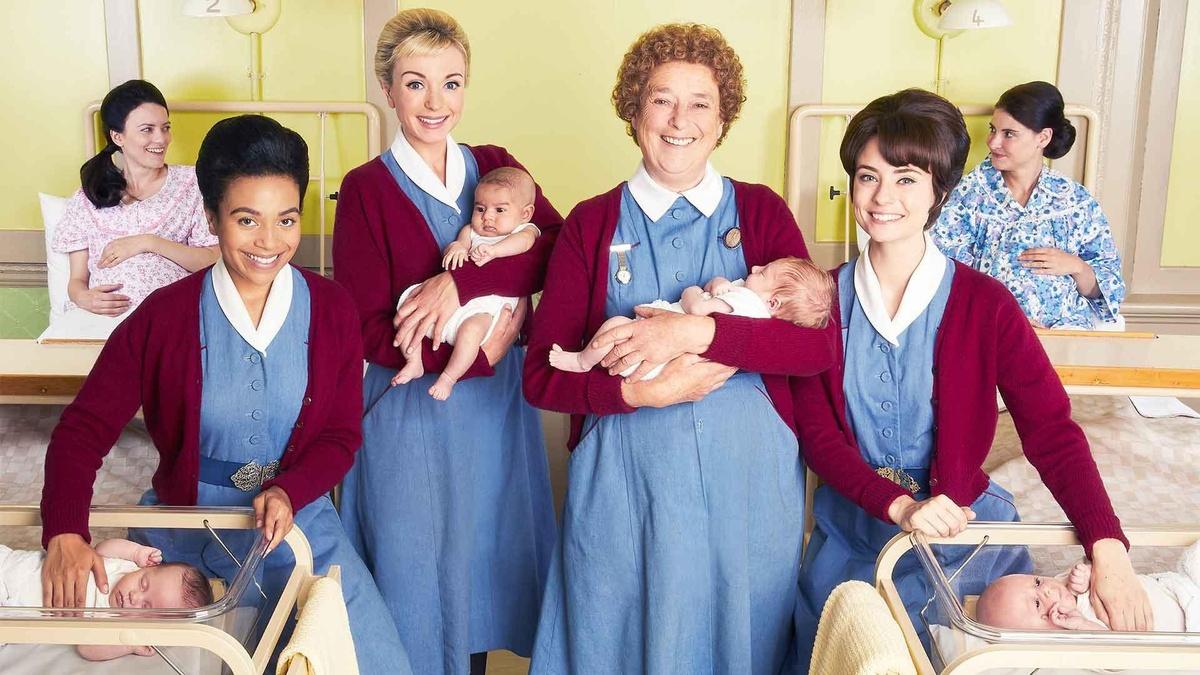 Call the Midwife: Season 9
premiered in March 2020 and now comes back for encore streaming in advance of the
Call the Midwife Season 10
, which premieres on October 4, 2021. THIRTEEN members can get a jump start on binge watching Season 9 starting Wednesday, August 4, 2021, and everyone can stream all Season 9 episodes starting September 4.
Here's how we introduced Season 9, back in March 2020:
Let's take a deep breath, everyone. We've got good news: the midwives are back on Sunday nights! The women who usher new life into the world with professionalism, calm and compassion are welcome more than ever this season.
The Call the Midwife characters overcome adversity – or cope with it humanely – year after year. Serving the working class Poplar district of London's East End, the midwives often face shortages and outbreaks, and their patients tend to be poor, in shaky health, or are struggling to find their footing in life.
No matter how stressful a childbirth or family situation becomes, no-nonsense Nurse Crane (Linda Bassett), practical Poplar native Valerie (Jennifer Kirby), elegantly reserved Lucille (Leonie Elliott) and cheerful Trixie (Helen George) handle emergencies and emotions with expertise and grace. And that's just a few of the beloved characters we're very happy to see in our living room again.
What Day– er – Year is It?
Season 9 of
Call the Midwife
opens on January 24, 1965. On the lighter side, the midwives are scheming a plan to win a supply of hosiery tights. But there is shared mourning as well. Episode 1 includes the death of a great leader of modern British history: the 90-year-old Winston Churchill, the former prime minister who heroically led England during World War II and the devastating Blitz bombings of its cities. Upon his death, Queen Elizabeth II (the very one alive now), sent a message to his Lady Churchill, saying,
The whole world is the poorer by the loss of his many-sided genius while the survival of this country and the sister nations of the Commonwealth, in the face of the greatest danger that has ever threatened them, will be a perpetual memorial to his leadership, his vision and indomitable courage.
Churchill's public and elaborately planned state funeral was a rare event – and remains the most recent one in Great Britain. We'll see archival footage of Londoners lining the streets to honor his passing, and the couple Fred (Cliff Parisi) and Violet (Annabelle Apsion) paying their respects.
What Gets Treated in Season 9?
Health issues are always a spoiler but here are the conditions addressed in
Call the Midwife
Season 9: cancer, tuberculosis, drug abuse and
fistula
(an abnormal connection between two hollow spaces in the body), among other illnesses and conditions.
An outbreak of the bacterial infection diphtheria is featured in Episode 1. The disease passes from person to person through respiratory droplets and its first symptoms are sore throat and fever.