She's just 20 years old and is confronted with the biggest shock we've seen any Poplar resident face, in or out of the midwives' clinic. It's not the news that Lois Parry will never bear children, and she's not even ill. But the bride-to-be is told something about her body that so unravels her sense of identity, that she attempts to take her own life.
Remember how Episode 3 ended with the prescription, "There is light. There is. Look for it!"? We were grateful to find some in Episode 5 of Call the Midwife. First, there's Lois's supportive fiancé and family. The other ray of light is watching nose-to-the-grindstone nurse Lucille Anderson lift her gaze and take a shine to a fellow immigrant from the West Indies. Both she and Sister Frances face some of their fears and come out smiling.
Patient Privacy and Dignity
Lois Parry (Holly Freeman) has never had a menstrual cycle and has kept that a secret from everyone until she visits the Poplar clinic a month before her wedding.  She'll soon be intimate with her fiance Paul and is nervous to find out if her health is ok. The clinic has a new cancer screening called a cervical exam, and although she doesn't meet the requirements for an exam, she shows up anyway to make sure all is well "down there."
Dr. Turner can't detect her cervix and observes her vagina in unusually "short" so he sends her to a specialist at the hospital. She's too young to question the authority or professionalism of the insensitive doctor who invites male medical students to observe his examination of her genitals and pelvic area. She's in the utmost vulnerable position and sobs during the exam in which she's treated as a specimen. (For a short article on the matter of male physicians and gynecological examinations, see this article from the US National Library of Medicine National Institutes of Health.)
What are the Words?
Lois leaves the hospital humiliated and knowing only that Dr. Kenley has "found something" in her stomach.
Dr. Turner informs Lois she has a very rare condition before telling her what Dr. Kenley found.
"Where your ovaries would normally be, he found two male testes growing. It's called testicular feminisation syndrome," he tells his bewildered patient.
"In very simple terms, it means that, on the outside, you look like a woman, but, genetically, you're male."
Today, Lois would be told she has androgen insensitivity syndrome, which is when a person has male chromosomes (XY), but whose body doesn't respond to male hormones (androgens). This is just one of a variety of intersex traits. How rare is the condition of having sex characteristics that are not clearly male or female? Not as rare as you might imagine. The United Nations Human Rights Office says that with between 0.05% and 1.7% of the population are born with intersex conditions, and that upper estimate is similar to the number of people with red hair.
Dr. Turner's words make no sense to Lois, who is horrified to think she is not a woman and it further shatters her vision of a life as a wife and mother. Dr. Turner makes the right call to ask nurse Trixie Franklin – an astute and sensitive communicator – to talk further with Lois about what the news means.
You Say Cerv-I-cal Exam, I say Pap Smears
Trixie Franklin is at the helm of the clinic's new cancer-prevention tool: a cervical exam for women over 35 who have given birth. (It's odd for an American to hear the English long "i" pronunciation with cervical!) It's good to see the show reinforce that Trixie is not just gifted at making people comfortable – she's a skilled nurse who steps up to do more training for this important development at the clinic. This cancer screening is also known as a Pap smear. Why? The screening is named for the man who developed it: Dr. George Papanicolaou, a Greek immigrant to New York City!
Dr. Papanicolaou first used the simple technique in 1928, but the test became more commonly known after 1943. The Raleigh Medical Group has an inspiring blog post about Papanicolaou's perseverance. The American Cancer Society reports that before the exam, cervical cancer was the number one cancer that caused death in American women.
Lois Isolates
Trixie offers to talk to Lois's mother, but Lois doesn't want to tell her or her fiancé Paul. Calling on what she's learned from her own struggle with alcoholism, Trixie suggests that talking to strangers with the same issue may be easier, and she can help find them.
Lois slips into despair, breaking off her engagement, cutting up her bridal gown and attempting to commit suicide with a tincture. Luckily she's found in time and saved at the clinic with activated charcoal, which helps absorb whatever poison was in her stomach.
After she recovers and gets pep talks from Trixie and her mother, Lois keeps apologizing – not for her suicide attempt, but for not being what people thought she was. She finally braves telling Paul about the way she was born, and he reassures her that he still loves her and wants a future together (swell guy for taking it so easily!). Cue soft piano melody.
What is Intersex?
The word intersex was used in this episode's preview description, but that term wasn't used in 1964, when Call the Midwife Season 8 is set. THIRTEEN's series First Person explores gender identity and sexuality through first-person narratives and aims to humanize issues that are often underrepresented in the media or presented as political or moral issues. The episode "Growing Up Intersex" features intersex activist and blogger Claudia Astorino who talks about societal misconceptions surrounding intersex identity and her mission to end medically unnecessary surgical procedures on intersex children. The seven-minute video, below, is a helpful place to start if the term is new to you.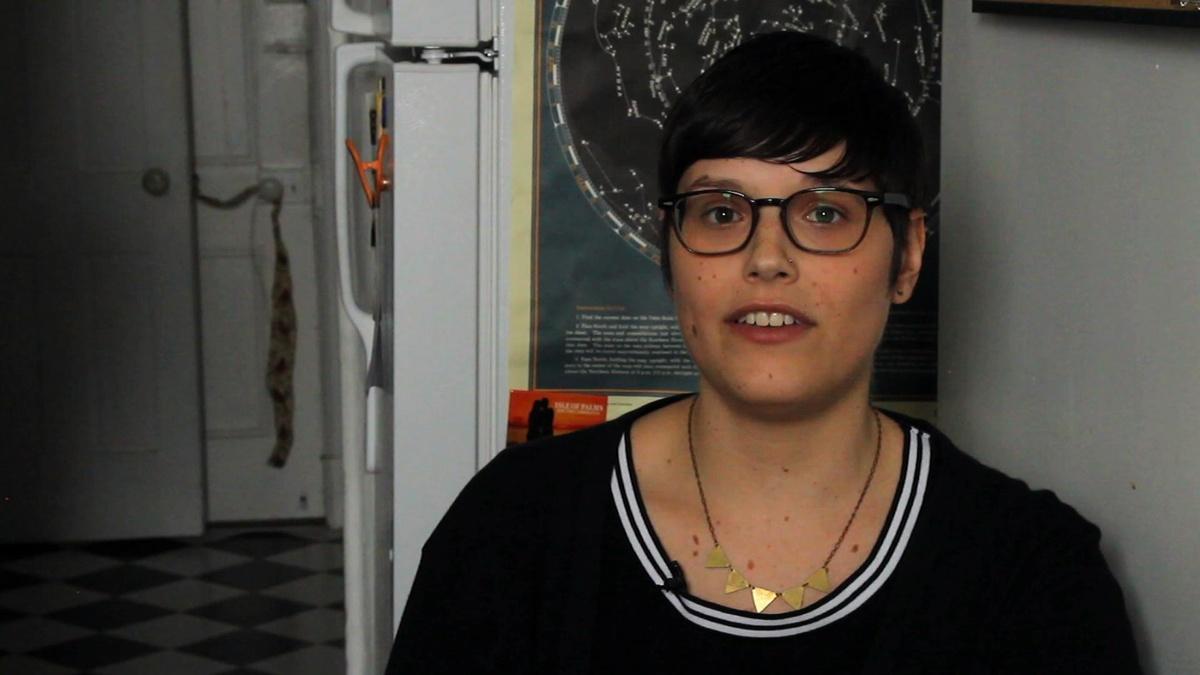 Intersex conditions are today referred to as "disorders of sex development" (DSD). The Accord Alliance in New Jersey convenes stakeholders across the health care system and DSD communities to develop standards of care, whether DSD is discovered in an infant, adolescent or adult. In addition to providing resources on its site, the nonprofit group recommends two other organizations. The nonprofit interactadvocates.org has especially good ways for teens and adolescents to connect. Like Accord and Interact, the AIS-DSD Support Group promotes research, advocacy and provides resources.
Sister Frances Steps Up
Sister Frances is going to lead the Mothercraft class "bathing baby," but she's petrified of speaking in public. Nurse Val advises that to get more comfortable speaking to a room full of expectant mothers and fathers, "imagine them naked." I'm going to guess that such an image would petrify a young nun as well. Whatever source Frances draws from to face her fear of speaking, she pulls it off, including a leg from the baby doll model.
The Pregnant Wife and Husband
The series keeps the midwives in business in Episode 5 via the couple Pam Sharp (Nancy Sullivan) and George Sharp (Jack Doolan). They lost their first baby, so there's understandable extra nerves involved in this pregnancy. While Pam is a trouper, but she wonders what's going on with George, whose forehead is perpetually riddled with worry. He has as many physical discomforts as his wife – in fact, they seem to mimic the pains and aches of her pregnancy.
Will their new baby arrive at the same time George is felled by an illness? No. He'll be feeling a lot better once baby arrives. Dr. Turner tells him he's had what in layman's terms is called a "phantom pregnancy" – not that there is medical agreement on this, but the other term is Couvade. It's not an illness but describes when a male partner of a pregnant woman experiences pregnancy symptoms like weight gain, insomnia and nausea. Is it psychological or did that male partner's behavior lead to physical symptoms? No online sources we found addressed whether a female partner of a pregnant woman can experience it, too!
Lucille and Cyril
Engineering student Cyril Robinson (Zephryn Taitte) is from British Guyana and enters Lucille's orbit when he appears outside Nonnatus House to repair the car of Phyllis Crane. They meet by chance and the attraction is immediate. But Lucille considers her time in London as an opportunity to focus on work, not a time to enjoy life to the fullest. In the quiet minutes before lights out, her roommate Phyllis admits she's been dodging her suitor Sergeant Woolf, probably out of fear. She encourages Lucille to let her self-protective guard down with Cyril. Polite and charming as he is, Cyril can't seem to convince Lucille to allow herself some social time.
It's sweet to see the blush of mutual interest between them. We're rewarded with Lucille agreeing to going to a dance, sweeping up her hair and Cyril challenging that updo as he whisks her off in the sidecar of his motorcycle. If you'd like to finish that dance to "Miss Jamaica," listen to Jimmy Cliff's song from 1962, here.
---
Watch future Call the Midwife Season 8 episodes on Sundays at 8pm. Episodes will stream for two weeks after broadcast. Also, read the blogs of midwives today on the official PBS Call the Midwife site.