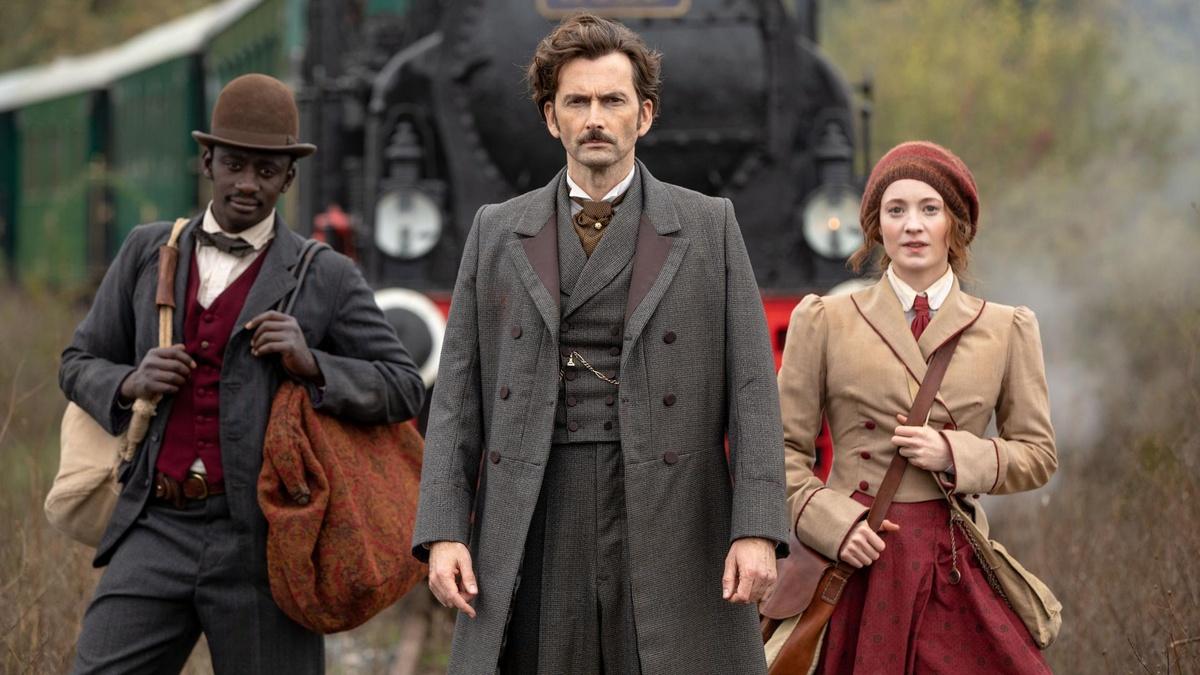 Around the World in 80 Days
: Sundays at 8 p.m., starting January 2, 2022 on THIRTEEN.
Literature's most famous race against time comes to the prestigious showcase of British drama, Masterpiece in January 2022. Start the new year with an innovative and cheeky adaptation of Jules Verne's classic novel Around The World In Eighty Days. David Tennant (Doctor Who) stars as the Englishman Phileas Fogg, an inexperienced adventurer who bets a fortune that he can circumnavigate Earth in a mere 80 days in 1872. If you only know David Tennant as an intense detective in Broadchurch (now streaming on PBS), his comic romp in this series is the best surprise.
French actor Ibrahim Koma (As Far as I Can Walk) and German actress Leonie Benesch (Babylon Berlin, The Crown) costar as Fogg's intrepid traveling companions.
Updating Verne's ever popular tale of an epic road trip, Masterpiece introduces new themes, characters, and stories. The eight-part drama draws on the author's personal history of disappointment in love, and also gives a nod to New York World reporter Nellie Bly, who took a record-breaking around-the-world trip in 1890, inspired by Verne's plot. (Bly's trip is documented in fascinating detail by the Heinz History Center in her hometown of Pittsburgh.)
Shot on location on two continents, the Masterpiece series follows the trio's expedition as they head east from London on October 5, 1872, intending to make it back to the Reform Club reading room by one o'clock on Christmas Eve. En route, they take all means of transport, while meeting increasingly dangerous obstacles. At stake is a wager of 20,000 British pounds: $3 million in today's U.S. currency.
The series opens with Fogg at the stuffy Reform Club, where he spends his days reading newspapers. An article reports that it will be possible to circle the planet in 80 days — at least, in theory — thanks to a newly finished railway line in India. When Fogg muses about the possibility of a trip, he is goaded by his old antagonist, Nyle Bellamy (Peter Sullivan,
Poldark
), into undertaking the journey, with a hefty bet riding on the outcome. Fogg is far more a handwringing worrier than explorer, and Bellamy expects him to quit before he starts.
The man of leisure expects a servant at his side, and Fogg's octogenarian butler (Richard Wilson, Merlin) is clearly not up to a voyage. Fogg takes on a new valet, Passepartout (Koma) – a sharp-witted French traveler – and away they make haste. Hot on their trail is the ambitious reporter of the article that launched the adventure, Abigail "Fix" Fortescue (Benesch), daughter of British newspaper magnate Bernard Fortescue (Jason Watkins, The Crown). When Fogg realizes he can't shake Abigail, he enlists her as an official member of the expedition. What they don't realize is that Abigail had made a crucial error in her original article, which will throw a wrench in their plans.
But that is the least of their worries as Fogg, Passepartout, and Abigail experience revolution, starvation, false arrest, surreptitious drugging, life-threatening attacks, and being stranded on a desert island, among other perils. Fate — or somebody — does not want Fogg to win his bet.
On any sojourn in the world, you'll meet a few interesting, helpful, and menacing people. This trio encounters the notorious English libertine Jane Digby (Lindsay Duncan,
Sherlock
) and her latest husband, Sheik Medjuel el Mezrab (Faical Elkihel,
The Spy
); dogged U.S. Marshal Bass Reeves (Gary Beadle,
Grantchester
), who is enforcing the law in the Old West; and ubiquitous private detective Thomas Kneedling (Anthony Flanagan,
Gentleman Jack
), who is definitely operating outside the law. Fogg also runs into an old friend coincidently, who has a bone to pick with him (Dolly Wells,
Pride and Prejudice
and
Zombies
).
A trip across multiple countries and continents is a traveler's fantasy – and nightmare – these days as the pandemic wears on and requirements, restrictions and risks change week-by-week. We're looking forward to following this fictional trip and trust that all the obstacles faced will provide us that much more pleasure. If you're careful, you can avoid spoilers from the UK: the BBC gives Around the World in 80 Days a head start, but by a whisker, on December 26, 2021.
Around the World in 80 Days: Sundays at 8 p.m., starting January 2, 2022 on THIRTEEN.
Episodes and more will be available on the Around the World in 80 Days program page, and the PBS and THIRTEEN Explore apps. Check out our British Telly Dish blog for a look at traveling in the year 1872.