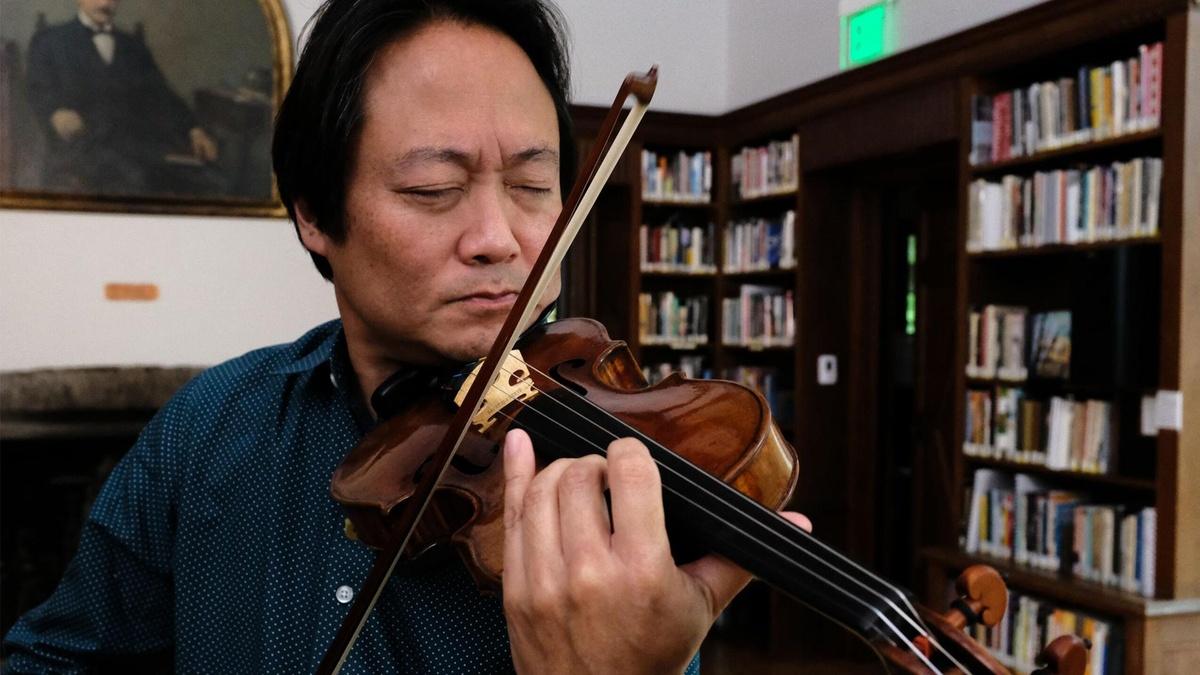 Great Performances: Now Hear This  airs Fridays at 9 p.m., April 8 through April 29 on THIRTEEN.
Virtuoso violinist Scott Yoo, Chief Conductor and Artistic Director of the Mexico City Philharmonic, returns for the third season of Great Performances: Now Hear This. In this "American edition" of the series, join the Maestro as he celebrates the diversity of American musicians, cultures, and communities while discovering how America's regional and ethnic music has inspired our native classical music. While prior seasons of Now Hear This took Yoo to locales in Europe, his new tour of music history covers Boston, Massachusetts; Peterborough, New Hampshire; New York, New York; and San Luis Obispo, California.
Yoo and his wife, flutist Alice Dade, travel together to New Hampshire to investigate the work and life of one of America's greatest romantic composers in
Amy Beach: American Romantic
(Friday, April 8, 9 p.m.). Beach (September 5, 1867 – December 27, 1944) was the first American woman to publish a symphony, "Gaelic" Symphony, which the Boston Symphony Orchestra premiered in 1896.
Florence Price and the American Migration
(Friday, April 15, 9 p.m.) follows the trail of one of America's first recognized Black female composers and piano virtuosos.
Florence Price
(April 9, 1887 – June 3, 1953) was born in Arkansas and won accclaim in the 1930s as the first Black American woman to have her symphony performed by a major US orchestra. In 2009, a treasure trove of her music was discovered in her former Illinois summer home. A feature on Price in
udiscovermusic
shares audio samples of the critically acclaimed Philadelphia Orchestra album, "Florence Price: Symphonies Nos. 1 & 3", conducted by
Yannick Nézet-Séguin
for Deutsche Grammophon, and nominated for Best Orchestral Performance for the 2022 Grammy Awards.
In
Aaron Copland: Dean of American Music
(Friday, April 22, 9 p.m.), learn how the works of Copland developed into a signature American sound. Copland was born in Brooklyn in 1900 and died in 1990 in Sleepy Hollow, NY. Discover more about the composer whose "Appalachian Spring" became a famous collaboration with choreographer Martha Graham on the official
Aaron Copland site
.
The final installment of
Now Hear This
,
New American Voices
(Friday, April 29, 9 p.m.), spotlights two American composers – Brazilian-born Sergio Assad and Indian American Reena Esmail – who find inspiration in their immigrant roots. Learn more about this episode and more on the
Great Performances site
.
How to Watch
Great Performances: Now Hear This premieres Friday, April 8 at 9 p.m. on THIRTEEN. Livestream at thirteen.org/live in the New York metropolitan region, or stream on-demand at pbs.org/nowhearthis, and with the THIRTEEN and PBS apps.
Another musical treat right after the premiere on Friday, April 8, is the 10 p.m. premiere of Chamber Music Returns, which documents the Chamber Music Society of Lincoln Center as it begins touring concert halls in fall 2021 – its first live performances since the pandemic began. The second part will air Friday, April 15 at 10 p.m.