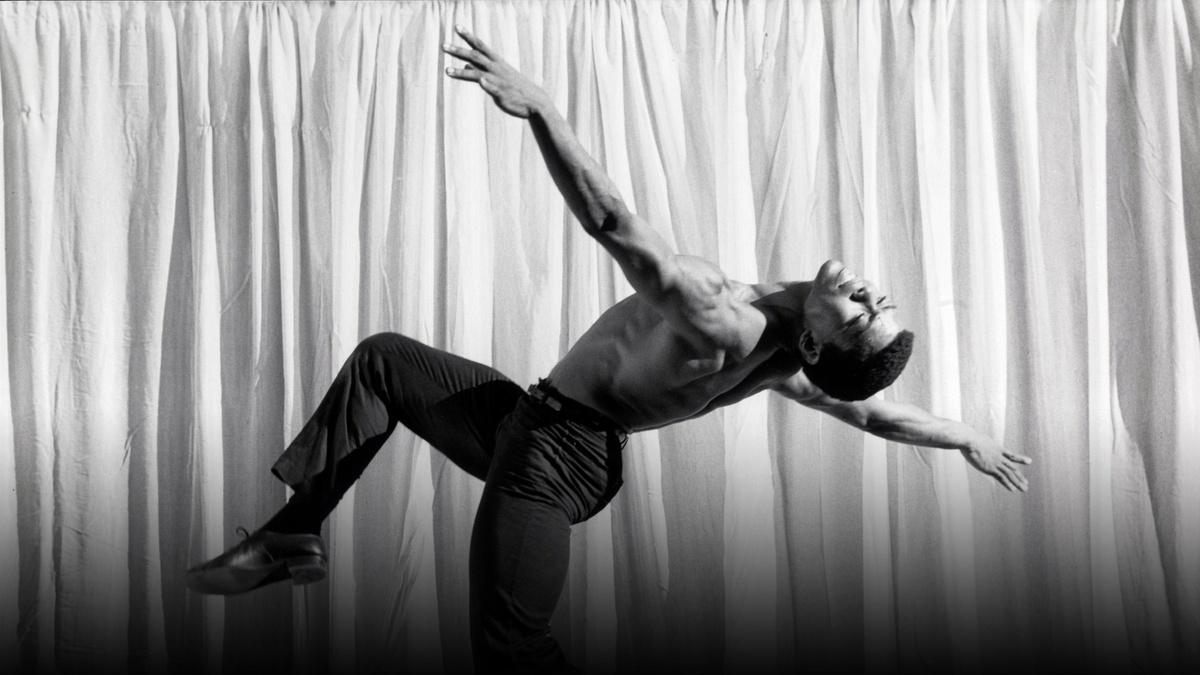 American Masters: Ailey
is a portrait of the legendary choreographer Alvin Ailey (1931-1989), a trailblazing pioneer who founded Alvin Ailey American Dance Theater in 1958 at age 27. The film dedicated to the dancer, choreographer and recipient of a Presidential Medal of Freedom will premiere on PBS on January 11, 2022.
The documentary traces the full contours of this brilliant and enigmatic man whose search for the truth in movement resulted in enduring choreography that centers on the Black American experience with inimitable grace and power.
Ailey had studied with modern dance legends such as Lester Horton and Martha Graham before founding his own company, which found success from the start. Today,the world-renown company commissions new works from many choreographers, but the repertory's signature work is Ailey's masterpiece, "Revelations," from 1960. Its choreography demands virtuosity from its performers and takes the audience on a journey through Black spiritual and cultural life in America.
The film by director Jamila Wignot uses Alvin Ailey's own words to tell his story and features archival footage and interviews with those close to him. This resonant biography connects Ailey's past to our present with an intimate glimpse into the Ailey studios today, following innovative hip-hop choreographer Rennie Harris as he conceives a new dance, "Lazarus," inspired by Ailey's life, now being performed by Alvin Ailey American Dance Theater as part of its December 2021 season at New York City Center.
The film about one of America's most famous choreographers will open the 36th season of American Masters on PBS, premiering nationwide on Tuesday, January 11, 2022, at 9 p.m. on PBS (check local listings) and the PBS Video and THIRTEEN Explore apps.
Using previously unheard audio interviews recorded in the last year of Ailey's life, the documentary presents the dancer's journey in his own words. Raised by a single mother in Texas, Ailey recounts the hardships of his childhood along with memories of blues and gospel music, juke joints, church, young love and the awakening of his gay identity. In dance critic Gia Kourlas' "Critic's Pick"
film review in the New York Times
, she quotes his poetic recollection, "being glued to my mother's hip. Sloshing through the terrain. Branches slashing against a child's body. Going from one place to another. Looking for a place to be. My mother off working in the fields. I used to pick cotton."
It was his memories growing up during the Jim Crow era in Texas that inspired "Revelations."
Throughout his life, Ailey endured racism, homophobia, addiction, mental illness and the burden of being an iconic African American artist, but he found salvation through dance. In 1989, he tragically succumbed to an AIDS-related illness.
More than 30 years after his death, Ailey's dream lives on. Where other modern dance companies were built to showcase their founders, Ailey envisioned his own as bigger than himself. By interweaving Ailey's rich journey with the choreographer Harris' present-day rehearsal process for "Lazarus," American Masters: Ailey shows the enduring power of Ailey's vision to have his company perform the works of other choreographers, too.
Director Jamila Wignot said, "Ailey's dances — celebrations of African American beauty and history — did more than move bodies; they opened minds. His dances were revolutionary social statements that staked a claim as powerful in his own time as in ours: Black life is central to the American story and deserves a central place in American art and on the world stage."
To learn more about the creators involved in the film, Alvin Ailey, and the Alvin Ailey Dance Theater company, see the following sources. below.
Film Creative Team
Ailey is directed by Jamilia Wignot, who has directed the PBS series The African Americans: Many Rivers to Cross; learn about the entire creative team on the film's official site.
Alvin Ailey Dance Theater Company and School
The acclaimed company's website offers a
history of the company and its repertory
since its founding. For over six decades, the Ailey organization has brought people together through dance performances and programs, manifesting founder Alvin Ailey's belief that "dance came from the people and that it should always be delivered back to the people." After its current season in New York City, the dance company's national tour in 2022 will include three
May dates at NJPAC
in New Jersey.
Alvin Ailey American Dance Theater holds dance classes for all at its New York City home on Ninth Avenue and W. 55th Street, and anywhere via its online classes, which launched in late March 2020 during the pandemic. See the variety for adults and children offered by the online Ailey Extension.
On Saturday, December 11, the Alvin Ailey school is inviting all levels of movers to learn excerpts of the choreography to the world-famous dance, "Revelations." Sign up on the Ailey site for the free online lesson. The teacher will be former Alvin Ailey Dance Theater dancer Lisa Johnson-Willingham.
In 2020, MetroFocus spoke with Robert Battle, Artistic Director of Alvin Ailey American Dance Theater, about the company and school's pandemic challenges and opportunities.
Also in 2020, NYC-ARTS profiled the educational outreach of Alvin Ailey American Dance Theater, particularly for young boys who often face stigmas when pursuing dance. Watch the segment.